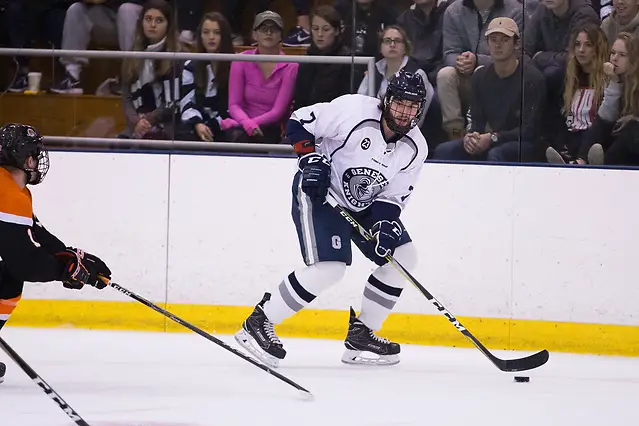 Sometimes, there is something about the familiar that just feels comfortable somehow. Maybe the known and expected gets translated as predictable by some, but for SUNYAC coaches there isn't much that is comfortable about seeing Geneseo, Oswego, and Plattsburgh expected to battle at the top for the title again this year.
"Yes, I expect a lot of the same from the top half of our league," said Geneseo coach Chris Schultz. "But they aren't the only teams to worry about at all. We were beat last year by Fredonia and Cortland, so teams need to bring it every night and be ready to battle with any team in our league."
The Favorite
Geneseo won the league last season and has been picked in the preseason coaches poll, so the bullseye is clearly on the Knights. With senior Devin MacDonald in goal and a high-powered offense led by Anthony Marra, Tyson Empey, and Conlan Keenan, the Knights have the full complement to battle again for the league title and a third NCAA berth in four years.
The Dark Horses
Oswego was a contender throughout the entire season last year until the final weeks when a scoring drought knocked them from playoff contention. Coach Ed Gosek's group is back with a bit more experience and depth and will be battling again for the title behind key players like Josh Zizek and Anthony Passero, who comes to the Lakers via Buffalo State.
They say that a blend of senior leadership and talented underclassmen is a great combination for winning. If that is the case, coach Bob Emery and his Plattsburgh Cardinals will definitely be in the mix. Seniors Cole Stallard and Pat Egan lead a talented group of junior and sophomores that will likely be augmented by some key freshmen in finding the right chemistry on the ice.
USCHO Predicted Finish
1) Geneseo
2) Oswego
3) Plattsburgh
4) Buffalo State
5) Fredonia
6) Brockport
7) Potsdam
8) Cortland
9) Morrisville
Players to Watch
Brockport: Connor Hutchins — forward; Hunter Laslo — forward
Buffalo State: Vadim Vasjonkin — forward; Mac Wood — forward
Cortland: Martin Lavallee — defense; Mike Crowley — forward
Fredonia: Mike Freeman — defense; Kyle Jelinski — forward
Geneseo: Devin MacDonald — goalie; Tyson Empey — forward
Morrisville: Ian Wood — forward; CJ Stubbs — forward
Oswego: Josh Zizek — forward; Anthony Passero — forward
Plattsburgh: Joe Drabin — forward; Pat Egan — forward
Potsdam: Mike Sweeney — forward; Vinny Guimond — forward
Nonconference action dominates the opening weekend's schedule, including several SUNYAC vs. UCHC games. Buffalo State will host its own tournament to open the regular season, with Bryn Athyn, Curry, and Nazareth filling out the field for the first hardware to be won this season.