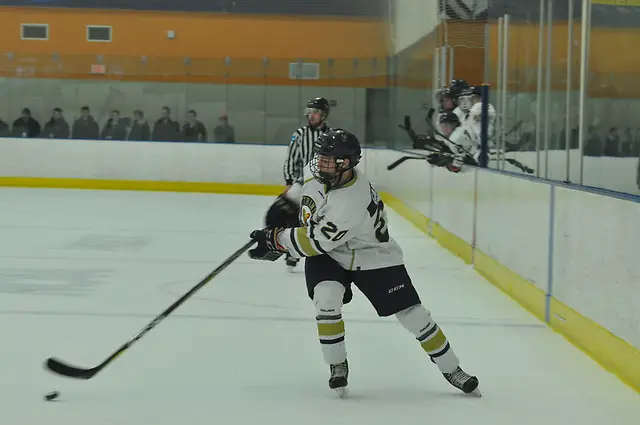 Colby was truly last year's Cinderella team, advancing through a tough NESCAC season and tournament all the way to a semifinal loss to the eventual national champions from St. Norbert. Many seniors have graduated from that team, including Cam MacDonald and goalie Sean Lawrence. That said, there is a reason to think that Colby, along with the rest of the conference, all have a shot at the title since there has been great parity among all the teams.
Some new contenders like Connecticut College and Wesleyan also emerged last season. Like most teams coming off a successful season, they want to build into more and better in this campaign. The competition will be intense as it always is in perhaps the most competitive conference in the country.
The Favorites
One team has been at or near the top for several years, and the Trinity Bantams do not set their goals without inclusion of the NESCAC title. They fell to Colby in the conference title game last year and were national finalists just two seasons ago. Coach Matt Greason has built a team that competes and knows how to win hockey games. Trinity will be looking for greater balance offensively and some new players to assert themselves in the lineup early, and if they do that, the Bantams will be battling for yet another NESCAC title.
Williams has a great core group of seniors including goalie Michael Pinios and sees the return of coach Bill Kangas to the Ephs bench after taking a one-year sabbatical. With nine freshmen and eight sophomores, the maturation of young players will be important to Williams' success on the ice. Seniors like Roberto Cellini and Keanu Hilaire have historically done a great job helping that process advance quickly, so don't be surprised to see Williams in the mix and near the top of the standings.
The Dark Horses
Connecticut College leveraged the stellar play of goalie Connor Rodericks to a great second half and a home-ice playoff berth. Rodericks and eight of their top 10 scorers are all back for coach Jim Ward. They were young last year, and now more experienced, will look to avoid last year's 3-8-0 start to the season and play more like the second-half team that went 7-3-4 to earn a home-ice playoff seeding.
Wesleyan finished 13-8-5 overall last season, but struggled a bit toward the end of the year when the injury bug caught up with them. A stellar junior class leads the Cardinals, including forwards Walker Harris, Tyler Wyatt, and Spencer Fox along with goalie Tim Sestak. Senior Chad Malinowski leads the defense for coach Chris Potter, who hopes that depth built last season and augmented by this year's recruiting class will have Wesleyan battling for home ice in the playoffs.
USCHO Predicted Order of Finish
1) Trinity
2) Williams
3) Connecticut College
4) Amherst
5) Wesleyan
6) Hamilton
7) Colby
8) Bowdoin
9) Tufts
10) Middlebury
Players to Watch
Amherst: Phil Johansson — defense; Patrick Daly — forward
Bowdoin: Pat Geary — forward; Cody Todesco — forward
Colby: Nick O'Connor — forward; Thomas Stahlhuth — defense
Connecticut College: Connor Rodericks — goalie; Jacob Moreau — forward
Hamilton: Rory Gagnon — forward; Stephen Cochrane — defense
Middlebury: Owen Powers — forward; Kamil Tkaczuk — forward
Trinity: Liam Feeney — defense; Barclay Gammill — forward
Tufts: Clay Berger — forward; Cooper Stahl — defense
Wesleyan: Chad Malinowski — defense; Walker Harris — forward
Williams: Keanu Hilaire — defense; Roberto Cellini — forward
It is mid-November, so the NESCAC is ready to get the real action going this weekend with all 10 teams starting out in conference matchups. Great pairings right out of the gate see Middlebury and Williams traveling to Maine to meet Colby and Bowdoin, Trinity and Wesleyan go on the road to face Connecticut College and Tufts, and Amherst faces travel partner Hamilton. Time to find out who is ready to play and win.