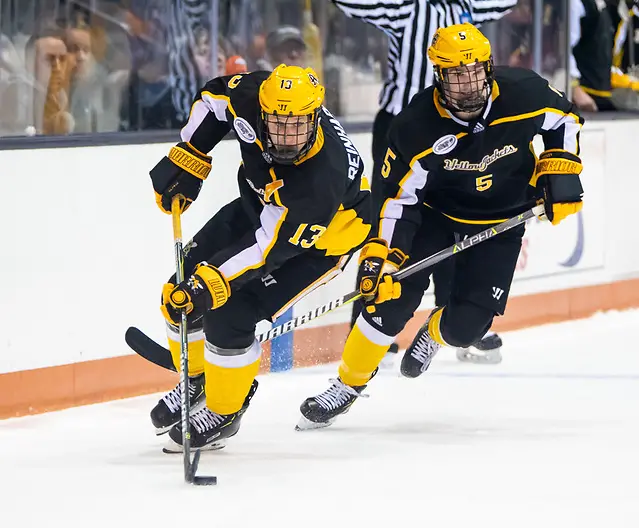 Each week, USCHO.com columnists will pick the winners of the upcoming games in their respective conferences.
Atlantic Hockey
Thursday-Saturday
Niagara vs. Canisius
The Golden Griffins will host on Thursday with the action shifting to Niagara's Dwyer Arena on Saturday. Canisius has had the better of this fierce rivalry recently, and I think that trend will continue. Canisius sweeps.
Friday-Saturday
Air Force at AIC
The Falcons have won five in a row, the second longest current streak in Division I. I think they'll keep it going. Air Force sweeps.
Army West Point at Bentley
Army West Point has been a streaky team so far, going unbeaten in five straight games before losing three in a row. The Black Knights righted the ship last Saturday with a win at Sacred Heart, and I think they'll get on another roll at Bentley. Army West Point sweeps.
Mercyhurst at Sacred Heart
Both teams have been inconsistent so far this season, and I expect that to continue. I'm picking a split.
Friday
Massachusetts at Holy Cross
The Crusaders haven't tasted victory since their first game of the season (1-7-1) and it doesn't get any easier against the No. 4 Minutemen. Massachusetts wins.
— Chris Lerch
Big Ten
Friday-Saturday
Notre Dame at Michigan State
The Spartans got off to an impressive 5-1 start but they have since dropped three in a row, including a sweep at home by Arizona State. On the other side Notre Dame has opened up the conference slate with a 2-2 record, albeit against two teams that were preseason favorites. The Irish are averaging only one goal per contest in their four losses, but the defense and goaltending has been consistently good aside from the 6-6 tie with Mercyhurst to start the season. Notre Dame sweeps.
Wisconsin at Ohio State
The Badgers had to settle for a home split with Minnesota despite outplaying the Gophers for most of the weekend. The Buckeyes are coming off of a road sweep of Colgate and may be close to firing on all cylinders again. A 6-3-1 record is maybe slightly underwhelming but those results against Massachusetts and Bowling Green don't seem as disappointing considering how the Minutemen and Falcons have started the season. Although, I don't think the 8-2 drubbing at home at the hands of Bowling Green is going to sting any less no matter how good the Falcons end up being. I see this series playing out similar to the one at North Dakota for Wisconsin, where the Badgers keep it close in one game but aren't able to breakthrough and I see the Bucky's offense waking up this weekend. Ohio State sweeps.
Michigan at Penn State
This is the marquee match up in the Big Ten this weekend. Penn State's offense is a sight to see, there's no debate there, but the Nittany Lions defensive-efforts can leave a lot to be desired. A favorable nonconference schedule means those lapses haven't hurt them yet, aside from the overtime loss to Arizona State. Still, Michigan needs good good goaltending this weekend. I think we might see one low-scoring game and one high-scoring game this weekend. Coin flip on which team wins which one. Split
St. Lawrence at Minnesota
Minnesota simply needs to sweep this series at home. It's taboo to talk about the PairWise this early in the season (rightfully so), but a loss this weekend would basically cancel out Minnesota's early-season victory over Minnesota Duluth. It's understandable that the Gophers would need some time to gel under Bob Motzko, but by mid-November that grace period should be over. Like Notre Dame, Minnesota is averaging only one goal in its four losses. The Gophers also only lit the lamp once in their tie with Duluth. You're not going to win many games that way. Gophers sweep.
— Drew Claussen
ECAC Hockey
Friday
Princeton at Colgate
Princeton senior Ryan Kuffner has seven goals in five games this season, which almost matches Colgate's output as a team (10 goals in nine games). The Raiders only allowed three goals (excluding an empty-netter) in a two-game series at Ohio State last weekend, but scored zero goals in a sweep by the Buckeyes. I just don't think the Raiders have the firepower to keep pace with the Tigers. Princeton wins.
Quinnipiac at Cornell
This might be a difficult matchup for a young Quinnipiac team, especially at Lynah Rink. The Big Red have won four in a row and have the capability to control possession and take advantage of what has been a shaky Quinnipiac defense over the last several games. Cornell wins.
Friday-Saturday
Michigan Tech at Clarkson
The Golden Knights are undefeated at home, while Michigan Tech is an impressive 5-1 on the road. What's going to give? I'm going to hedge my bet and predict a split.
Arizona State at Harvard
The Sun Devils have won three in a row and are an impressive 9-3 so far, while Harvard is slowly building some momentum with a 1-0-2 stretch following a 0-2 start to the season. Because of that, I'm predicting a split in Cambridge this weekend.
St. Lawrence at Minnesota
Neither team is playing well at the moment, as the Golden Gophers enter the weekend with one win in their last five games, while the Saints haven't won in nearly a month. St. Lawrence been outshot by its opponents at a nearly two to one margin this season, so it may have trouble generating a lot of chances against a Minnesota team that is loaded with NHL draft picks. Minnesota sweeps.
Saturday
Quinnipiac at Colgate
Like I said above, Quinnipiac has hit a little bit of a lull, losing two of its last three games. But the Raiders just haven't generated a lot of offense so far this year and I don't think they will be able to keep pace with the Bobcats. Quinnipiac wins.
Princeton at Cornell
This should be one of the best games of the weekend in ECAC Hockey. The Tigers have shown little signs of slowing down after winning the conference playoffs last year, while defending regular-season champion Cornell looks to be back to form after losing its first two games of the year. Give a narrow edge to the Big Red, only because they are at home. Cornell wins.
— Nate Owen
Hockey East
Friday-Saturday
Merrimack vs. Providence
The Friars may have come away without a win last weekend, but they're ready for the sweep of Merrimack. Providence sweeps.
UMass Lowell vs. Connecticut
If Lowell puts forth a consistent 60-minute effort, they sweep this series. But that's been difficult this year. UConn wins Friday, UML wins Saturday.
Maine at Boston University
I may be speaking too soon, but I feel like BU is hitting its stride and should sweep this weekend. BU sweeps.
Friday
New Hampshire at Boston College
Much like BU, BC seems to be playing much better hockey and should prevail. BC wins.
Northeastern at Vermont
The Huskies are playing good, confident hockey right now. NU wins.
Massachusetts at Holy Cross
If the Minutemen keep their eyes on the prize, they are the better team in this matchup. UMass wins.
Sunday
New Hampshire at Massachusetts
To think that UMass could be 10-1-0 after this weekend is crazy, but I see it happening. UMass wins.
— Jim Connelly
NCHC
Friday-Saturday
Miami at Colorado College
CC had a rough weekend in Duluth. Miami meanwhile, continues to show signs of a renaissance. On the big sheet and at altitude, I think the Tigers will get a split with the resurgent RedHawks in two close games. Colorado College 2-1, Miami 4-2.
Minnesota Duluth at Denver
The top series of the weekend. Duluth has struggled against the Pioneers in recent years. They went 0-4 last year, 1-2 the year before, 0-3-1 the year before that, and 2-4 four seasons ago. Denver will also be extra hungry for a win after dropping two games against St. Cloud in which the Pioneers held two-goal leads. I expect a split, with bodies bruised after heavy checking. Denver 3-2, Minnesota Duluth 4-3.
Western Michigan at North Dakota
The Broncos haven't gotten off to a great start, and last weekend's split with Omaha has to be a disappointment. Western is also 1-4 on the road so far. The Fighting Hawks are in the rocking confines of the Ralph, and have gone 5-1 in their last six. With home ice, I'm picking against the grain for a North Dakota sweep. North Dakota 3-2, 4-2.
Bemidji State at St. Cloud State
Stats-wise, the Huskies look fantastic, with the third-best offense and fourth-best defense in the country, as well as the eighth-best power play and second-best penalty kill. Nevertheless, the Beavers are not an easy out, and sport the second-best team defense in the country, giving up a stingy 1.38 goals per game. The Beavers also beat and tied North Dakota early this season. I think St. Cloud's offense will be the key to a sweep, but the Huskies can't afford to fall behind by two as they did in both games against Denver. St. Cloud State 3-1, 4-2.
— Candace Horgan
WCHA
Friday-Saturday
Alaska Anchorage at Northern Michigan
NMU has not had the start to the season I excepted out of a team that returned Troy Loggins and Atte Tolvanen, two of my favorite WCHA players from the past two seasons. BUT the Seawolves are struggling – with only one win through eight games – so this might be the series that finally turns around the Wildcats' mojo and makes them a competitor once again. Give me NMU to sweep Anchorage.
Lake Superior State at Bowling Green
With two losses and two ties, the Falcons are holding onto that No. 10 ranking with a tight grip. With LSSU limping into the series (0-2-1 in its last three games), this weekend could give BG a chance to make a statement. However, I like LSSU to steal at least one game from the Falcons, probably the Saturday night game going away.
Ferris State at Minnesota State
The Bulldogs have played a TOUGH schedule – with nonconference games against Western Michigan and Michigan State already this season as well as a challenging pair of losses to Michigan Tech last week – and it's not getting any easier. They visit a Mankato squad that'll be hungry to collect a pair of WCHA points to make a push from fifth place in the league standings to first or second. I like the Mavs to take the series, despite how well Ferris has fought against good opponents this season.
Alabama Huntsville at Alaska
This series is key for the Nanooks, who could thrust themselves into fourth or fifth place in the WCHA standings with a sweep of the winless Chargers. The problem: The only WCHA team to allow more goals this season than Huntsville (35 goals against)? It's actually Alaska (37 GA). But I still like the Nanooks to take the series.
Michigan Tech at Clarkson
The Huskies are the top team in the WCHA, but all three of their losses have come in non-conference play. This weekend is a chance for MTU to buck that trend and take care of a 4-4 Clarkson team with a road sweep.
Bemidji State at St. Cloud State
The Huskies are absolutely on fire. On top of a 9-1-0 record, they've scored five power-play goals (5!) in their past four games. I like offensive-minded SCSU to trip up the Beavers twice and pick up the sweep at home.
— Brandon Folsom