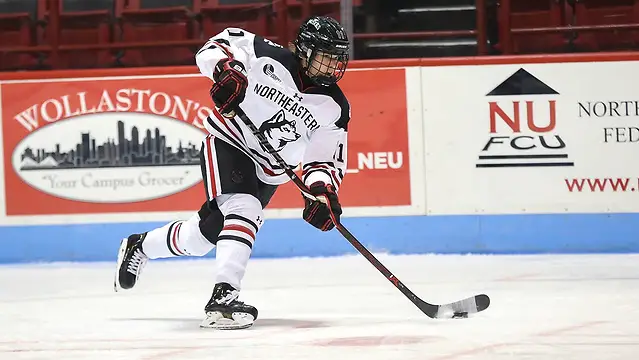 Arlan: For the first time this month, you didn't have to send Nicole and me a message this weekend saying, "This is crazy!" Games may not have gone exactly to script, but at least there weren't any of those results that make you do a double take because you think the score must be reversed.
The most surprising result that could impact the PairWise Rankings at year's end might be Robert Morris getting one tie from Cornell, but that is about right for the relative strength of the two programs. In any case, the Big Red have liked themselves a good tie this month, as that was their fourth in the last three weekends.
So let's start at the very top. No. 1 Wisconsin has done a better job than anyone else of avoiding not only the upset, but even the close call. However, the calls were close this weekend when Harvard visited with only two wins to its credit. One was over winless Holy Cross, and the other came in the opener versus Dartmouth.
I can spin the fact that the Badgers needed overtime to finish off the Crimson each day either of two ways. On one hand, the Crimson are likely better than their current 2-5-1 record. All five losses have been on the road by one goal, and with the exception of Quinnipiac, the opponents have winning records and are likely to finish in the top third in winning percentage. Freshman goalie Lindsay Reed ranks third in the country in save percentage, and now Wisconsin knows why. For the last couple seasons, we've been waiting for Harvard to become more Harvard-like; it looks like the time for that may be now. The next seven games should afford a good opportunity to get the record back to .500.
Or is this just another case of Wisconsin being Wisconsin, the most dominant team in the regular season in recent years that sometimes forgets how to score? Three regulation goals in 120 minutes sounds a little anemic for a roster with as much potential as Wisconsin possesses.
Personally, I think it is more a case of needing to credit Harvard for playing a good series. The Badgers finish out 2018 with series versus Syracuse and St. Cloud State, and that schedule should have everyone for Wisconsin feeling confident heading into the second half. The Huskies weren't able to win against either Connecticut nor Lindenwood, so although SCSU did defeat both Minnesota Duluth and Minnesota State, the Badgers look to be a big ask. As for the Orange, going scoreless in Vermont versus the Catamounts and the St. Lawrence over the weekend suggests they'll have trouble lighting up the scoreboard in Madison.
What are your current thoughts on Wisconsin and Harvard?
Candace: I did find the two overtimes eye-opening for sure, and while I do like to give credit where credit is due, that being Reed, I think a lot of it is also a Wisconsin team that struggles to score at times. This is a team that could only beat Lindenwood and Minnesota State by a goal in low-scoring games. Wisconsin doesn't have the dynamic offense of teams like Clarkson, nor, in the past, Boston College. On the one hand, Wisconsin rarely beats itself, but it does seem they get into more one-goal games than some of the other top teams, and when that happens, more often than not it's a 2-1 or 2-0 game. Wisconsin only has one player in the top 20 in the country in scoring, Abby Roque. On the other hand, the Badgers are sixth nationally in the country in scoring, averaging 3.44 goals per game, but they aren't deep offensively like a Clarkson or even a Boston College, which have more than twice the number of players averaging a point a game that Wisconsin does, and don't have quite the falloff that Wisconsin does after that point a game mark.
I do wonder if Emily Clark might be playing hurt still since returning from injury. In her four games back from being hurt, she only has a single assist. I think if Clark can get back to where she was in the first few weeks of the season, it will provide a boost for the Badgers. Overall though, this is the type of weekend that can help Wisconsin's confidence. The Badgers didn't play their best, and they ran into a hot goalie, yet they survived.
As for Harvard, I'm not quite ready to say the Crimson look to be poised to be the Crimson again. Theoretically, they should be able to win their last four games of the first half, but aside from the games against Holy Cross and Dartmouth, Harvard hasn't scored more than two goals in a game. Without reliable scoring, that's going to put even more pressure on Reed. Harvard this year could end up being a team like Bemidji State when they had Brittni Mowat or Zuzana Tomcíková in net: a team that is very tough to win against, but that won't be able to win enough itself to make the postseason.
To me, the other big series of the weekend was Clarkson hosting Minnesota Duluth, and the Bulldogs again came out of the weekend without a win. The Golden Knights looked dominant, scoring four goals in each game. What is your take on that series, and what does it mean for each team?
Arlan: You mentioned Clarkson having offensive depth a couple times above. When I look at the Golden Knights, I don't see depth as much as I see a big hammer sitting on top of their line chart. In 2017-18, Clarkson had the best top line in the country. They won the NCAA title in large part thanks to that unit, and everyone on it returned. It reminds me a little of when Minnesota won the 2004 title with a top line that nobody could stop, and when the entire unit returned, they rewrote the record book en route to another championship in 2005.
Roughly a third of the way through their season, Elizabeth Giguère leads the way with 30 points, Loren Gabel has 28 in a couple of fewer games, and Michaela Pejzlová has added 26 points. Those are three of the top four point totals in D-I, with Jaycee Gebhard showing 27 points but having played four more games with Robert Morris than Clarkson has. That line is the reason that Clarkson has the highest-scoring offense in the country. This is starting to look like a shell game, so don't take your eyes off of Clarkson in general, and its top line in particular. As for scoring depth, T.T. Cianfarano is right in the conversation with 18 points, but the next forward for the Golden Knights is Tia Stoddard with a more modest seven points.
This weekend, Minnesota-Duluth had no answer for the Giguère line. Gabel scored all four goals as the line combined for 10 points in the first game, and the trio added seven more points in the second game. The Bulldogs tried to counter with their own top-scoring line of rookies Gabbie Hughes and Anneke Linser with sophomore Anna Klein. They accounted for all three UMD goals in the series, but when the other team scores eight, it's hard to win games.
The Bulldogs have been scuffling of late. After the eye-opening sweep of BC and salvaging a tie versus the Gophers, UMD's loss at St. Cloud State started a losing streak that has grown to five games. The schedule hasn't done the Bulldogs any favors. Ten of their first 14 games have been against teams currently ranked in the top six. In addition, they had almost three weeks between their loss in St. Cloud and their next game at Ohio State. Now, Maura Crowell's team has another bye week before hosting Minnesota State.
UMD's best recipe for success would figure to be having Maddie Rooney stifle the other team's offense, but with all of the youth on the Bulldogs' blue line, that won't always work. At least there isn't another Giguère line on their schedule.
If you want scoring depth, look to this year's Gophers. They certainly can't match one line that has combined for 84 points, but the point totals for their four lines that started Saturday's game at Vermont are 42, 32, 32, and 18. Of the 12 forwards, 11 of them have at least 7 points. The commitment to skating four lines in every game is one reason why none of the combinations has put up gaudy statistics, but it's given Minnesota the second-highest scoring average to this point. That offense looks to still be ramping up. After scoring only twice in Madison to finish out October, it has scored eight, 11, and 14 goals in the last three weekends of action.
Gabel has scored 13 goals already this year. That matches the output of the entire team for the country's two most sluggish offenses, Holy Cross and Rensselaer. Dartmouth has scored only a dozen times, but the Big Green have only played nine games. Somehow, the Engineers have managed to post a 4-6-4 record in spite of their meager scoring capabilities. It hasn't worked out as well for Holy Cross because its defense ranks at the bottom as well.
We're always hopeful when expansion of the number of D-I teams is discussed, but is there enough offensive talent to support much growth beyond what we have today, at least in the short term?
Candace: It's tough to say for sure. You bring up Holy Cross, my alma mater, and the Crusaders are definitely struggling in their first season at D-I, but keep in mind that Holy Cross' upperclassmen were all recruited when the team was one of the big dogs in D-III, but only playing at that level. D-I is a jump, and Holy Cross has only been able to recruit two classes so far to play at that level. I think in time HC will start to get the players needed to be competitive on a regular basis. HC did beat Harvard last year, and at least started with ties against RIT and Rensselaer. With Kate Lachapelle as associate head coach, there is a pipeline to bring in better scorers.
As for scoring in general, while HC struggles, Rensselaer isn't much better in scoring, and neither are Union, Dartmouth, or Bemidji State. All of those teams are within half a goal of each offensively. Are the offenses so moribund because they know they don't have the skaters to hang with a Gabel and Giguère, so they focus on clogging the middle and playing defense to try to steal a point? Or is it because they just don't have the confidence in the offensive zone at this level. To look at Holy Cross again, last season, the team averaged almost four goals a game. The goaltenders are just better at the D-I level, and it's harder to score in general.
This season has also seemed more defensive in general to me. Boston College's Daryl Watts shredded opposing defenses last year en route to winning the Patty Kazmaier Award as a freshman. This season, she's averaging a point a game, which to me has always been the mark for a scorer, but when you compare it to last season's 2.16 points per game average, you have to think something is going on. Aside from Gabel and Giguère, no one is really scoring at Watts' clip of last year. Most of the top scorers are around 1.5 points per game, nothing to scoff at, but not Amanda Kessel or Alex Carpenter or Kendall Coyne numbers. Perhaps defense is just getting better. You see that on the men's side; 1.5 points per game is a Hobey Baker season, and probably gets you top three in the country in scoring.
Getting back to last weekend, what are we to make of Minnesota? The Gophers absolutely shredded a good St. Lawrence team, and followed that up with a convincing win over Vermont to win the Windjammer Classic. Is it time for teams to be very afraid of the Gophers?
Arlan: I don't know that Minnesota should inspire fear in anyone, at least, not yet. I've seen the effect they can have on visiting teams and coaches over the years, and I haven't seen it much this season. However, the Gophers are a team with a very high ceiling. Will they approach it? That remains to be seen, and I do think that Minnesota also has a lower floor than teams like Wisconsin and Clarkson possess. It's possible that they'll never put things together on their back end, and they'll join the long list of teams over the years that had a potent offense but couldn't play a clean enough game on a consistent basis to earn the title.
It does look like Minnesota has found a different gear coming out of the Four Nations break. Before that, they were like a high-performance sports car that badly needs a tune-up. Now, some of the combinations are starting to click, and they're generating higher-quality scoring chances on a more frequent basis.
Kelly Pannek in particular has been better since Four Nations. Prior to that, she seemed to be trying to show why she was a gold medalist, when the Gophers just needed her to be the player that she was as a junior. Now she's showing more determination, rather than attempting to be perfect. Sarah Potomak has been somewhat snakebit thus far when it comes to scoring. After exceeding 50 points in each of her first two seasons, she only has eight points thus far. I don't think that she's playing poorly, and once the coaches settle on a right wing for her line, I think she'll heat up.
The Gophers also give seven freshmen a regular shift, so there are growing pains. Three of them, Taylor Heise centering Amy Potomak and Emily Oden, have been playing together and clicking with regularity. If the goaltending, blue line, and forwards all start to live up to the potential that is apparent, then it will be difficult for many teams to match. Of course, no goals nor wins are awarded for potential, so we'll need to take a wait-and-see approach to evaluating Minnesota.
Another intriguing team is Providence under first-year coach Matt Kelly. I get that the Friars haven't had the most challenging schedule. They took advantage of a BC roster that was depleted due to Four Nations, and they were shut out by Northeastern. However, other than a 5-3 loss to Penn State, they've held opponents to three goals or less. Their winning streak has grown to eight games after winning the Nutmeg Classic over the weekend. Do you think this season for Providence has the potential to become something more than just the best start to this point during the NCAA era?
Candace: It depends on what you mean by "something more." A top four finish in the Hockey East regular season? Sure. A semifinal berth in the Hockey East tournament? Yes, likely. Anything more than that, like an NCAA tournament berth, is unlikely from what I can see.Yes, Providence is currently fifth in the PairWise, but I don't see anything on the schedule that can improve that, unless the Friars beat BC again, or if they can somehow beat Northeastern. A win over Brown on Dec. 4 is pretty much a needed thing because of the Bears beating Colgate and Cornell.
Looking at Providence's remaining schedule, they have two each with Boston College and Northeastern, plus three with a Boston University team that is no pushover. The Friars need to go around .700 in those games, which means they need to find a way to beat Northeastern and BC, and also sweep all three with BU.
There is, however, a lot for the Friars to build on for the future. Sophomore Maureen Murphy is proving extremely difficult for opposing defenses. She averages 1.71 points per game, nearly a point more than her impressive freshman year numbers. She scored twice against BC, and more importantly almost willed the Friars to a sweep of a dangerous Merrimack squad, notching three points in each game. Freshman Sara Hjalmarsson has 12 points so far, and is proving to be a big contributor.
On the other hand, Providence will have to replace Christina Putigna next year, who has excelled in her senior year, putting up, so far, career bests for points per game average. They will also need to find a goaltender. Senior Madison Myers has played the lion's share of games for the Friars; sophomore Sandra Abstrieter has not been able to come anywhere close to Myers' level in the two games she's played.
Earlier, you talked about the tie between Robert Morris and Cornell impacting the PairWise. Dare we look at the CHA? Mercyhurst beat Union Monday, and has looked the best of all the teams. They are the only squad in the conference with a winning record. A tie for Robert Morris can't really be looked at as a positive. They have had a lot of ties against contending teams, like St. Lawrence, Colgate, and Cornell, but they also tied and lost to Minnesota State, which kills them in the PairWise. This weekend, the Colonials get a Penn State team that has played respectably and has a .500 record. The Nittany Lions also beat Colgate, so they are capable of beating the Colonials.
What are your thoughts on the CHA right now?
Arlan: I feel like my CHA thoughts never really change. If I went back and looked at how I answered the same question four years ago, the names would be different, but I probably said essentially the same thing. Something along the lines of, "Mercyhurst will likely emerge on top, but Robert Morris will be in the hunt, Syracuse could be a spoiler, and no upset will be too big of a surprise."
With that in mind, maybe I should try to say something original. Both Robert Morris and Mercyhurst have played demanding schedules out of conference. The Lakers started off with four games against the teams currently ranked in the top two and have only lost twice since then.
Meanwhile, the Colonials played many of the top teams in the ECAC: all three "C" teams plus St. Lawrence. They only have the overtime win over the Saints and two ties to show for those games, but they've been in all of them. The results against Minnesota State look bad, but the Ratings Percentage Index for the Mavericks is essentially the same as that of Mercyhurst or Minnesota-Duluth.
At first glance, Robert Morris looks to have the most productive offense, but that is largely a factor of having played the most games. Mercyhurst actually scores at a slightly higher rate. Individually, the other teams can't counter Gebhard's 1.5 points per game average. The problem is that Paul Colontino's goaltenders and defense haven't been able to combine to stop 90 percent of opponents' shots, so they find themselves trying to come from behind too often.
I expect that the battle for the regular season will go down to the wire, or at least until Mercyhurst visits Robert Morris at the end of February. The team that comes out of that weekend with the lead will hang on through the next and final weekend of play. Whether that season champ is the Lakers or Colonials, it won't mean much when the CHA tournament starts in March. Either team could easily win the championship and the automatic bid, and either could just as easily be knocked out in a semifinal. That's about the extent of my confidence in any one team in the CHA, so I guess that wasn't all that original after all.
Looking at the race in Hockey East, what are your thoughts on the first BC versus Northeastern tilt of the season and what that result suggests will happen down the road?
Candace: I thought it was a fairly evenly played game, but two things stood out to me. First, BC twice was unable to hold a lead. The Eagles entered the second period up 2-0, and 20 minutes later they were down 3-2. They had a late 4-3 lead, but ended up giving up an extra-attacker goal with less than two minutes left before Northeastern's Mia Brown won it midway though the OT.
More than that though, I think as a team BC is lacking something. They have three defenders who played in the Olympics last year. Theoretically, the Eagles should be dominant defensively. Against overmatched teams, they are, but when it comes to playing good teams, they have given up a lot of goals. In three of their four losses, they've given up four or more goals. That's just not going to get it done, and it shouldn't happen with the talent BC has on the blue line.
If you look at tonight, it was sloppy play late that cost the Eagles. They gave up a goal at 18:50 of the second period to fall behind, 3-2. They then gave up the tying goal at 18:39 of the third. You have to play the entire 20 minutes, and it seems like BC is not.
What's more, I've watched several of their games. The game against Boston University two weeks ago really stands out. BC jumped out to a 2-0 lead, then allowed BU to tie it up with two late goals in the first. BC had a 4-2 lead in the third, and the Eagles gave up a late goal to make it 4-3, and I remember BU hitting a cross bar late that could have tied the game. BC significantly outshot the Terriers, but when the Terriers had the puck, the Eagles often seemed discombobulated in the defensive zone.
What was your take?
Lastly, do you have a take on the Patty Kazmaier favorites as we near the first half closure, and what teams have been surprises, and what teams disappointments?
Arlan: I thought a play that summed up the first period for BC was when goalie Maddy McArthur made a save and put out her goal stick to fend off an attacker, but nobody was there except her own defensemen. The Huskies weren't getting to the blue paint in the first period, while that was how the Eagles where doing their damage. When Northeastern started going down low themselves in the second frame, they stormed back. BC had players in position on all the goals, but they just didn't make the defensive play. The game also slowed down a step in the second period; when it sped back up in the third, that was more to the Eagles' liking. I thought they were the faster team until the overtime. BC looked to be playing just four defensemen most of the way, and perhaps they wore down late.
For the Kazmaier top 10, the two most likely at this point are Gabel and Giguère, given their lofty point totals and the momentum they carried out of last postseason. I see Megan Keller, who currently sits atop the scoring chart for defensemen, joining them. The most likely additions are a couple of WCHA redshirt seniors, Annie Pankowski and Pannek.
After that, it gets less predictable. I don't expect some of the statistical leaders to remain where they are over the course of the season. For example, Northeastern goalie Aerin Frankel came into the showdown with BC on Tuesday with a gaudy save percentage of .972 to lead the nation, but she had a low total of only 176 shots faced, so her percentage will still be volatile in the coming weeks. Alina Mueller, her freshman forward teammate, is more likely to represent the Huskies after the coaches do their voting, as her impact on a game is undeniable.
Of the goalies, someone like Lindsay Reed of Harvard or Abigail Levy of Minnesota State is more likely to crack the list, if she can maintain a lofty save percentage and elevate her team, as neither has a dynamic scorer on her team. Before the season, Rooney would have figured to be the obvious goalie in the top 10, and she still may be, but she, like her team, have had some struggles with UMD's difficult schedule to date.
If Ohio State remains in the hunt, then look for either Jincy Dunne or Emma Maltais to garner some support. As for other scorers who could be finalists, look to Murphy, Gebhard, and if Clarkson stays in the top two or three, Pejzlová.
I don't know how many that is, but ask me again in January, because I think the list is going to be in flux over the next couple of months.
A surprise? How about Minnesota State and Colgate having the exact same record of 7-5-2 at this point. I'm not sure which of those marks is the more surprising, but I'd lean toward the Mavericks. If you want just a pure, feel-good surprise, then either the Friars or Merrimack.
For a disappointment, I'll go with Bemidji State. Jim Scanlan may think that I'm picking on his team, which has had a very tough schedule to this point. When I watched them in the WCHA Final Face-Off last March, I wasn't expecting that the Beavers would head into December with only two wins. I guess they did good to get those, given they had to sweep the country's current sixth-ranked team in Ohio State to earn them.
Who did I leave off the Kazmaier list who demands a spot, and what has surprised or disappointed you?
Candace: For a disappointment, I really feel Colgate has been a let-down. The Raiders went to the national championship game last year, falling in OT to Clarkson. They returned a lot of the players from that team. At only 7-5-2, and 3-2-1 in the ECAC, the Raiders are underperforming, and often drastically so. They got walloped by Princeton, 6-0, their last weekend out, then tied Quinnipiac the next night. That is not a good weekend.
For a surprise, I look to Minnesota State, a team that wasn't expected to be anything but the WCHA last-place team. It's still a long season, but the Mavericks are beating teams they might have lost to a few years ago, like Lindenwood. I'd be happy to see the Mavericks move up in the WCHA.
As for the Kazmaier, Carly Bullock of Princeton could be in the conversation. Her points per game is a gaudy 1.60, which is top 10. I could also see someone like BU's Jesse Compher sneak in there too. Like you said though, there's a lot of hockey left.