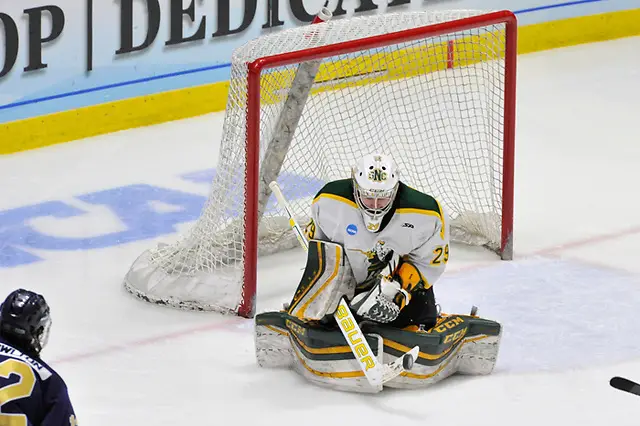 St. Norbert rose to the challenge in its showdown with Marian Saturday. The Green Knights blanked the Sabres, 5-0. In a battle of nationally ranked teams, No. 3 St. Norbert used a solid effort from T.J. Black, who stopped 15 shots.
Timmy Nicksic scored a goal and an assist. Brendon Gysbers, Dominic Sacco, Keegan Milligan, and Peyton Frantti also scored for the Green Knights, who improved to 8-2-1 overall and 4-2 in the NCHA.
Hunter Vorva made 28 saves for the Sabres, who entered the night 14th in the country.
Lumberjacks battle Bulldogs tough
Northland gave No. 4 Adrian all it could handle in an NCHA game that ended in a 1-1 tie Saturday afternoon. It's the first time Northland has ever played Adrian to a tie.
Max Glashauser came through with Northland's only goal of the game, while goalie David Krejcik made 36 saves.
Trevor Boyd scored the lone goal for Adrian. Kevin Entmaa made 14 saves.
The Bulldogs still lead the all-time series against the Lumberjacks, 24-0-1.
Spartans pull off rally
Aurora scored the final four goals of the game to hold off Milwaukee School of Engineering, 4-2, Saturday in NCHA action. Aurora trailed 2-0 just over two minutes into the game.
Connor Chilton, Dylan Rauh, Roberts Baranovskis, and Jacob Holmers all scored goals, while Josh Boyko made 17 saves for the Spartans, who won for the seventh time this season. They have won their last three games. They are now 4-3 on the road.
Cardinals end drought
After 11 games of not coming away with a win, Saint Mary's finally did get a victory, edging Saint John's, 4-3, Saturday in overtime. One night earlier, these two teams tied 3-3, but there would be no tie on this night as Ryan Stoynich scored 29 seconds into OT to lift the Cardinals to the victory.
The game marked the 11th time this season the Cardinals have played in a game decided by two goals or less, with six of those games going into OT. Saint Mary's is now 1-8-3 overall and 1-3-2 in the MIAC.
Nick Nast earned the win in goal, stopping 24 shots.
Jack Hatton scored his fourth goal of the year to give Saint Mary's an early 1-0 lead. Tyson Liverance and Seth Kamrass also scored as the Cardinals jumped in front 3-0 before the Johnnies battled back to force OT.
Cobbers sweep series
Concordia came through with a pair of wins over St. Olaf in a MIAC series over the weekend. The Cobbers topped the Oles, 5-1, in the opener Friday and finished off things Saturday with a 4-2 win. Concordia has won its last three games and is now 6-2-2 overall and 3-0-1 in the MIAC. The Cobbers are unbeaten in their last five games.
Concordia scored three times in the first period and never looked back. Tyler Bossert had a big game Saturday, dishing out a pair of assists and scoring a goal.
Jacen Bracko continues to impress in his freshman season. He scored a goal for the third consecutive game Saturday and has nine points in all, second-most among all rookies in the MIAC.
Aaron Herdt also stepped up. He scored for the third consecutive game and has at least one point in nine games. He has 15 points in all.
Jacob Stephan stopped 24 shots and improved to 5-1-1 between the pipes.
Tommies forge tie in series finale
St. Thomas bounced back after Friday's 5-2 loss to Augsburg by tying the Auggies, 2-2, Saturday. Goalie Cam Bruggrabe stopped 42 shots and helped kill off seven power-play opportunities for the nationally ranked Auggies. The game between these two MIAC rivals lasted nearly three hours. Luke Radetic and Tanner Barnes both scored for the Tommies. Radetic has scored a goal in five consecutive games.
St. Thomas is 4-4-2 overall and 1-1-2 in the conference.
Still perfect
Wisconsin-Stevens Point has yet to lose a hockey game. The Pointers blanked Wisconsin-Superior, 4-0, Saturday after earning a 3-1 win over Wisconsin-River Falls on Friday. The top-ranked Pointers used a balanced attack Saturday to improve to 10-0-2 overall and 2-0 in the WIAC.
Luke McElhenie and Colin Raver both came through with a goal and assist. B.J. Duffin also scored a goal, and Steven Quagliata dished out a pair of assists. Carter and T.J. Roo teamed up on the Pointers' other goal. Carter scored his sixth goal of the season off an assist by T.J..
Falcons put up a fight
It wasn't a win, but Wis.-River Falls managed to play nationally ranked Wisconsin-Eau Claire to a 2-2 tie Saturday at home. Brandon Bissett scored for the Falcons, as did Cayden Cahill. Zach Quinn made 38 saves as the Falcons saw their record go to 4-3-3 on the year.