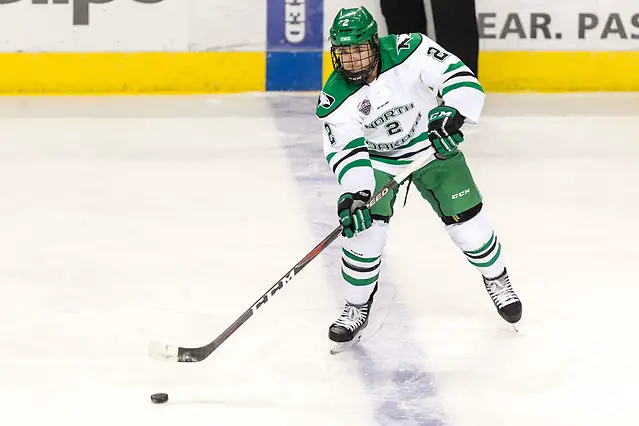 Each week, USCHO.com columnists will pick the winners of the upcoming games in their respective conferences.
Atlantic Hockey
Friday
Sacred Heart at Vermont
Vermont is coming off a championship in its own tournament last weekend, while SHU has won three of its final four games heading into the break. I like the home team to come away with this on. Vermont wins.
Friday-Saturday
Holy Cross at Mercyhurst
The Lakers were 2-0-2 against the Crusaders last season, including a sweep at the MIC last season. Holy Cross snapped a 13 game winless streak just before the Holidays, but I think the Lakers come away with four points. Mercyhurst sweeps.
RIT vs. Niagara
The Purple Eagles host on Friday, with the action shifting to Rochester on Saturday. I'm looking for each team to win on home ice, so I'm going with a split.
Air Force vs. St. Lawrence (Friday) and Connecticut/Western Michigan (Saturday)- The Falcons are in Sin City for the Ice Vegas Invitational, and I'm picking them to win their semifinal vs. St. Lawrence. But I think they fall to either UConn or No. 17 Western Michigan. So I'm going with a win and a loss for Air Force.
Robert Morris vs. Brown (Friday) and St. Cloud/Union (Saturday)
The Colonials are hosting the Three Rivers Classic for the seventh time, with a bit of a hiccup — Friday's semifinals will be held at the UPMC Lemieux Sports Complex due to a scheduling conflict with the Pittsburgh Penguins at PPG Paints Arena on Friday. The consolation and championship games will be at the big house as usual on Saturday. This tournament always has a competitive field, and the Colonials have faired well, winning three of the first six titles, but I think they come away with losses in both rounds this time. I'm picking Brown and either St. Cloud or Union.
North Dakota at Canisius
This is a great "get" by Canisius and Atlantic Hockey, and I hope HarborCenter is electric for this series. But I'm going with the No. 13 Fighting Hawks to sweep.
Saturday
Dartmouth at Bentley
Bentley handed Dartmouth a 5-1 loss in Hanover last season, and I think the Big Green will be itching to return the favor this time around. Dartmouth wins.
Massachusetts at American International
This local rivalry features two teams on the rise – No. 2 UMass is enjoying a historic season so far and AIC has won five of its last six. I have to go with the Minutemen here. UMass wins.
Army West Point at Rensselaer
Both teams went winless in December: Army West Point (0-3) and RPI (0-5). The Engineers have actually lost seven in a row, but I think that stops here with a victory on home ice against the Black Knights. Rensselaer wins.
— Chris Lerch
Big Ten
Friday-Saturday
Ohio State at Michigan State
Five days after failing to get a win at the Great Lakes Invitational Michigan State will host a tough Ohio State team at home. After a decent start the Spartans have cooled down and only managed two victories in their last 13 games. After almost a month off, the Buckeyes looked pretty good last weekend when they swept Mercyhurst at home. The four goals conceded on Saturday could be alarming if it turns into a trend but considering the way Ohio State ended the first defensively, that would be unlikely. Ohio State sweeps.
Penn State at Minnesota
Throughout the season Minnesota has shown that its capable of winning and losing against anybody. The early-season tie and victory against Minnesota-Duluth is still fairly impressive, but the home losses to St. Lawrence, Michigan State and, most recently, Ferris State certainly sting. Penn State will, obviously, test the Gophers this weekend. The large ice sheet at Mariucci may actually help the Nittany Lions' offense if they can get acquainted with its angles and bounces quickly. Penn State beat Minnesota four times in a row to end last season and getting two more this weekend on the road would be a quite the statement, but I don't think it'll happen. Split.
Denver at Wisconsin
The Badgers ended the first half with a six-game conference point streak and they will start 2019 by finishing off their conference schedule. The Pioneers are 3-1-1 in the last five games against the Badgers with Wisconsin's last victory coming in late 2012. Both teams have put up similar offensive numbers, with Denver averaging 3.38 goals per game and Wisconsin averaging 3.17. The key for the Badgers will be on defense, as they have averaged 0.71 more goals allowed per contest. It'll be a tough series, but I like Wisconsin to win a game at home. Split.
Michigan at Notre Dame
The weather forecast for South Bend on Saturday is calling for a high of 47 degrees and sunny. Perfect for watching a sporting event outside. Not exactly perfect for playing a sport outside on ice. Outdoor games are generally hard to predict and if ice conditions deteriorate and glare comes into factor we could be in for more of the same. I'll take the home team. Notre Dame wins.
Tuesday, Jan. 8
Merrimack at Michigan
With a 6-7-6 record after the GLI, Michigan desperately needs to discover some of the magic it had during the second half of the season last year if it wants another shot at the Frozen Four. Playing a team that hasn't won since the second weekend of November could help, even though the Wolverines' last victory was only a week later. I like the Wolverines at home against Merrimack on short rest. Michigan wins.
— Drew Claussen
ECAC Hockey
Friday
St. Cloud vs. Union (Three Rivers Classic)
Union is having a solid season, but the Huskies haven't lost since October. It's tough to pick against that kind of hot streak. St. Cloud wins.
Cornell at Princeton
The Big Red haven't played in nearly a month, but that might be a good thing for a Cornell team that had a myriad of injuries in the first half. The Tigers swept Maine last weekend, including a decisive 7-1 win Saturday. However, I think Princeton will have a tougher go of it against the Big Red. Cornell wins.
Colgate at Quinnipiac
Quinnipiac beat Colgate 6-0 in a nonconference game at Nassau Coliseum last Saturday. I don't see a lot changing Friday, as the Bobcats simply have more depth than the Raiders. Quinnipiac wins.
Rensselaer at Harvard
RPI has the benefit of playing several games since the holiday break, while Harvard is back in regular season for the first time since Dec. 4. I just don't see the Engineers being able to match the Crimson offense. Harvard wins.
Brown vs. Robert Morris (Three Rivers Classic)
Brown only has one loss over its last four games, and led Providence 1-0 after two periods on Saturday. The Colonials have played well lately as well, but scored a season-high five goals Sunday against Army West Point and should carry some of that momentum into this weekend. Brown wins.
St. Lawrence vs. Air Force (Ice Vegas Invitational)
This is the Saints' first game back from the holiday break, and St. Lawrence will have a tough task against an Air Force team that has only lost once since the middle of November. Air Force wins.
Saturday
Robert Morris vs. Union (Three Rivers Classic third-place game)
Assuming my predictions from Friday hold, the Dutchmen will face Robert Morris in the consolation game of the Three Rivers Classic on Saturday. I don't see Union losing twice in one weekend. Union wins.
St. Lawrence vs. UConn/Western Michigan (Ice Vegas Invitational third-place game)
Assuming the Saints lose to Air Force Friday, they'll face either UConn or Western Michigan in the third place game of the Ice Vegas Invitational. St. Lawrence over UConn, Western Michigan over St. Lawrence.
Colgate at Princeton
Both teams are trying to find some scoring depth for the second half, but I think the Tigers' top-end forwards give them an advantage over the Raiders. Princeton wins.
Cornell at Quinnipiac
Like I mentioned above, injuries derailed Cornell's first half of the season, so it's tough to get a read on the Big Red. With that being said, the Bobcats are 6-1 at home and had a great first half. Quinnipiac wins.
Army West Point at Rensselaer
RPI has played tough its last few games, but has still lost seven in a row. The Black Knights have played well on the road this season, so I'm going to bet on that trend continuing. Army West Point wins.
Yale at New Hampshire
The Wildcats beat Yale 4-0 at Ingalls Rink last season. New Hampshire has won three in a row, but the Bulldogs have been the more consistent team this season. Yale wins.
Sunday
Clarkson at Vermont
Both teams have won three in a row entering Sunday's game, but the Catamount might have some trouble generating offense against Clarkson goalie Jake Kielly, who has played well lately. Clarkson wins.
Monday, Jan. 7
Yale at Maine
These teams haven't played since 1999, when Maine won the national championship and the Bulldogs were in the midst of a down year. It's a little different now, as Yale is having a strong season, while Maine has struggled. Yale wins.
Tuesday, Jan. 8
Boston University at Harvard
Both teams have plenty of talent on the ice, but I think BU goalie Jake Oettinger gives the Terriers an advantage in goal. Boston University wins
— Nate Owen
Hockey East
Friday
UMass Lowell at UMass
As much as I think this is a rivalry where there could be an upset, I think UMass is talented enough to win this at home. UMass wins.
Merrimack at New Hampshire
This might be a pretty even matchup, but I think UNH has been playing the better hockey of late. UNH wins.
Western Michigan vs. Connecticut (at Las Vegas)
This is a tough pick for me. I like UConn's win over Yale but also know that Western has a lot of talent. I'll go with UConn to advance in this tournament.
Sacred Heart at Vermont
Vermont's performance in last weekend's Catamount Cup gives me the confidence to pick them. Vermont wins.
Saturday
Merrimack at Northeastern
Whether or not Northeastern has their players back from World Juniors, they should win this. Northeastern wins.
Connecticut vs. Air Force/St. Lawrence
I think that UConn might be the best team in Vegas this weekend. UConn wins, regardless of opponent.
Yale at New Hampshire
I thought Yale was rolling until their loss to UConn. I still think they should have the edge of UNH right now. Yale wins.
Friday-Saturday
Miami at Providence
I really like this Miami team, but I do believe that Providence might be a touch better and can win both of these games. Providence sweeps this series.
Boston College at Arizona State
Oh boy, nonconference for BC. That's become the most difficult pick in hockey. I think BC is solid enough to split this series, though the last two seasons out of Hockey East don't give me a lot of confidence. Still, ASU wins Friday; BC wins Saturday.
Sunday
Clarkson at Vermont
Even in Burlington and even though I expect UVM to enter on a winning streak, I think Clarkson is simply better. Clarkson wins.
Monday, Jan. 7
Yale at Maine
Similar to my comments about UNH, I still think Yale is the better team than Maine and should win. Yale wins.
Tuesday, Jan. 8
Boston University at Harvard
Right now, BU hasn't proven that they are consistent enough to pick them. Harvard wins.
Merrimack at Michigan
I picked against Vermont when they went to Ann Arbor and was proven wrong. It could happen again, but I'm still going with the intelligent pick. Michigan wins.
— Jim Connelly
NCHC
Friday
St. Cloud State vs. Union
St. Cloud brings its potent 1-2 punch of a top offense and top defense to the Three Rivers Classic, where the Huskies open with a game against No. 14 Union. The Dutchmen already have a series under their belt in the second half, but probably aren't happy with it, as they got a tie and win against Canisius. St. Cloud has too many weapons, and that should be enough to overcome any rust. BTW, I expect that St. Cloud will also beat either Brown or Robert Morris in the championship. St. Cloud State 3-1.
Western Michigan vs. Connecticut
The Broncos got hot to close the first half, going 5-0-1-1 to close it out, including a sweep of North Dakota and a win and shootout win versus Minnesota Duluth. That has a lot to do with the return of Wade Allison to the lineup. In net, senior Trevor Gorsuch has been strong with a .927 save percentage. UConn is coming off a win over No. 18 Yale, but before that, they had lost nine of their previous 10 games. The Broncos should win this first game of the Ice Vegas Invitational, and I expect them to also beat St. Lawrence or Air Force in the championship. Western Michigan 5-2.
Friday-Saturday
North Dakota at Canisius
The Fighting Hawks will look to continue the form they showed in their last two weekends of the first half, where they split with then No. 2 Minnesota Duluth and then No. 6 Denver. Outside of the NCHC, the Hawks have played well, sweeping Alaska Anchorage, splitting with Minnesota State, sweeping Wisconsin, and beating Minnesota. While Canisius did earn a draw with No. 14 Union last week, I look to North Dakota to sweep. North Dakota 4-2, 4-2.
Miami at Providence
This is an interesting series. The two squads faced off back in October, with Providence shutting out the RedHawks, 4-0. Providence has had Miami's number ever since the quarterfinal NCAA tournament game in 2015, but since that loss in October Miami has played very well overall. Providence doesn't have too many blemishes on its record, and will be looking to improve its PairWise position. I expect this to be a split. Providence 3-1, Miami 3-2.
Denver at Wisconsin
The Pioneers opened their second half with a successful road trip out East, defeating Merrimack and UMass-Lowell. This series doesn't pack quite the punch it did back when these teams were in the old WCHA. The Pioneers have a strong offense and two good goaltenders in Filip Larsson and Devin Cooley. Larsson has played well in his last two outings, after a rough start against Providence in his first game after returning from injury, but Cooley has also been a leader. Wisconsin also has a strong offense, but its defense is not nearly as solid, allowing almost as many goals as the team scores. Special teams will be important. Denver has a solid power play, one ranked 16th that clicks at 21.33 success, while Wisconsin's penalty kill is dismal, ranking 54th and only succeeding 75.95 percent. Home ice may get the Badgers a boost, but I'm going with the conference homer picks. Denver 3-2, 4-2.
— Candace Horgan
WCHA
Thursday-Friday
Bemidji State at Bowling Green
I wasn't shocked Bowling Green recently swept Minnesota State because this Falcons squad is poised to win their first WCHA championship. But I wouldn't be surprised if Bemidji State somehow upset BG on the road because, well, the Beavers need points in the conference, too, if they want to stay in the playoff race. Give me BG to win Thursday night's game but BSU to take Game 2 going away.
Friday-Saturday
Michigan Tech at Minnesota State
This is the most-important WCHA game so far this season. Only two points separate these two teams in the standings and only one goal separates them in the goals-forced category. But with the Mavs losing three of their last four games, they need to win this series more, to shake off their sour mojo and keep pace in the league race. Give me Mankato to sweep the home series.
Ferris State at Alabama Huntsville
The Bulldogs FINALLY snapped an 11-game win drought by upsetting Minnesota last week. But Ferris just isn't playing that well this winter, and the Chargers have played some respectable opponents tough. I like Huntsville to win both home games this weekend.
Lake Superior State at Alaska Anchorage
The Seawolves are one of the worst teams – if not the worst – in NCAA hockey right now. And with the way the Lakers have been playing the last two months, I like them to make the long flight out west, take care of business and return to the Upper Peninsula with a pair of wins, which would keep them in the WCHA playoff chase.
Northern Michigan at Alaska
The Wildcats are five points back from first place in the WCHA standings, so every conference game is a must-win from here on out if they want to win the regular-season title and somehow secure a No. 1 seed in the league playoffs. Alaska, with a new coach and young team, shouldn't be able to hang with hungry NMU and its talented depth, so give me the Wildcats to sweep the series on the road.
— Brandon Folsom