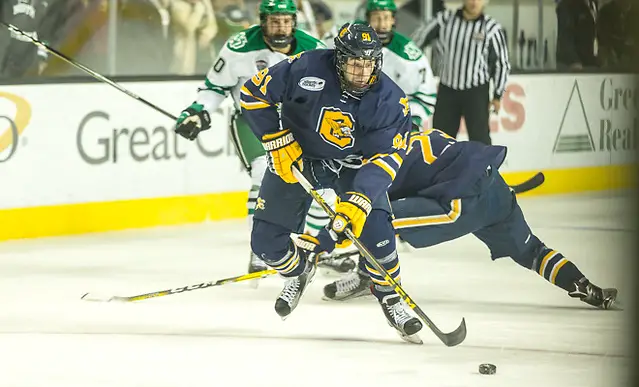 Depending how you look at it, the 2018-19 season has been one of extremes for Canisius, but also one of consistency.
Second-year coach Trevor Large's Golden Griffins team has the top offense (3.12 goals scored per game) in Atlantic Hockey as well as the worst defense (3.94 goals allowed per game).
That can make for some ups and downs, and Canisius has been consistently inconsistent so far, recording splits in four of six conference series so far, as well as a nonconference split with No. 19 Clarkson.
The Golden Griffins haven't been able to win twice in a row yet, but only have one stretch of consecutive losses.
Throw in a three-point series against Sacred Heart, and with the exception of a sweep at the hands of archrival Niagara, the Griffs have taken points every weekend in conference play.
That's in spite of the loss due to injury of starting goaltender Daniel Urbani, who has yet to see action this season.
The mantle has fallen to Blake Weyrick, who stopped 42 of 44 shots in a 2-2 tie at No. 14 Union last Friday, a career high for the junior.
A tight, low-scoring game was a needed change of pace, according to Large.
"Our team has been transitioning into a harder hockey team," he said after the game. "Early on, we had a lot of goals against and a lot of goals for. It was a bit of a shootout. I like the fact that we can have a 2-2 game against a great opponent on the road. That builds confidence for a team to be able to play such a hard hockey game. We're not satisfied with the result, but all in all, I was really happy with the attitude and effort. That was tremendous tonight across our bench."
Newcomer Matt Ladd, who joined the team just before Christmas from the NAHL's New Jersey Jr. Titans, made his first collegiate start in net the following evening in a 5-3 loss to the Dutchmen.
"I was happy with his performance tonight," said Large after the game on Saturday. "We're not necessarily focused on the result. I'm sure he would want the second goal back, but for his first game in college hockey, I was very happy with how he played. He's a calm presence back there. He's got a bright future for us in net."
Canisius was down 4-1 going into the third period on Saturday, but got to within a goal before Union put the game away with a late empty-net goal.
"In the third period, I thought our compete was closer to what our standards are," said Large. "I was happy with how we played in the third, but I was disappointed in the effort in the first two periods. That made us have to have a sense of urgency and it's not a good recipe for winning against anybody."
Large said while his team settled for a tie and a loss, they gained valuable experience.
"It's what our guys want," he said after Friday's game. "They want to play against high-quality opponents. Union is definitely that. The fact that we can go on the road and have a good performance against an extremely good team, it is at times satisfying, but at the same time you're up a goal in the third period. If we play better, maybe make some plays, we could have come out with a win."
Reigning Atlantic Hockey player of the year Dylan McLaughlin was held to a single point last weekend, but is still on a pace to match his league-high 48 points last season. The senior leads the team in goals (11) and points (22). He's currently tied for 13th nationally in points per game (1.29). The next closest Atlantic Hockey player is American International's Blake Christensen, in 45th place nationally (1.02 PPG).
McLaughlin, along with junior Nick Hutchison and sophomore Austin Alger have accounted for 53 percent of the goals by the Golden Griffins so far. Defenseman Jimmy Maza (14 points) leads a quartet of senior blueliners that are looking to lock things down heading into the second half of the season.
That might be a tall order with 13th-ranked North Dakota coming into HarborCenter for a pair of games this weekend.
"(North Dakota coming in) is special," said Large on a call with media. "Our players know that. We're looking forward to that buzz around campus, that buzz in the community. Hopefully, lots of people will be there wearing blue and gold and not green."
Canisius is looking to make something special happen this weekend against the Fighting Hawks, and then use that as a springboard for the rest of the season.
"Things we talk about are our attitude and our effort," said Large. "It's the only things we can control. Our team is together. We believe in each other."