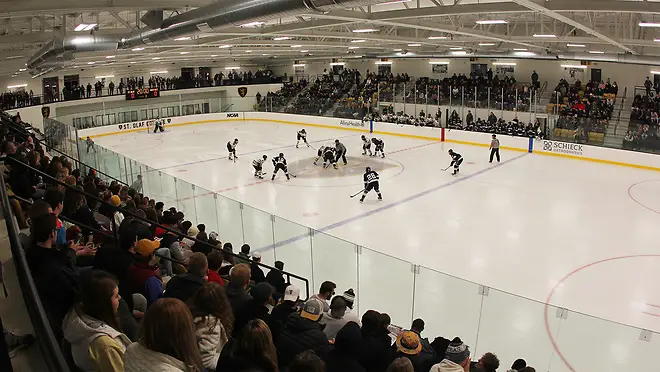 St. Olaf will celebrate the grand opening of its new St. Olaf Ice Arena on Saturday, Jan. 19.
The ceremony will begin at 6:40 p.m., followed by the men's game versus Hamline at 7 p.m. The events will be streamed and archived online. The women's varsity hockey team is competing at Hamline that day.
Connected to the Skoglund/Tostrud athletic complex, the $8 million arena features an NHL-size rink and 804 individual stadium chairs. The complex features seven men's and women's locker rooms, as well as state-of-the-art video broadcasting capabilities and media boxes.
The new arena will engage the campus community in year-round ice-related opportunities for hockey and broomball players, curlers, skaters, and fans — all in a central location that will support competitive success by seamlessly integrating athletic and recreational activities with academic pursuits.
Entrance to the rink is directly accessible from both Skoglund and Tostrud Center main entrances. Parking is available in the Tostrud Center lot.
The arena is made possible by more than 325 alumni, parents, and friends who have committed $4.83 million in capital gifts and pledges in support of the project to date, in addition to $1.5 million in capital expenditures from the college.
St. Olaf will continue to fundraise for the $8 million arena as part of its $200 million For the Hill and Beyond comprehensive campaign.