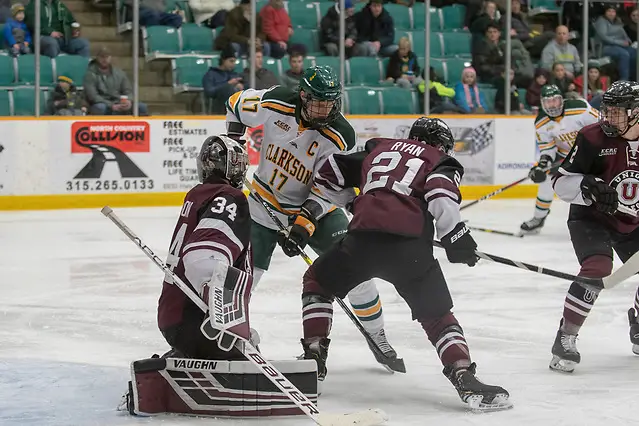 Two goals in the first and second periods spotted host Clarkson a 4-0 lead as the No. 16 Golden Knights rolled past No. 15 Union, 5-1.
Clarkson spread the scoring around with five different goal scorers and Michael Underwood posted a goal and an assist in the victory. Goaltender Jake Kielly remained hot, posting 23 saves for the win.
No. 5 Minnesota Duluth 3, No. 1 St. Cloud State 1
Noah Cates, fresh off earning silver at the World Junior Championships, broke a 1-1 tie with 10:07 remaining, as Minnesota Duluth knocked off No. 1 St. Cloud State, 3-1.
Nick Swaney and Justin Richards also tallied for the Bulldogs, while Robby Jackson scored the lone goal for the Huskies.
Hunter Shepard won the goaltending battle stopping 30 shots to St. Cloud State's David Hrenak, who finished the game with 15 saves.
The two teams meet again on Saturday in the USCHO Game of the Week.
NO. 1 GOES DOWN!@UMDMensHockey defeats top-ranked St. Cloud State, 3-1 on Friday night.#NCAAHockey pic.twitter.com/zn82BbCRMX

— NCAA Ice Hockey (@NCAAIceHockey) January 12, 2019
Michigan 2, No. 4 Ohio State 1
Second period goals by Jake Slater and Will Lockwood erased an early deficit as Michigan upset No. 4 Ohio State, 2-1, in Big Ten action.
Hayden Lavigne stopped 22 of 23 shot he faced spoiling a 29-save effort by Ohio State's Sean Romeo.
? @CoachPearsonUM following tonight's 2-1 win over No. 4 Ohio State!#GoBlue https://t.co/Vx4nLKaMIN

— Michigan Hockey (@umichhockey) January 12, 2019
Boston College 4, No. 7 Providence 2
The host Eagles overcame a 2-1 deficit and scored the game's final three goals as BC knocked off a red-hot Providence team, 4-2, in Hockey East action.
BC, which has lost 25 straight out of conference games dating back two seasons, continues its strong league play and keeps pace with Massachusetts, a 4-1 winner on Friday over Vermont. The Eagles and Minutemen are tied for first in Hockey East.
Minnesota 5, No. 9 Notre Dame 1
Minnesota exploded for four third-period goals as the visiting Gophers upset Notre Dame, 5-1.
Mat Robson made 42 saves in net for the Gophers, which didn't have a single power play on the night. Notre Dame had two chances with the man advantage but couldn't capitalize.
Sampo Ranta led the scoring setting up three of the five Minnesota goals.
Head down to the locker room and check in with Coach Motzko following tonight's 5-1 win over No. 9 Notre Dame. pic.twitter.com/Mu0Kxz6Cun

— Minnesota Men's Hockey (@GopherHockey) January 12, 2019
Michigan Tech 2, No. 10 Bowling Green 0
Gavin Gould and Justin Misiak each scored third period goals to break a scoreless tie as the host Huskies upset No. 10 Bowling Green, 2-0.
Robbie Beydoun stopped all 27 shots he faced to earn his first shutout of the season.
Friday night highlights #mtuhky #FollowTheHuskies https://t.co/qGE2qtoY04

— Michigan Tech Hockey (@mtuhky) January 12, 2019