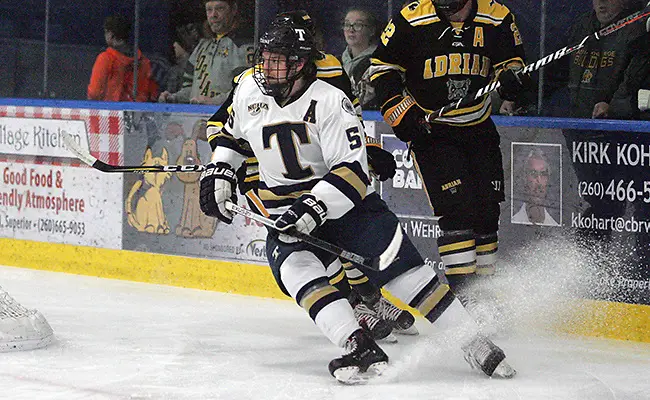 St. Norbert nailed down the NCHA North Division championship Saturday with a 6-4 win over Northland. The Green Knights extended their win streak to seven in the process. Now 16-4-3 overall and 12-3-1 in the conference, the fifth-ranked Green Knights scored three times in the first period and held on from there for the win over the Lumberjacks.
Keegan Milligan scored twice in the opening period, and Roman Uchyn added a goal as well. After a goal by Steven Phillips, St. Norbert held a 4-1 advantage, but Northland answered with goals by Jared Hester, Jacob Jeske, and Kalib Ford to tie the score at 4-4. All three goals came in a span of 87 seconds.
Phillips put St. Norbert back in front, 5-4, by the end of the second period. Peyton Frantti added an insurance goal in the third.
St. Norbert held a 35-31 advantage in shots, and T.J. Black came through with 27 saves. David Krejcik made 29 saves.
Despite the loss for Northland, the Lumberjacks are still assured of a spot in the conference tournament. They clinched a berth with a 6-1 win over Finlandia Friday. Shane Roulette scored twice in that win.
Thunder stun Forresters
Trine used a pair of power-play goals to propel itself to a 3-0 win over Lake Forest Saturday. Blake Robertson scored once on a power play, and Austin Stauffer scored the first goal of his career in the win. Grant Vitali scored the other goal for the Thunder, which improved to 9-12-2 overall and to 5-10-1 in the NCHA.
Anthony Yamnitsky was impressive in his first career start in goal, stopping 35 shots, including 20 in the second period as he earned the shutout win.
Bulldogs in control
Adrian took control of the South Division over the weekend, beating Lake Forest, 6-3, Friday. The Bulldogs and Foresters went into the weekend tied for first in the South.
Matt Eller scored his first career goal in the win and also dished out an assist. Braden Hellems scored twice, and Cory Dunn dished out three assists. Connor Armour tallied two assists and now has 65 in his career, which puts him in 16th all-time in school history.
Aaron O'Neill came through with a hat trick for Lake Forest.
Adrian avenged a 6-0 loss to Lake Forest from earlier in the season and is now 27-1-1 all-time against Lake Forest.
Kevin Entmaa returned from an injury, playing for the first time since Jan. 8, and made 17 saves to earn his 11th win. Entmaa made 15 saves in Saturday's 3-1 win over Aurora and now has 1,806 saves in his career. He ranks second all-time on the list.
Sabres prevail in rivalry
Marian is still the best team in the Battle of Highway 41, keeping possession of the rivalry trophy with a 4-0 win over Lawrence Saturday. The two teams played to a 3-3 overtime tie on Friday. Jake Howie scored two goals, pushing his season total to six. Blaine Caton scored his third goal of the year in the win, and Anthony Orubor punched in his second goal of the year.
The Sabres held a 35-25 advantage in shots. Hunter Vorva made 25 saves, recording his third shutout of the year. Marian improved to 11-8-4 overall and to 9-5 in the conference. The Sabres clinched a playoff berth in Friday's win.
Lawrence fell to 5-16-2 overall and 3-11 in the league. The Vikings avoided a loss in Friday's game when Josh Koepplinger scored in the final 20 seconds of regulation.
Falcons earn first WIAC win
Wisconsin-River Falls used three third-period goals to put away Wisconsin-Stout, 4-1, Saturday. Charlie Singerhouse came through with a goal and an assist to pace the Falcons, who improved to 10-4-4 overall and 1-3-2 in the conference.
Joe Marcouiller racked up 25 saves in the victory. The Falcons held a 31-26 advantage in shots and are now in third place in the league standings.
Pointers still unbeaten
Wisconsin-Stevens Point continues to roll right along. The Pointers capped off their weekend with a 4-1 win over Wisconsin-Superior Saturday. The top-ranked Pointers now sit at 21-0-2 overall and are 6-0-0 in the WIAC.
Steven Quagliata and Tanner Karty both tallied a goal and an assist in the win. Karty's goal was his ninth of the season. In between the pipes, Connor Ryckman made 19 saves and pushed his record to 19-0-1.
The Pointers put their depth in goal on display over the weekend as Eli Billing started Friday's 3-1 win over Wis.-Stout. Billing won his second game of the season. He stopped 24 shots.
Auggies roll to another win
Augsburg used a balanced attack to put away Saint John's, 5-1, Saturday. The fifth-ranked Auggies saw 12 of their players figure into the scoring as they improved to 17-3-3 overall and to 11-1-2 in the MIAC. The Auggies are in first place in the conference.
Alex Rodriguez scored his league-leading 18th goal of the season, while Chandler Madry tallied two assists to push his team-best total to 17. Austin Dollimer pushed his point streak to five consecutive games as he came through with an assist in the win. He has eight goals and six assists on the season.
Nick Schmit once again got the job done in goal, stopping 16 shots.
The Auggies have been a force offensively this season, outscoring their opponents, 87-50. Their goal total ranks sixth nationally, and they are unbeaten in their last four games.
Tommies keep unbeaten streak alive
St. Thomas stretched its unbeaten streak to 12 games with a 2-1 win over St. Olaf Saturday. The Tommies are now 13-4-4 overall and 7-1-4 in the MIAC. They are 9-0-3 since Dec. 1. Already assured of their 37th consecutive winning season going into Saturday's game, the Tommies didn't ease up at all behind a goal and an assist from Brett Gravelle.
Andrew Rohkohl stopped 34 shots and also tallied the first assist of his career. Tanner Barnes also scored a goal for the Tommies, who sit in second place in the MIAC standings.
Royals win on senior night
It turned out to be a special senior night for Bethel as the Royals topped Saint Mary's, 5-2, Saturday to salvage a split with the Cardinals. Austin Langworthy led the way for the Royals, scoring twice to help Bethel win for the third time this season. The Royals are 3-18-2 overall and 3-9-2 in the MIAC.
Adam Marty scored his fourth goal of the season in the win, and Ridge Gerads came up big in goal with 40 saves.
Kade Brannon and Josiah Roen also punched in goals for Bethel, which has won two of its last four games.