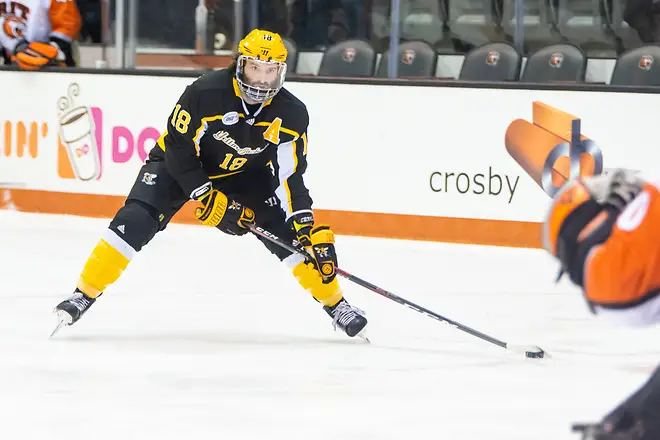 Each week during the season, we look at the big events and big games around Division I men's college hockey in Tuesday Morning Quarterback.
Dan: So with Jimmy off this week, I get to step in for another rousing rendition of our TMQ column.
This is especially exciting for me since conference seasons are wrapping up, and we're heading into the conference tournaments. Two leagues kick off the postseason this week, including my beloved Atlantic Hockey.
But before I dive into the way the leagues are finishing up, I'm going to indulge myself and start with Atlantic Hockey. American International won the regular-season championship this weekend by beating Sacred Heart on Saturday afternoon. It was the Yellow Jackets' 18th win of the season, and for me, it's one of the best stories in college hockey.
AIC won 18 games combined over a three-year span that included Eric Lang's first season as head coach and hadn't so much as hosted a playoff game prior to last season … ever.
It's a program that few people talk about, but it's been knocking on the door of the national poll this year. That program had to overcome a lot of hurdles that other, bigger programs around the country take for granted, and now it's a regular-season champion of a conference. It's a tribute to the players and coaches, especially former coach Gary Wright, who had to lay a foundation over decades because they never had the financial fairy godmother to wave a magic wand, as I know we've said in the past.
I may be looking through AHA-colored glasses, but I think Lang should be very much in the Spencer Penrose Award conversation as the best coach in the country, provided he wins the AHA Coach of the Year (stranger things have happened). But I also recognize that with programs like Arizona State and UMass, there are a lot more attractive options. The fact that AIC is in Atlantic Hockey, which struggled to win non-league games with any semblance of consistency this year, could work against the program.
So judging from a global view, I'll pose this question to you, Paula – who are some of the names that you have in the conversation?
Paula: A quick look at the Spencer Penrose winners from the last 15 years or so shows that the award is just as likely to go to a conference coach of the year as it is to a coach whose team makes it to the Frozen Four, so I think that it's likely that Lang is a strong contender. In 2003, Ferris State's Bob Daniels was the CCHA Coach of the Year when the Bulldogs captured the regular-season conference title after having finished ninth the season before. Ferris State went from 12 conference wins to 22 in the span of a single season, and people love stories like that.
Certainly, Massachusetts' coach Greg Carvel is another candidate with the kind of story that is easy to justify for this award.
You mention Arizona State, but I'm not sure that Greg Powers would be eligible unless the Sun Devils get to the Frozen Four because of the criteria for the award. I do not know if the NCAA would make an exception for this. Powers is certainly deserving of consideration, if not deserving of the award itself. What he and his coaching staff have done this season to play his team into the NCAA tournament is remarkable.
Another coach who will is a strong candidate – should he take his conference's award – is St. Cloud's Brett Larson. One thing that deserves to be recognized with awards like conference COTY and the Spencer Penrose is for maintaining the excellence of a program, and Larson has done that as a first-year head coach. While Bob Motzko left St. Cloud State with a solid foundation, Larson stepped in nearly seamlessly to guide the Huskies to their second consecutive NCHC regular-season championship.
Dan: There's a fun fact to be had about St. Cloud's success this year – they are the only team entering the final weekend of the regular season with less overall losses than any other team in their league has conference losses.
Even if the Huskies are swept by Minnesota Duluth this year, they enter their conference tournament as a tape-to-tape force. A second straight Penrose Cup is something to behold, especially given how competitive the NCHC really is, and it looks like we can pencil St. Cloud into a No. 1 seed in the national tournament again.
But that leads me to the next piece of conversation: the postseason tournaments. The team went 22-6-6 during last year's regular season but failed to win a postseason championship after losing to Denver and Air Force in the NCHC championship and NCAA West regional with identical, 4-1 defeats, and in 2016, the Huskies won the NCHC tournament only to drop an overtime loss to Ferris State in the national tournament's first round, too.
My apologies for rehashing old wounds for St. Cloud fans. I don't mean to pick on the program by any stretch. I'm only highlighting how much different things go in the postseason, where seeds are losing their inherent meaning. It's a contradiction to the regular season, where we're taught about the importance of every point to control advantageous seeding. Last year, the No. 7 and No. 5 seeds made the conference championship in Atlantic Hockey, and a No. 7 seed beat a No. 3 seed for the ECAC championship. A No. 5 seed won the WCHA. Then again, the top four seeds made the semifinals in the Big Ten, NCHC and Hockey East tournaments, with the Big Ten and NCHC watching its top two teams advance to the last game.
So maybe it's all just meaningless and silly. I mean, three points separated second from sixth in the Big Ten this year. So I have no idea what to make of anything, do you?
Paula: The short answer to that question is that no, I really don't know what to make of that – except for what Jimmy and I danced around several times this season and last, that there is just so much parity at the Division I level that it's becoming increasingly difficult to predict.
There's another factor, too, and that's the sheer amount of information that each team has about each opponent. Aside from the familiarity that conference foes have when they meet in postseason – regardless of the seedings – every team has the chance to see so much of every other team via video. While I'd never suggest that preparing for an opponent is an easy task, such preparation has become more refined in recent years, allowing every team to fine-tune its own game in response to individual opponents.
At the collegiate level, this means that savvy coaches of teams that are lower seeds can find and exploit the weakness of higher-seeded teams while preparing the best they can to play a specific kind of game. Most coaches will tell you that they just want to work on their own team's strengths and weaknesses as they head into postseason, but we know that they pour over video for the best ways to gain any advantage they can. It's not just a matter of any team being able to beat any other team on any given night; it's more like any team being able to learn as much about opponents as they can in preparation for playoff series and single-elimination games.
Dan: That's a great point.
I guess it brings us back full circle to the first point about coaches and the fact that there are some really great minds floating around college hockey. We started this week talking about Spencer Penrose candidates, but there are some great minds who all have unique styles. It takes the right style to lead a team, from the quiet tactician types to the emotional leaders.
When I work a game or broadcast it, I tend to watch the benches before, during, and after plays to gauge coaching reactions. Everyone has their own unique style, from an unflappable coach who never shows emotion to the coach who doesn't necessarily have to say much because his look tells you everything. Other coaches know how to talk at the right moment, and others step to the front of the bench to lay into a ref in the moment before immediately shifting gears like it never happened. One coach's style might work at one program but fail at another, and one team's players might respond well when another doesn't. Without singling anyone out, I urge people to just take stock of that the next time and make mental notes for later in a game, to see how one person responds and how the team subsequently follows.
That's a real hypothetical, but I'll say this. I worked all three eastern leagues this season and caught different glimpses at different styles. It's an ongoing process, and I think it's probably my favorite part of the late season and postseason because coaches all know where and how to push their teams. I think that makes the postseason so compelling.
When we talk about savvy, though, I feel like there's this whole topic about old school versus new school. Out west, I'm sure it's the same, with the cast of characters forming the right combination at the right time.
Paula: When it comes to the end of the season, it is all about the right combination at the right time.
I know every coach wants his team to be playing its best hockey right now. In March, an upset can mean that a bubble NCAA team is done for the season and a team nowhere on the PairWise radar can win a conference playoff championship and earn that autobid to the NCAA tournament.
Any way you look at it, it's exciting. For me, the conference playoffs are more exciting in many ways than is the Frozen Four.