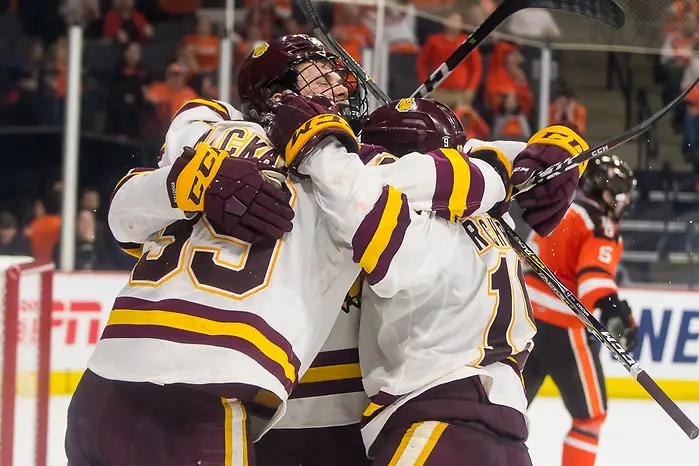 ALLENTOWN, Pa. — The Koepke and Mackay Show saved Minnesota Duluth's season.
Freshman forward Cole Koepke set up both goals by senior captain Parker Mackay, one in the third period and the other in overtime, as the defending national champion and second-ranked Bulldogs (26-11-2 overall) edged No. 15 Bowling Green, 2-1, in the early NCAA Midwest Regional semifinal at the PPL Center. The Falcons, who held a lead until late in regulation, were making their first NCAA Tournament appearance since 1990.
"We're very excited to get the win," said Minnesota Duluth head coach Scott Sandelin."Our guys stayed with their game, and we knew it would be hard. There was not a lot of room out there."
The Bulldogs outshot the Falcons, 42-31, and also won 45 of 84 faceoffs.
Mackay tied the game with three minutes left in the third period as the Bulldogs pressed for the equalizer. After Koepke threw the puck on net from the left point and actually hit Mackay with it, the captain got off a shot that was stopped by Bowling Green netminder Ryan Bednard, who made 40 saves in all. The rebound then glanced off Bowling Green defenseman Chris Pohlkamp and into the net to keep Minnesota Duluth's season going.
"They (Bowling Green) did a really good job defensively," said Mackay. "I got off a shot on net and we got a pretty fortunate bounce, and we'll take that."
Bednard later made a stop off Koepke all alone in front that helped send the contest into overtime, where Mackay followed up the rebound of Koepke's backhander 11:45 into sudden death to send the Bulldogs to their 12th consecutive one-goal win in NCAA Tournament play, plus tomorrow night's regional final.
"I used my speed to get wide, and he was right there to put it in," said Koepke.
"It was great to see," said Sandelin, who also praised Bowling Green's efforts. "We needed a goal. and Parks gave us that. That's what leaders do."
Bowling Green (25-11-5) got off the first four shots of the game in a physical first period that saw both teams take penalties, but neither was able to convert on the power play. Minnesota Duluth went 0-for-4 with the man advantage on the night, although one of them only lasted 10 seconds. The Bulldogs' best opportunity early on came in the second stanza, as Mackay had a wide-open shot from the slot, but Bednard made the stop for the Falcons.
"We wouldn't be who we are without him," said Bowling Green center Max Johnson of his goaltender. "He stops pucks in huge situations, and I can't thank him enough."
The two schools, which met for the 1984 NCAA championship that was won by Bowling Green in the fourth overtime, didn't produce near that level of offense on Saturday. Through most of the first two periods, the two teams went back and forth trading shots and hits, but neither could score or even sustain an attack, as Bednard and Minnesota Duluth's Hunter Shepard left few if any rebounds.
"When he's covering pucks, to me, he's at his best." said Bowling Green head coach Chris Bergeron of Bednard. "Both of their goals were second opportunities, and that's not on him at all."
A minute after Bednard stopped Louie Roehl's uncontested wrist shot from the right circle, Bowling Green finally broke through with 3:37 left in the second session as Lukas Craggs gained the offensive zone on the left boards, wheeled around, and backhanded the puck past a Bulldog defender to Johnson. The Falcons center then took a step and, while falling down, backhanded a pass of his own past Scott Perunovich's stick to the far post and Brandon Kruse, who fired the puck past Shepard on his glove side.
"I'm lucky he (Johnson) found me back door, and I was able to finish it," said Kruse.
After Roehl took a slashing penalty 4:25 into the third period, Minnesota Duluth forward Billy Exell had the best opportunity of all on the ensuing power play, but was denied by Bednard directly in front of the Falcons net. Just as the penalty expired, Bowling Green captain Stephen Baylis hit a post with his shot from the left circle, which kept it a one-goal game until Mackay and Koepke's heroics.
"We knew it would be a hard game, a close game," said Sandelin. "We've got to get to the net a little bit more."
"It kind of reminded me of last week," said Johnson of the WCHA title game loss to Minnesota State. "It was the same situation, and we couldn't get the puck out. Next year, we'll learn from that and take advantage of it."
"They've got really good players at all three positions," said Bergeron of the Bulldogs. "Their experience made it difficult to play them."
Bowling Green is still seeking its first victory in the NCAAs since 1988, when it swept Vermont in the first round, but Bergeron still expressed pride in his players and thankfulness for the Falcons' fans.
"I'm extremely proud of them, what they did for this coaching staff and Bowling Green, and they went out and fought," he said of his skaters. "I also want to thank our fans. You saw all the orange in the building, and we're extremely proud to represent them."