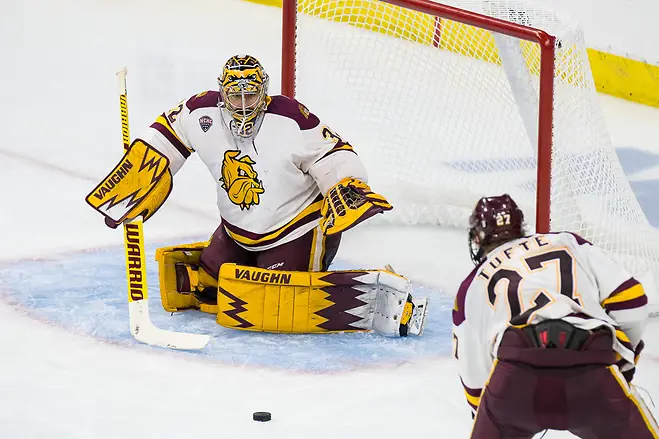 Four players were returning members of the All-USCHO teams in 2018-19, including first-team goaltender Hunter Shepard of national champion Minnesota Duluth.Shepard was a
member of the third team as a sophomore last season
.Harvard defenseman Adam Fox was a first-team selection this season after being a part of the second team last year.St. Cloud State defenseman Jimmy Schuldt (first team last year, second team this year) and Princeton forward Ryan Kuffner (third team last year, second team this year) also made their second straight appearances on the All-USCHO teams.Hobey Baker Award winner Cale Makar of national runner-up Massachusetts also was a first-team selection this season. He joined forwards Taro Hirose of Michigan State, Patrick Newell of St. Cloud State and Nico Sturm of Clarkson.Here are the 2018-19 All-USCHO teams:
All-USCHO first team
• Taro Hirose, Michigan State junior forward• Patrick Newell, St. Cloud State senior forward• Nico Sturm, Clarkson junior forward• Cale Makar, Massachusetts sophomore defenseman• Adam Fox, Harvard junior defenseman• Hunter Shepard, Minnesota Duluth junior goaltender
All-USCHO second team
• Ryan Kuffner, Princeton senior forward• Josh Wilkins, Providence junior forward• Alex Limoges, Penn State sophomore forward• Jimmy Schuldt, St. Cloud State senior defenseman• Quinn Hughes, Michigan sophomore defenseman• Cayden Primeau, Northeastern sophomore goaltender
All-USCHO third team
• Rem Pitlick, Minnesota junior forward• Mitchell Chaffee, Massachusetts sophomore forward• Blake Christensen, American International junior forward• Jeremy Davies, Northeastern junior defenseman• Joseph Duszak, Mercyhurst junior defenseman• Andrew Shortridge, Quinnipiac junior goaltender
Also receiving votes
Forwards: Jacob Pritchard, Massachusetts senior; Blake Lizotte, St. Cloud State sophomore; Mason Jobst, Ohio State senior; Troy Loggins, Northern Michigan senior; Diego Cuglietta, Lake Superior State senior; Johnny Walker, Arizona State sophomore; Evan Barratt, Penn State sophomore; Marc Michaelis, Minnesota State junior; David Cotton, Boston College junior; Parker Mackay, Minnesota Duluth senior.Defensemen: Scott Perunovich, Minnesota Duluth sophomore; Chase Priskie, Quinnipiac senior; Bobby Nardella, Notre Dame senior; Jacob Bryson, Providence junior; Ian Mitchell, Denver sophomore.Goaltenders: Joey Daccord, Arizona State junior; Cale Morris, Notre Dame junior; Atte Tolvanen, Northern Michigan senior; Dryden McKay, Minnesota State freshman; Filip Lindberg, Massachusetts freshman.USCHO awards are voted on by the site's conference columnists after the Frozen Four. Individual awards for the rookie of the year, coach of the year and player of the year will be announced later this week.