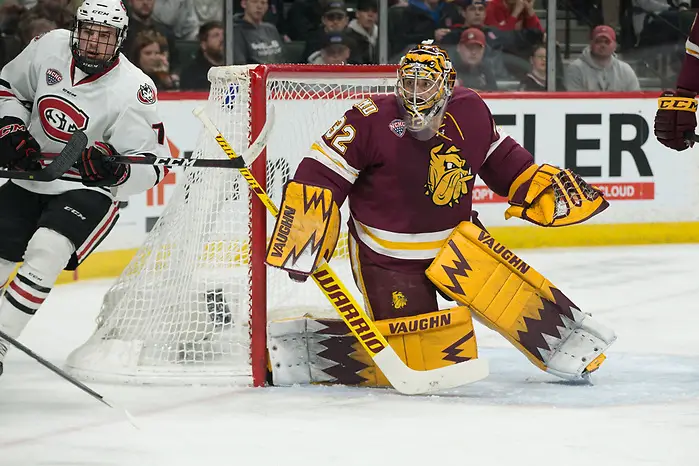 Christmas of 2015 will not be remembered as the merriest for Hunter Shepard.
Deep into his second — and final — season of junior hockey with Bismarck of the North American Hockey League, the goaltender's dream of playing major college hockey seemed to have all but turned to dust.
Despite being named the goaltender of the year in Minnesota in his senior season in high school, and despite putting up numbers with Bismarck that would eventually earn him goaltender of the year honors in the NAHL, Shepard spent the holiday break fretting over the fact that he had yet to receive a scholarship offer from a competitive college program.
His anguish continued until the final stages of the regular season, when coach Scott Sandelin and the Minnesota Duluth Bulldogs stepped forward with an offer.
Nearly four years later, that anguish is a distant memory, replaced by the joy of being part of something special in Duluth and the pride that comes with reaching the height of his sport.
When Shepard leads the Bulldogs onto the ice tomorrow night as they kick of their bid for a third consecutive national championship when they host UMass Lowell, he will do so as the team's most valuable player for each of the past two seasons. He'll do so as a two time semi-finalist for the Mike Richter Award, given to the nation's top collegiate goaltender (He is one of the favorites to win the award this season.)
And the Cohasset, Minn., native will do so while wearing the "C," having become the first goaltender in Sandelin's 20 seasons in Duluth to be named a team captain.
"It's been whirlwind couple of years," Shepard said, before adding, "Just getting the chance to come to a good Division I school was the hard part for me."
Shepard said he's not sure what he would have done had he not received the offer from Duluth. In all likelihood, he said, he would have attended a Division III school and played hockey and baseball. At the time, he just couldn't accept the fact that that was his fate.
He constantly checked in with his coach, asking if any schools had called or showed any interest. The response was never what he was hoping for.
"Fifteen goalies in the league get (signed) before you and you wonder what you have to do to get a shot," Shepard said. "There were some dark days, and that's just the way it is. You just have to keep working. And things have worked out better than I could have expected."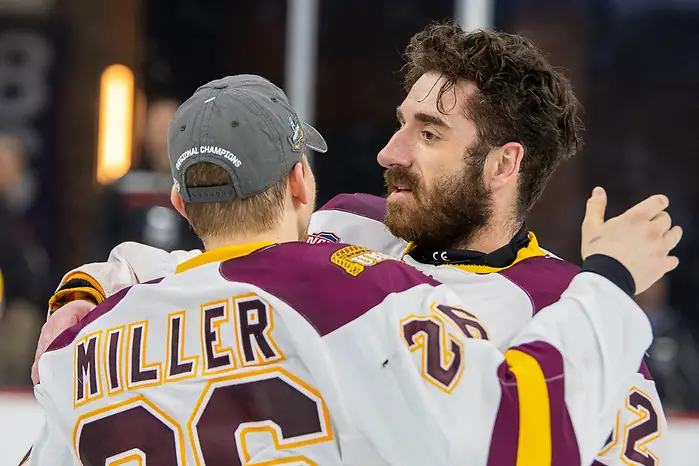 As for Sandelin, he said it was the way that Shepard competed that told him he would be a good addition to the Bulldogs. And that competitive spirit has been been Shepard's calling card ever since, making it easy for Sandelin to name him a captain.
"The guys have a lot of respect for him," Sandelin said. "How can you not? He's the backbone of our team. He's one of our hardest workers, one of our fiercest competitors. That says a lot."
Shepard admitted to being a little surprised by being named a captain because the honor rarely goes to a goaltender.
"Very honored knowing it hasn't been done (at Duluth) since the 70s," said Shepard. "I'm not a real vocal guy, but I'm going to put my time in and do everything I can to help the team win.''
The 6-foot-1, 210-pound Shepard was named first-team All-American last season after leading the nation in wins and posting a school-record GAA of 1.76. His seven shutouts were second in the nation and were one short of the school record he set the previous season.
After the Bulldogs earned their second straight national title, there was widespread speculation that Shepard would turn pro. He said he never considered it, and picked an interesting time to let his decision be known.
"As soon as we won," Shepard said, "Sandy (Sandelin) gave me a hug and we said we might as well try to do it again. I pretty much told the guys, 'I'm not leaving.'
"Most people might have thought that (he would go pro), but it was an easy decision for me. I grew up in Minnesota, my family is here, I love my teammates, the coaching staff. And I made a commitment to come here to play for four years. That means something to me."
Sandelin said Shepard's decision probably had a domino effect, which helped give the Bulldogs a fighting chance to win a third straight title.
"It helped some of the other guys make their decisions," Sandelin said. "I cannot speak for them, but they know what he means to our team and what's he's done. So when they hear that he's (leaving), maybe things aren't as rosy. But you'd like to think that they all like playing together."
Shepard has spent time in NHL summer development camps with the Buffalo Sabres and the Minnesota Wild. He's not worried that he is letting a good opportunity slip away by staying in Duluth another season.
"What's the rush?" he said. "If the opportunity is there when I'm done playing college, that's good. I'd love to do that. It's a goal, but why would I want to leave what we have going on here now?"
Not being drafted, while a shot to the ego when it didn't happen, could prove to work in Shepard's favor. He should have more than one offer to consider and will be able to sign with the organization he most feels comfortable with and where he believes he will get the best chance to compete for a job.
Any disappointment over not being drafted is filed away with the desperate days, weeks and months before the Bulldogs came calling.
"At this point I like proving myself," Shepard said. "I don't like things handed to me. I'm not 6-foot-3 or whatever, so that's probably a good reason for it. But I'm not worried about it. Stuff like that just makes me work harder.
"Our team plays with a chip on its shoulder, and so do I."