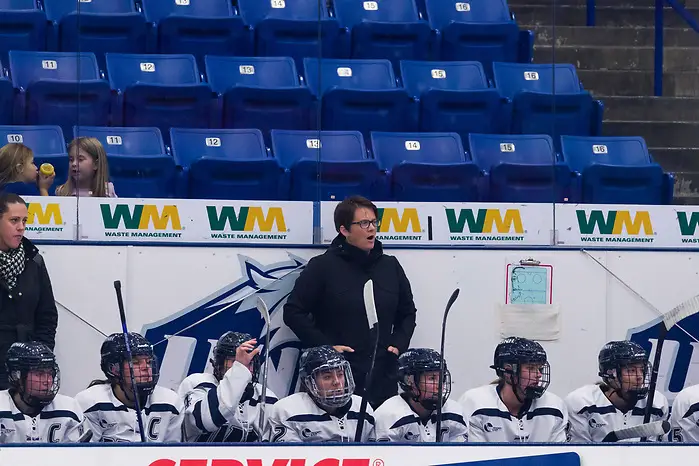 The New Hampshire women's hockey team started last season 1-9-2. It was a brutally tough stretch where Coach Hillary Witt said her team was playing pretty well, but could not seem to find the back of the net. Despite the rough and demoralizing start, the team did not let it tank their season.
The Wildcats went 7-0-2 over their next nine games, which felt a bit like righting the ship, before losing three more in a row. They responded with a five-game win streak, but ended the season on a seven game winless streak. The team showed fight, but ultimately it was a disappointing season that ended 13-7-6. It was mentally exhausting, but Witt knows her team is stronger this season for having battled through the last one.
There are eight seniors on the squad this year and they are the driving force of this UNH team that has started the year 3-1-1, including a 4-2 win over the No. 10 Boston University last week.
"We have great leadership. It starts there. Our senior class has been nothing but amazing this year. What they've (shown) this year is the confidence to be successful," said Witt.
Wins like Saturday's upset over Boston University, combined with a recent history of being able to beat or tie some of the top teams in Hockey East (oftentimes when they're nationally ranked) are the things Witt and her staff point to during tough stretches.
"We want to take it one day at a day. Sometimes you look at the entire season as a whole, and you get ahead of yourself or you dwell too much on what's already happened. For us, it's just putting one foot in front of the other and taking one game at a time – being successful in small doses and building on that every single time we have a chance to play," Witt said. "You can't worry about what happened in the past because things can change in a second. You just have to worry about the task at hand. We just have to be able to let it go and be back, ready to go the next day."
Focusing on the present and working day-by-day is key to Witt's coaching philosophy, but it can be easier said than done for the players. But when the team is coming from behind and earning points in games against ranked opponents, it's not difficult to get the players to buy in and understand the why and how of what makes Witt's philosophy work.
The team plays with confidence and has chemistry, two things that can't be taught. Witt said the cumulative four years of hard work of the large senior class puts them in a position to be not just successful, but confident in their skills. Four years of day-in and day-out work is paying out for the team has a whole, with the senior class is leading the team on the ice, using their years of acquired talent, but also mentoring the younger classes to be the same way.
Witt is in her sixth year at the helm in Durham, carrying the program through what she termed a major rebuild. Those moments of starting over and instilling culture have passed. She has the players she wants and the staff she wants and now it's time for the hard work of the past few years to pay off. Now, Witt said, it's time to put together continued success.
"I believe that everybody's here to be here to be part of something bigger than themselves. We want everyone to want to be able to contribute in every way. In order to do that, you've got to feel confident and comfortable to go out there and perform. Our leadership has created a culture in our locker room to help younger players thrive. They've done a great job and our younger players feel comfortable and confident on the ice because of it."