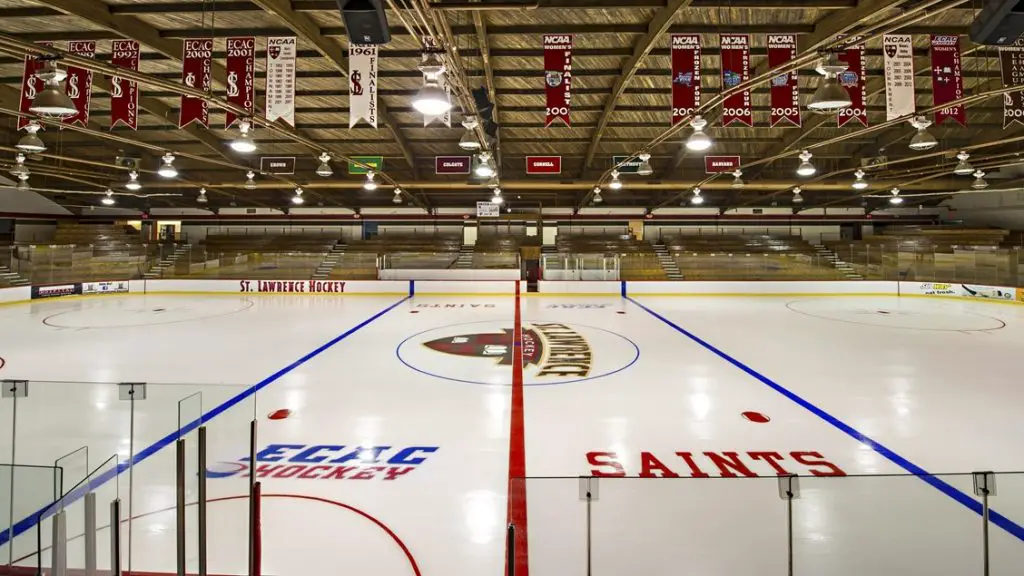 St. Lawrence announced Monday that the rink inside the newly-renovated Appleton Arena will be named to honor the Torrey family.
The building will remain named Appleton Arena to recognize the original contribution from the Appleton family. The Torrey Rink will recognize 100 years of engagement with the university by members of the Torrey family, since their arrival on campus in 1920.
"The renewed Appleton Arena extends a remarkable heritage in college hockey," said SLU president William Fox in a statement. "It's equivalent to the greatest sporting venues in America — Fenway, Wrigley, the Rose Bowl. There is none other like Appleton. Naming the ice of Appleton for a distinguished Laurentian 'century family' — with its presence on both sides of the St. Lawrence River — brings together a story set apart like none other."
The impact of Torrey family's generosity can be felt across campus as it has supported capital projects to create the Diana B. Torrey Health and Counseling Center, the Sandy MacAllaster Soccer Field, The MacAllaster Room on the northside of Owen D. Young Library, and most recently, the Legends of Appleton Room inside the renovated Appleton Arena.
"Without question, it is most fitting that the Torrey and Appleton legacies will be joined in such an iconic venue," said former Saints hockey coach Joe Marsh. "The rich history of Appleton Arena provides the perfect backdrop to highlight the remarkable generosity shown by both families to St. Lawrence University, over so many years."
The completely donor-funded project has raised $18.5 million and will provide St. Lawrence's men's and women's hockey programs with renovated and new state-of-the-art facilities, in addition to enhancing the fan game experience.
The building dedication and Legends of Appleton Weekend will take place on Feb. 7-8, 2020.
A second phase of the project will also expand Appleton to support the Saints' NCAA Division III men and women's lacrosse, field hockey, softball and the men's and women's rowing teams. Plans and construction drawings have been completed, including a nearly 5,000 square-foot Division III strength and conditioning area.
The university is currently seeking a lead gift for the second phase and that portion of the renovation will begin when fundraising has been completed for that phase.
The project is supported by The Campaign for Every Laurentian, the largest comprehensive fundraising initiative in the 164-year history of the university.