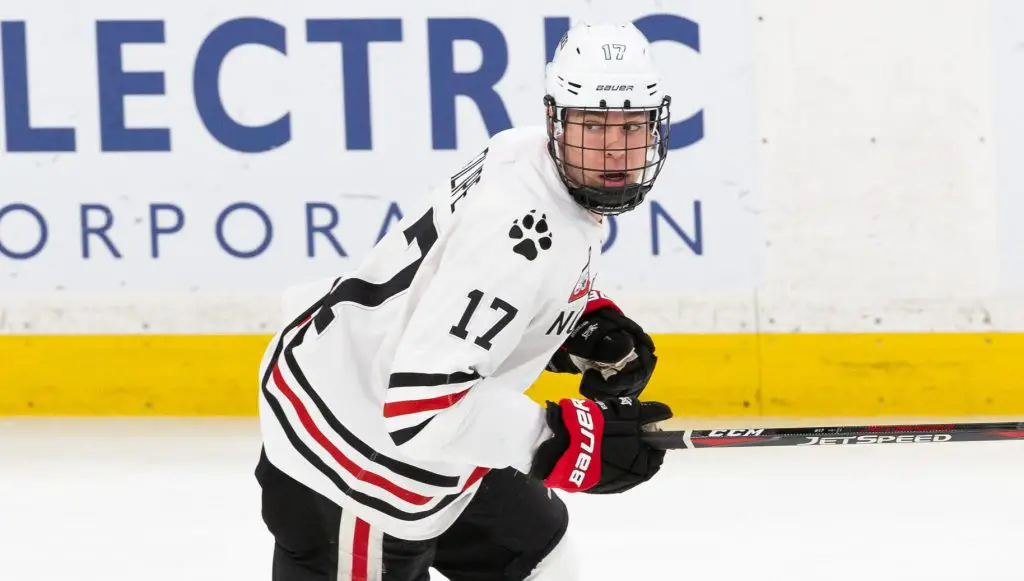 When he arrived on the Northeastern campus, Northeastern coach Jim Madigan knew that he had something with Matt Filipe.
Standing at 6-foot-2 with a touch for scoring, Filipe immediately became a regular in the Huskies lineup. Playing parts of the season alongside Adam Gaudette, a player who would go on a season later to win the Hobey Baker Award, Filipe had a scoring touch.
If there was a knock of Filipe's game, though, it was two-way play. Madigan understood that he needed to make Filipe a more complete player: competitive offensively, aggressive defensively and someone who could use his size to his advantage.
"He's turned into a two-way, heavy, solid player," Madigan said of Filipe. "For me, being a complete player started to happen in his sophomore year. Being better away from the puck, his details and habits have started to improve.
"He's that two-way power forward. He's fast, he's strong on pucks, heavy on pucks."
This past Saturday against Providence was a breakthrough game for the now-senior forward. Madigan said that he played physical, was heavy on pucks and helped his team sustain forechecks.
That, and he scored two goals and added two assists. Not a bad night.
That said, being a scoring machine isn't the total reason Filipe is on the ice. Madigan highlights his defensive play as one of his strengths, noting that the two-way play is more important now than, say, when Filipe was a freshman and Northeastern possessed one of the most potent offenses in the nation.
"We're not going to outscore opponents [as in years past]," said Madigan. "So we have to reply on defense to win the 2-1 and the 3-1 games, to win those close games. So for more players, your attention to detail needs to be heightened and aware and that can take away from your offense."
One of the areas where Filipe excels this season is also a major strength of the team at this point: the penalty kill.
Northeastern has been faced with killing 48 opponent power plays, allowing just four goals (and scoring twice shorthanded). The 91.7 percent efficiency of the penalty kill is the best in Hockey East and ranks sixth in the nation.
This weekend, Northeastern hosts Maine for a pair of Hockey East games.
"[Filipe's] been really good on the penalty kill for us. He's a key cog for us on the penalty kill both up zone and in zone," Madigan said. "We've had good penalty kill over the last couple of years, and we thought we had a chance to enhance that. We have more structure to our penalty killing. Regardless of what the opposition is doing, we're staying in our structure. We're not deviating from what we do well in terms of penalty killing based on how the opposition runs their power play."
The key, Madigan says, to his team's success on the penalty kill is using its hockey sense. Taking risks is critical, but not at the expense of the defensive structure.
"You have a structure but you have to make reads. That's one of the things we're talked to the players about, making reads," Madigan said. "Yes, when the puck is in a certain place, you need to be in a certain spot but you have to have the ability to make reads. The game is too fluid.
"You can't dictate every situation out there. It's not football, it's not baseball. That's where I think our team has gotten a lot better on the penalty kill. They make reads off of each other really well. We're still a work in progress, but you can see the strides we're making. That's been the real positive sign over the last four weeks."
Filipe's two-way play isn't his only growth area over his four years on Huntington Avenue. He's understood that maturity and leadership were critical to his growth as a student athlete. He now serves as an alternate captain and a role model for many of the team's underclassmen.
"He came in as an 18-year-old," Madigan said. "Your habits and your details, both on and off the ice, your preparation for practice, for games, you've become a professional with your approach.
"When you're a freshman, you're just learning the details of every play, of every habit. He's really emerged that way, both preparing in practice, in preparing for games. He's a big, strong kid, an outgoing kid, who players will follow.
"He does things the right way."