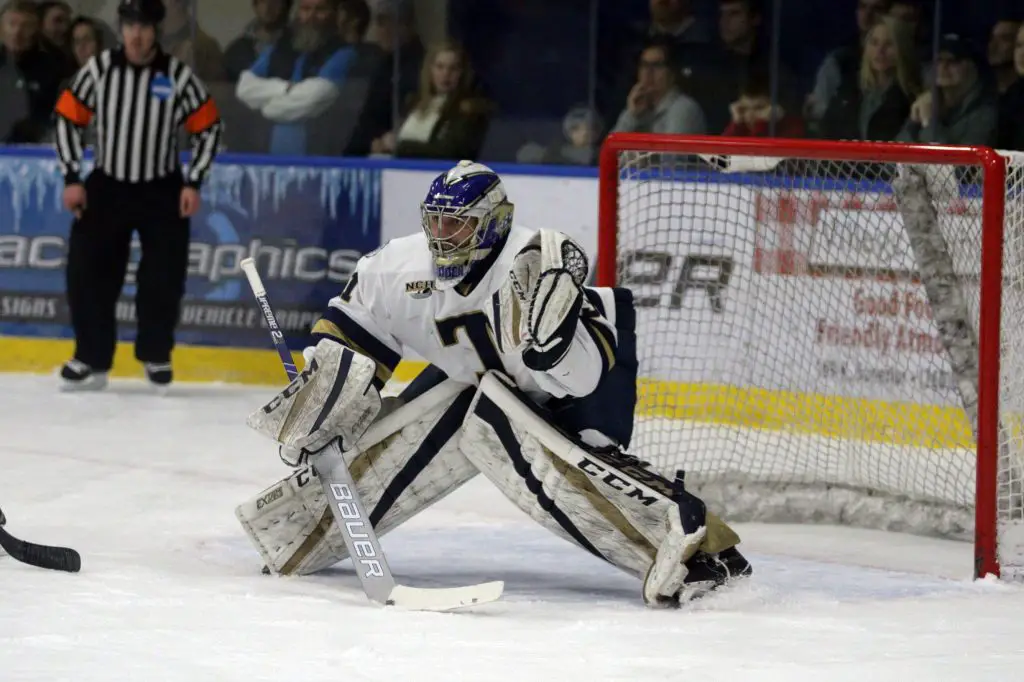 Brett Young has been a mainstay for Trine's hockey team. Now in his third season with the program, the senior goalie has played in all but two games for the Thunder.
"I am feeling good," Young said. "The biggest thing as a goalie is you  want to be consistent, and I feel I am playing fairly consistent and giving us the best opportunity to win every night. I feel good and ready to go every night."
Young has started all six games for the Thunder this season, allowing just 11 goals and tallying 131 saves. He sports a 4-2 record.
Trine is off and running as a team. In its first year in 2017-18, it didn't get its first win until Dec. 15. The Thunder won six games. A year ago, the Thunder picked up  its fourth win Dec. 29 and managed to win 10 games in all that season.
Trine nearly earned a spot in the NCHA playoffs last season, but duirng that late-season push, Young missed his only two games of his career at Trine. The flu got the best of him for one of the games.
"It was a crazy thing at a pretty important time for us," Young said. "It was hard not being able to play."
But Young is certainly healthy now and Trine is riding high after winning four of its last five games, including an historic 2-0 win over national power St. Norbert. The Thunder defeated the Green Knights 2-0 for its first win over a nationally ranked team in program history.
Young made 24 saves in that win, including 11 in the third period, helping Trine bounce back after a 5-3 loss the night before to the Green Knights.
"It was huge," Young said. "We had  played St. Norbert well in the past and had some close games, and that loss Friday was kind of a  dagger feeling. We high energy Saturday and made it happen. It was a pretty exciting time for the team."
Young said that win was no doubt a confidence boost and noted that confidence is something the Thunder is playing with more of this season.
"We're not really a new team anymore," Young said. "We have higher expectations and older guys on this team. We also have more depth. Coach is pretty confident in us."
Young played his freshman season at Northland before transferring to Trine. He's been the go-to goalie ever since.
"I'm pretty proud. It's something special being able to be the goaltender  for a program since day one," Young said. "I got her and didn't know the situation I was going to be in, but the coaches gave me a chance and we made it work."
Young said the transition to a new school was relatively seamless and he's seen himself make strides each year.
The senior has played in 54 games in his career entering the weekend NCHA series against St. Scholastica and is already just three wins shy of matching his career-best win total for a season.
"I'd say I'm controlling the game better, tracking rebounds better and letting the game come to me more," Young said. "That's helped me find consistency. And that's what you want as a goalie. I feel good about where I'm at."
Trine likes where it's at as a team. Young said there's certainly a different feeling on the team compared to the previous two seasons.
"We are confident and having fun. The moral is high. Everyone is having a great time," Young said.
Young wants that feeling to last as long as possible, especially being a senior.
"It goes by quick. Everyone says that but it really does," Young said. "There is no more next year. The clock is ticking down and I want to extend it as long as I can. Every night there is increased motivation and an increased desire to help us make the playoffs."
Around the West Region
Three teams are tied for first in the MIAC standings. Augsburg, Saint Mary's and St. Thomas all sit at 2-0 on the season. The Auggies have the best overall record at 5-1.
Austin Martinsen of Augsburg is the leader in the league in points (9). He has scored five goals on the season. Brett Gravelle (St. Thomas), Jackson Bond (Hamline) and Brady Heppner (Saint John's) are tied for second in goals with four apiece.
Three teams in the WIAC have one loss or less. Wisconsin-Eau Claire has the best record at 4-0-1 and has won four consecutive games.
Luke McElhenie of Wisconsin-Stevens Point and Ryan Cusin of Wisconsin-River Falls are tied for the league-lead in goals with six apiece. Both players have five assists apiece as well.
The South Division of the NCHA features five teams with winning records in conference play. Lake Forest sits at the top with a 4-1 mark. The North Division, however, doesn't have any team with more than one conference win. St. Scholastica has the best league mark at 1-2.
Andrew Bellant of Adrian leads the NCHA in points (11). He is also the league leader in assists, dishing out eight. The Bulldogs also have the top goal scorer in the conference in Dino Balsamo, who has punched in seven goals this season.