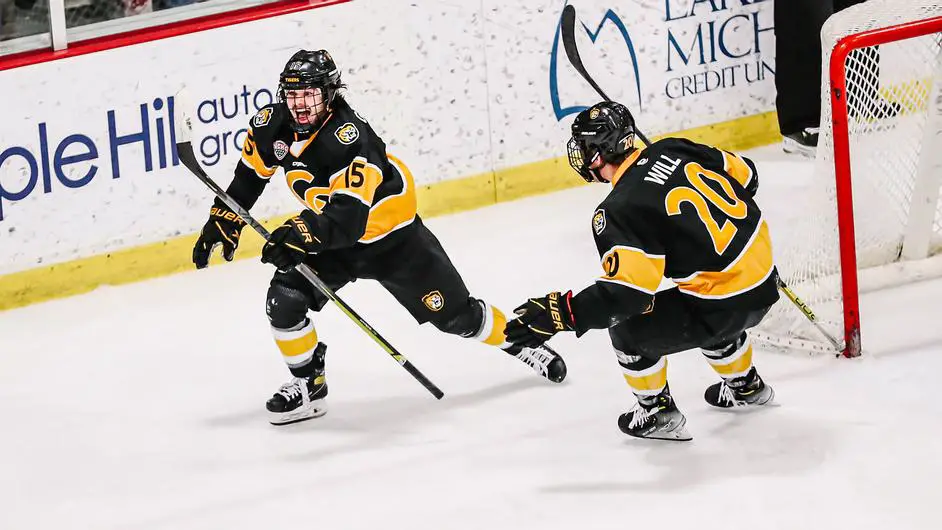 Late in his second season at Colorado College, Tigers coach Kris Mayotte just saw his team make a good kind of program history out of what had been a potentially bad situation.
Seventh-seeded CC's wins Friday and Saturday in the first round of the NCHC playoffs at No. 2 Western Michigan marked the first time that the Tigers had ever swept a road postseason series. CC had a lot on its plate going in, and opening goals both nights from WMU's Ryan McAllister steepened the visitor's hill to climb, but the Tigers were up for the challenge against a team that CC had gone 0-4 against in the regular season.
Three goals in 59 seconds during Friday's third period saw CC take Game 1 by a 3-1 count. The following night, Matthew Gleason scored 3:08 into overtime for a 3-2 Tigers win, setting off celebrations that left Mayotte still feeling hoarse Tuesday morning.
"You're like that after every weekend, but this one was a little different," Mayotte said. "I think it was a combination of a little more yelling because of the celebration.
"I was really happy for our guys, and especially for our seniors. We had a first half of the season that built a lot of enthusiasm and potential, and our second half just didn't go our way, but I give this group a ton of credit. We felt like we were playing good enough hockey to keep winning but just weren't finding ways to get it done, but the guys continued to believe.
"You don't go into Western and beat them there if you don't have confidence," Mayotte continued. "They scored first in both games, and on Saturday they came out rejuvenated, but to answer like we did takes toughness."
Becoming the first seventh seed to reach the NCHC Frozen Faceoff felt like it might've been a tall order for a CC team that was 0-5-1 in its last six regular-season games. Three were one-goal games, though, and another was a scoreless tie Feb. 25 against North Dakota.
But more to the point, CC had struggled in recent times against Western Michigan. The first three times that those teams met this season, WMU won 4-1 before the Broncos took a 2-1 home win Feb. 18.
"Last year, it was a tough matchup for us where they came into our building and won the first game 8-2, then scored five more on us," Mayotte said. "I didn't think the 4-1 games at home this season were necessarily 4-1 games, but we know how quickly Western can score and how quickly they can turn turnovers into offense.
"They proved that when we played them at home, and when we went to their place, it's a 1-1 game midway through the third period. In that game, we proved to ourselves that we can play with them and keep up, and the next night, the first two periods might've been the best we had played all year.
"We learned a lot from those games about how to lock it down, and how to understand that a team is going to push when they're down in the third," Mayotte continued. "That was a big mental step for us, knowing we could play well enough to win hockey games there."
The Tigers' reward following their big weekend is a NCHC semifinal meeting with in-state foe Denver, but Mayotte said his team's focus shouldn't be on who they'll be playing against in St. Paul, Minn.
"We've worked for this, prepared for this," Mayotte said. "Our job in the regular season is to keep getting better, and as long as we kept improving, we'd give ourselves a good chance in the playoffs, and we did that this year. We continued to get better, and our lack of scoring in the second half made us a really good defensive team, and a hard team to play against, out of necessity.
"Now, it's not best-of-three but one game. You focus on what you bring to the team, and you can't think of this as a semifinal that gets you into the finals, or that it's a game against your rival. It's simply that we know what we do when we play well, and so the focus is executing that right from the drop of the puck."
See you later
This is my last conference column of my 16th season at USCHO.com. A decade and a half later, impostor syndrome can still be a thing.
Thank you to all of my colleagues at USCHO for continuing your outstanding, inspiring work this season. Additionally, I'd like to shout out all of the NCHC coaches, sports information directors and players I've spoken with this season, all of whom have been incredibly gracious with their time.
I won't be in St. Paul for the Frozen Faceoff, but I'll still have a few more USCHO bylines this season. I have a Hockey Humanitarian Award finalist feature story coming up, and NCHC teams' exploits in the NCAA tournament will likely keep me busy here for a few more weeks.
Thanks for reading, everyone.