After finishing third in the WCHA, the expectations were set high for St. Cloud State:
Do better.
And if there ever was a Huskies team that could be up to that challenge, it may be this year's. With plenty of scorers back, with the top goaltender back, with a team eager to prove last season wasn't a career year and with a great foundation on which to build, this is the time St. Cloud has to take another step.
"Everybody's a year older and with a year more experience, so that usually bodes well in our league," SCSU coach Craig Dahl said.
"We've always said this is a junior-senior league; juniors and seniors are usally the ones that lead you where you're going to go, to the NCAAs and that."
And the juniors and seniors on the Huskies' roster show plenty of potential to make a big impact in the WCHA.
Goaltender Scott Meyer was a second-team all-league selection last season and will be pushed by the backups; Keith Anderson, Brandon Sampair, Tyler Arnason, Nate DiCasmirro, Mark Hartigan and company made their marks last year and could do the same this year; and Brian Gaffaney, Ritchie Larson and Duvie Westcott will bring a knowledge of what it takes to win in the league to the blue line.
All in all, things are pretty good in St. Cloud.
But the Huskies will have to keep an eye on their defense. During the offseason, All-American defenseman Mike Pudlick signed with the Los Angeles Kings of the NHL. Combine that with the graduation of Geno Parrish, Bryce Macken and Tom Lund and there's going to be a significant turnover.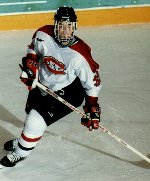 "I think we're going to be OK back on defense once we get a few games under our belts," Dahl said.
But how many is a few? Will it take two weeks? Three weeks? Two months? The Huskies can afford to take a bit of time because of strong goaltending, but the newcomers will need to become a functional part of the team quickly.
And using the forwards' experience will be crucial.
"I've already been talking to our guys about playing great defense and our forwards are a very strong part of that," Dahl said. "From what I understand, our captains' practices have been very low-scoring affairs, from the standpoint of not allowing a lot of great chances. I like that idea.
"I'm not too worried about our defense, to tell you the truth. I like our recruits, I like what our defensemen did in the offseason. We're going to be OK back there."
One recruit who received significant attention was Jeff Finger, a hardnosed defenseman from the Green Bay Gamblers of the United States Hockey League. The Huskies may need a player that's going to make opponents afraid to take the play into the corner, but Dahl doesn't want to push Finger into any particular role.
"The roles players find themselves in evolve over time," Dahl said. "I'm not going to tell him he has to be any way. We have to wait and see how he plays and let him play to his strengths. He's a big kid, he's strong and he's physical. I don't think anybody's going to push him around."
Meyer knows his role, and he wants to solidfy it.
Not satisfied with just being the No. 1 goaltender for the Huskies, Meyer is pushing himself this fall, according to Dahl, to keep working on things he thinks he needs to improve.
"His attitude this year has been one of not sitting back — 'I'm just going to be good,'" Dahl said. "He's working on things he needs to improve on. He's saying, 'I'm not going to sit back, I'm going after it.' I think he has things he wants to prove, that last year wasn't a career year."
Meyer may even want to prove that he belongs among the top three goaltenders in the WCHA. He, Karl Goehring of North Dakota and Wisconsin's Graham Melanson were the goaltenders for the league's summer trip to Norway. But Meyer, a senior, needs another outstanding year to cement his place among the best in the league.
He might have the No. 1 job wrapped up … or maybe not. Dean Weasler and Jake Moreland worked hard in the offseason, Dahl said, to be able to compete for time.
"Dean, I've been especially happy with because he's lost 20 pounds," Dahl said. "He's not willing to sit back and say, 'We'll see what happens.' He's preparing himself like he's going to be the No. 1 guy and as a coach you like to see that."
Meanwhile, the offense is in good hands, provided the top names produce as expected and some youngsters chip in.
Arnason, Sampair and DiCasmirro have to provide the leadership by example as veterans. Nine of the team's top 10 scorers from last year are back (Pudlick is the only one missing). But the difference may be made by players like Ryan Malone and Matt Hendricks.
Malone had nine goals and 21 assists in his freshman year, attracting some attention. Dahl doesn't see a sophomore slump happening.
"He really worked hard this summer," Dahl said. "He was such a late developer anyway. Last year was significantly better than his year in juniors — he really exceeded a lot of people's expectations and I really expect him to do quite well this year."
"I'm not too worried about our defense, to tell you the truth. I like our recruits, I like what our defensemen did in the offseason. We're going to be OK back there."
— St. Cloud head coach Craig Dahl
Hendricks, the MVP of the Minnesota high school tournament last season at Blaine, could be one of the top freshmen in the league this year, provided he recovers from a broken leg suffered in the offseason.
A lot of this season for the Huskies could depend on how the special teams fare. St. Cloud was tops in the league in penalty killing last year at 86.7 percent, thanks to the strong defense. But the power play struggled to maintain consistency, something Dahl hopes to change.
"I expect our penalty kill to be very good again this year; we'd be disappointed if it wasn't," he said. "We need to see some dramatic increase in the production on the power play. That's where you can win games. You go on the power play and you're deadly on it, you can win games with your power play."
The Schedule
If the Huskies are involved in the race for the WCHA title in February, they will probably have to make a strong push at the finish. One stretch stands out — the Huskies host Colorado College, go to Anchorage and then have to turn around and go to Wisconsin.
"By any stretch, that's a very difficult stretch and it's going to be important that we are well rested," Dahl said.
Et Cetera
Some season ticket holders at the National Hockey Center can expect to be a bit more comfortable in the seats. A renovation added backs in the three middle sections across from the bench.
Season ticket sales have increased, Dahl said, so only 700 tickets were available for each game.
"It's just been somewhat gratifying to watch the development of the program from the standpoint of fan support and media support and the types of players you recruit," Dahl said.