The assumption when Jordan Leopold, Johnny Pohl and the rest of the class of 2002 signed their intent to play for Minnesota was that they'd be in the NCAA tournament four times.
That was the way. That was the norm at Minnesota, the home of legendary surnames like Mariucci, Mayasich and Broten.
This was Minnesota, after all, a place where NCAA tournament appearances were about as sure as White Bear Lake freezing over in the winter.
Not only were spots in the national tournament expected, so were trips to the Frozen Four — plural. So were opportunities to play for national championships — again, plural. That was what playing for Minnesota meant. You got the direct ticket to the big time.
So here they are, these Golden Gophers seniors, in the NCAA tournament. In the Frozen Four. Playing for a national championship.
If only it was that simple.
The end result is exactly what they wanted. They'll play in the Frozen Four at Xcel Energy Center in St. Paul, Minn., just a few miles from home. What happened in between — three seasons of disappointment — and the change in mindset that had to be taken therein is the only reason they got here.
In reality, there was no golden ticket to the Frozen Four, not even for being a member of the Golden Gophers. No one gave these players anything: most teams, in fact, took great pleasure in taking things away from them.
These seniors — Pohl, Leopold, Adam Hauser, Erik Wendell, Nick Angell and Pat O'Leary — have gone through the lows and the highs as Minnesota players, but have done it on the strength of their team, not any Gophers team of the past.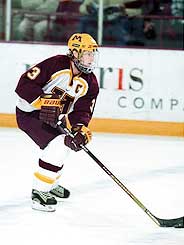 The task was clear: They had to get to a Frozen Four, any way they could.
"Minnesota hockey is supposed to be in the NCAA tournament. We're supposed to be in the Frozen Four," Pohl said. "To go through a career and not accomplish that would be embarrassing. I don't know how the guys in the past, the guys that played in the '70s could even look at you."
This group found out it was going to have to sacrifice to avoid that embarrassment. If they didn't realize it after a losing freshman season or a .500-level sophomore year or a resurgent junior year, they realized it at the dawn of this, their last go around college hockey.
It started with a goal, a simple one at that: get a first-round bye in the NCAA tournament. They had to attain that goal, they thought, to have any chance of making their mark on their school's long and storied hockey history.
Just getting to the NCAA tournament for the second year in a row wasn't going to be good enough. Once they had that bye, it was get to the Frozen Four or become a footnote in Minnesota hockey history.
They didn't work this hard, they thought, to be just a footnote.
"We needed that bye," Pohl said. "Without that bye, I don't know if we would have got there. Getting the bye was huge and getting to the Frozen Four was big, but by no means is our goal over."
This group of seniors was recruited by, signed by and played its first season for Doug Woog. He resigned after their freshman season, and Don Lucia entered after a highly successful stint at Colorado College.
That's where the change in mind-set happened.
Lucia stressed team-building, not individual-building. The results of that are displayed in the team-oriented Gophers on the ice this year.
"The kids have bought into what we've tried to do," Lucia said. "The biggest area we have improved is, I think there's a little more of an all-for-one-and-one-for-all [attitude]. My first year, it was a lot of individuals that were probably more concerned about themselves than they were about the team."
Through the first two years of their careers, through being on the outside of the 12-team NCAA tournament field, the six seniors had to keep the dream of playing in a Frozen Four alive. It all came together this season.
Leopold came back to Minneapolis this year to pursue that dream. An All-American defenseman, he could have taken a pro contract and gone on to the NHL.
The lure of a Frozen Four was enough to keep him in school. He's one of three finalists for the Hobey Baker Memorial Award this season.
Pohl, the captain, was the cornerstone of the Gophers' offense, scoring 75 points. That he wasn't one of the 10 finalists for the Hobey raised some eyebrows.
Hauser, the goaltender, hasn't seen as many pucks as he did in his first three seasons, and the results have been better.
"Even Nick Angell has matured and had a great senior year," Lucia said. "O'Leary and Wendell are more role players, but they're great locker room guys, have accepted their roles and have great, positive attitudes."
So here's their chance. They didn't go the NCAA tournament four times. They didn't win the MacNaughton Cup as WCHA regular-season champions or the Broadmoor Trophy as the league's playoff champion.
The Minnesota seniors got to the Frozen Four just once, but they're hoping once will be enough to leave a lasting impression.
"These kids are here because of the great tradition at the University of Minnesota, but we've tried to impress upon them that you want to leave here having your own tradition, not relying on somebody else's," Lucia said.
"There's a ton of tradition in our program, but for the last couple of years, there's been really no tradition to build on," Pohl said. "Hopefully we can do something that they can talk about for 10, 20 years down the line."