Anyone on the UNH roster could have looked at this season's schedule when it was released and found a game over which to lick his chops.
There were exciting nonleague games on the schedule, such as a tournament in Durham, N.H., that matched the Wildcats against both Ohio State and Denver. There was a December game against in-state rival Dartmouth, the first college game at brand-new Verizon Arena in Manchester, N.H.
There was even a trip to Milwaukee to play in the Badger Showdown, one of the classic holiday tournaments.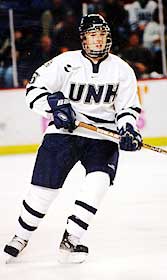 But sophomore Tim Horst has been looking forward to one — maybe two — games all year: the Frozen Four. Hailing from South St. Paul, Minn., Horst will make a homecoming next week when his Wildcats travel to the Xcel Energy Center to take on the Maine Black Bears in the NCAA semifinals.
"It's really exciting for me," said the six-foot, 190 pound Horst. "It's definitely something that I had on my mind through the season and through the tournament."
Horst, who came to UNH from Minnesota by way of Cedar Rapids, Iowa, where he played his junior hockey, says that he hopes to have a pretty good hometown crowd when he gets to St. Paul.
"I have at least 20 tickets that we got through UNH, and some of my friends' parents had season tickets to the [NHL's Minnesota] Wild, so they'll have tickets too," said Horst.
Horst also admitted that a championship matchup with the hometown Minnesota Golden Gophers might make for some mixed allegiances, but added, "I expect them all to root for UNH — anything else is unacceptable.
"I might have to pass out UNH t-shirts or something to make them UNH fans. And if we face the Gophers in the championship game, I guess they can cheer for us this one time."
Getting a Minnesota fan to cheer for anything besides the Gophers would be amazing — as amazing as the fact that Horst is even playing out East after growing up in Gopher country.
For a youngster growing up in Minnesota, the goal is simple: to play hockey for the Gophers. Most seasons, Minnesota doesn't have to go outside the state to field a team, thanks to possibly the strongest high school hockey program in the country. But for Horst, the interest within state lines wasn't enough.
"I think right out of high school there was some interest from some schools in Minnesota, but not as much as I'd have liked," said Horst. "I was prepared to go to junior hockey and I think that got me a little more exposed to the teams out east, and felt it a good fit [for] me."
Junior hockey took Horst to the Cedar Rapids RoughRiders and to coach Marc Carlson. A 1993 graduate of UMass-Lowell, Carlson served as an assistant for the River Hawks and for the Northeastern Huskies under Bruce Crowder before heading to the United States Hockey League. Carlson knew Hockey East well and knew Horst would be a good fit.
"Culturally, I knew I was going to get to see a different part of the country and meet new people — different types of players," said Horst. "Playing hockey, though, I think my style fits in with the Hockey East style — kind of an offensive defenseman."

Horst found UNH on his search outside his safe haven of the WCHA. Having grown up seeing nothing but the WCHA brand of college hockey, outside was a whole new world.
"It was just a situation where I came out and visited a couple of schools in the CCHA and Hockey East," said Horst. "I figured all my life growing up all I'd seen was the WCHA, and I wanted to broaden my horizons. Did I feel bad that I didn't go to a WCHA school? Not really. It's worked out well here.
"When I came to UNH, I knew that this was a tremendous place with great hockey history. We've been lucky enough so far to have a team that gelled at the right time."
It's a situation that has worked well for both Horst and the Wildcats. And its certainly a find that UNH head coach Dick Umile is happy with.
"Marc Carlson coached him at Cedar Rapids, and he called to tell us he was possibly going to be going back to juniors," said Umile. "We were able to get him to come east. I think the school and the success of the program attracted him. The Minnesota schools might have missed one here.
"He's playing well for us right now. He got hurt as a freshman and that put him behind the 8-ball. But this year he's come on and scored some very important goals for us."
As far as Horst returning to St. Paul, the circumstances couldn't be better. The Wildcats are the number-one team in the country, two wins away from the school's first national championship.
"[There will probably be some butterflies] right before the opening draw," said Horst, the younger of two boys. "Being home will make me a little more comfortable. That should help out with the butterflies.
"[Darren Haydar and David Busch] told us of their experience when they were freshmen in Anaheim [the last time UNH was in the Frozen Four] — the hype, the media, everything. They told us to enjoy it while we have it, because you don't know if you'll be back to the same position."
Maybe the Wildcats will return to the Frozen Four before Horst's time is up. But this might be the only chance he'll ever get to play such a big game in his home state.
"I'm really excited about this," said Horst. "Growing up in Minnesota, this is something you dream of."
And with two more wins, Horst's ultimate dream would come true.