Tonight they're gonna party like it's 1969.
Led by lionhearted captain Ryan Caldwell, the Denver Pioneers survived one of the most harrowing final two minutes in NCAA championship history to bring the trophy back to Colorado's capital for the first time since Keith Magnuson and company pulled off the feat 35 years ago.
Clinging to a 1-0 lead, Denver endured penalties by Matt Laatsch (hooking) and Gabe Gauthier (delay of game for grabbing the puck before throwing it out of the zone). When Maine pulled Jimmy Howard, the Pioneers had to win this championship the hard way — defending a rare six-on-three attack.
In the press conference afterwards, a reporter asked Denver coach George Gwozdecky on the approach to defending a six-on-three.
"You're kidding me," Gwozdecky said. "Defending a six-on-three — I don't know if we ever have. I don't how to describe it. You're just trying to get in the way of the shooting lanes. With a minute and a half to go, I hate to say this for any of you who are a little sensitive, but anything goes.
"You're clearing people; you're chopping; you're slashing. You're doing anything to get yourself in position to block a puck, to clear a path so the goaltender can see it. It's war out there, especially when that puck is loose."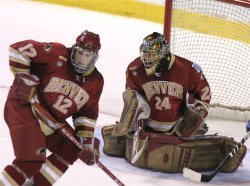 Gwozdecky called on "three of our warriors" in senior forward Greg Keith, along with senior defenseman and captain Ryan Caldwell and — get this — freshman blueliner Matt Carle to hold the fort in front of tournament Most Outstanding Player Adam Berkhoel.
"[Ryan Caldwell is] going to have surgery on both knees in the next couple of days," Gwozdecky said. "His knees are shot. He probably practiced with us twice in the last two months, and those practices were today and yesterday. You talked about the ultimate warrior: he couldn't practice; he couldn't get on the ice. He had to rehab from Sunday through Friday afternoons so Friday night he could step on the ice. He gave it his all.
"The two forwards that we moved back and forth out there — Greg Keith and Max Bull — are two guys who have had terrific careers and been great leaders for us and wanted so badly to win this game. And obviously Matt Carle: He's still a baby as far as his experience is concerned, but plays like a senior as far as his poise and composure are concerned. That's why those guys were on the ice."
Cradling the championship trophy outside the Denver locker room after the game, Keith talked about the moment of truth when the second penalty was called.
"It's kind of funny," Keith said. "We were sitting there when it goes to the six on three, and Coach looks at us — there was me, Caldwell, Carle, and Berky — and he was calm. And he goes 'You know, we're going to get through this. We'll be fine.' And you know what? I looked at him and said, 'Yeah, we will.' We don't win the easy way; we always go the hard way. So I think that's what calmed me down and what got us through it, plus the determination of wanting to play for each other."
Caldwell explained why it was no surprise to see the freshman Carle out there with the championship on the line.
"Matty's a great player," Caldwell said. "He's going to be a great college hockey player if he chooses to stay around. It was great playing with him all season, and he's a calm player on the ice. He doesn't get rattled. He's just an exceptional young kid.
"On that five-on-three, anything went: I was just swinging, diving, trying to get hit with the puck, hit somebody … I was just looking for something to do out there. The puck squirted out at the end, and I don't even remember the last ten seconds of the game. I was just going nuts. I think Adam deked me out — didn't want to be on the bottom of the pile. It was just amazing."
In many ways, the final two minutes were an appropriate climax for Denver's season.
"The way the game finished I thought was pretty symbolic of the way our season has been," Gwozdecky said. "We haven't made it easy." Between injuries, the accidental death of alumni great Magnuson, and inconsistent play, Denver struggled mightily at times this year. Before the game, the team faced an additional challenge when it was announced that senior Lukas Dora — the team's third-leading scorer and producer of the game-winner in Thursday's semifinal victory — had been suspended for the championship due to a violation of team rules.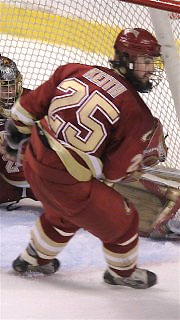 "We've been battling adversity all year long: the beginning of the season, the ups and downs of hockey, and the passing of a great alumni and supporter in Keith Magnuson, the incident that happened just before the game … " Greg Keith said. "I think things like that bring the team close together, and that makes you bond a lot closer. You realize it's not going to be easy, and you're going to have to fight for it."
More adversity came when star forward Connor James broke his right fibula and missed four games before stepping back in style in the national semifinals.
"Words can't describe how I feel right now," James said.
Gwozdecky emphasized that the most positive form of adversity was having to play in the exceedingly difficult WCHA this season, as the league produced five NCAA tournament teams and narrowly missed a sixth in Colorado College.
"I'll tell you one thing: the league we played in this year was as difficult and challenging as I can remember," Gwozdecky said. "I think that playing in the WCHA really prepared us for our postseason play; it made us better."
Yet in the face of adversity, Gwozdecky sensed that he had a team of destiny on his hands.
"Sometimes it's just your time," he said. "And I told the team that. I really believed that coming into this Frozen Four. You have to be good; you have to persevere. You know you're going to have some battles, but if you have character, and you've got a team that believe in themselves and that will fight and die for each other — throw their faces in front of shots and battle — good things are going to happen."
They certainly did. And so a handful of seniors — a group that arrived in Denver after a ninth-place finish by the Pioneers in 1999-2000 — capped their excellent careers with a terrific parting gift.
"I want to thank all our fans and our supporters who came out and my team," Keith said. "I love those guys. It's a great present that those underclassmen gave us seniors to go out with. We couldn't have done it without them. They had to buy in to our leadership ways, and they did."