Miracle on Ice coach, the late Herb Brooks, was heading into the National Hockey Center in St. Cloud, Minn., to watch a college hockey game in November of 2002. Just outside the facility, he ran into a familiar reporter, and a conversation about super-freshman Zach Parise ensued.
Brooks said he had told Parise to go to the University of North Dakota because of its outstanding program and coaching staff. Later, in a radio interview, Brooks would add that if a player's future goal was playing in the NHL, he'd recommend North Dakota because of its program, facilities, and coaching. In recent years, North Dakota has proved Brooks to be prophetic, by turning recruits into high draft picks and NHL players.
In 2000, David Hale was a first round draft pick of the New Jersey Devils. In 2003, Parise was a first-round choice of the Devils. This year, it's Drew Stafford's turn. The 6-foot-2, 200 pound forward from Faribault, Minn. is a surefire first rounder in the 2004 NHL draft. He's the seventh-rated North American skater by Central Scouting, and the ninth-rated overall prospect by The Hockey News for the draft. He will likely be the first college hockey skater selected.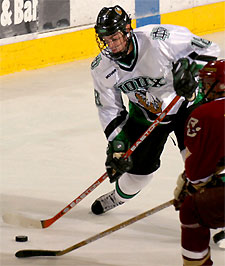 When Stafford's name is called in the first round, barring any major surprises, it will mark the third time in five years a Fighting Sioux player has gone in the first round — a stretch never before seen in the school's storied history. It will also be the first time North Dakota has had first-rounders in back-to-back years.
And Stafford might not be the only Sioux taken in the top round this year. Incoming freshman Travis Zajac is projected to be a late-first round or an earlysecond round selection.
"I think [recruits] look at the players that have moved on from here and done well in recent years," North Dakota head coach Dean Blais said, explaining the recent spike in first-round draft picks coming to and playing for the Sioux. "Hockey is a game of fundamentals. We work on the fundamentals. [Coaches] Brad [Berry], Dave [Hakstol] and myself all played pro hockey. Brad played for 10 years and was the captain of two teams. So, we know what it takes to be prepared for the next level."
And the scouts think Stafford has just what it takes to play at the next level. They see his versatility as a big upside. Stafford is known both as a good checker and an effective scorer.
"The NHL scouts look at size, speed, strength and knowledge of the game," Blais said. "And he's got all of that."
Best kept secret
There's a good chance Stafford will be drafted higher than the highly-touted Parise was. But Stafford didn't come to North Dakota with the same hype and attention that Parise did in 2002. In fact, he wasn't even the most heralded of his recruiting class in 2003. Brady Murray attracted most of the attention before the season. But it didn't take long for Stafford to make a name for himself.
"I think I surprised a couple people," Stafford said.
Stafford was the youngest player in the WCHA last year. For the first month of the season, he was only a 17-year-old freshman, but still, one of the most exciting players in the conference. In North Dakota's season-opener against Minnesota-Duluth, he scored the game-winning goal with less than four minutes left to give the Sioux a 3-2 win. And he did it again in the very next game, which came against the top-ranked team in the country at the time, Boston College.
In the Boston College game, which was nationally televised by CSTV, Stafford broke a four-all tie by scoring the eventual game-winning goal in the third period. The goal impressed the fans who were watching. Stafford drove hard to the net with the puck from his right wing position. When Boston College goaltender Matti Kaltiainen went for a poke check, Stafford, who was losing his balance, slid the puck by Kaltiainen on the short side for the flashy goal.
Quite a start for the young rookie. Two games, two game-winning goals. One in front of 11,155 fans, the other in front of a national audience. The secret was out.
"You can't get too many accolades unless you are playing well," Stafford said. "But coming to North Dakota definitely helped my recognition and exposure. North Dakota is a powerhouse, and a prestigious program. It's always one of the top teams and having successful years.
"This year was a strong year in the WCHA, and we won the McNaughton Cup [which goes to the conference's regular season champ]. That shows what kind of program we have. A lot of people come to watch us. It brings out the opportunity for many guys to get recognition and to get in position to be drafted."
North Dakota sells out nearly every game at its $105 million, 11,500-seat home, the Ralph Engelstad Arena. But as Blais explains, it's not only in Grand Forks that the Sioux draw crowds.
"You can't get a ticket at our place," he said. "But it's everywhere we go. We're selling out other team's buildings as well. There's good exposure there."
All of North Dakota's home games and a couple of road games every year are broadcast on the Fighting Sioux network around the state. So, it didn't take long for people to find out who Stafford was. After making a name for himself around the state and the country, he got the chances to do so in front of the world.
On top of the Worlds
Stafford was selected to play for the United States in the World Junior Championships in Helsinki, Finland over the holidays. He was a late addition to the team because a couple of players on the original roster weren't able to play. United States coach Mike Eaves received recommendations to add Stafford because of his checking ability, and Stafford ended up playing a key role on the American team.
"That's on a world stage," Stafford said. "It's the closest you're going to get to playing at a professional level. It's a high level, and if you can play well and contribute, it's a big thing. And we didn't exactly do too bad."
Not at all. The U.S. upset a Canada team that featured NHL players such forward Brent Burns (Minnesota Wild) and goaltender Marc-Andre Fleury (Pittsburgh Penguins) to win the gold medal. It was the first time the United States brought home the gold from the World Junior Championships. Stafford assisted on a third-period goal, helping the Americans to the 4-3 victory over the Canadians. After the game, Eaves said that Stafford's defensive play in the championship game was a big key in the U.S. victory.
He'll have the chance to defend his gold medal, too. Stafford is eligible to play in the 2005 World Junior Championships, where he should feel right at home. The tournament is being held at Grand Forks' Ralph Engelstad Arena, and the coach of Team USA will be Blais.
The World Junior team has an interesting stop on its exhibition schedule. It will take on North Dakota on Dec. 19 at Engelstad Arena. Stafford and Blais will find themselves playing against their own team. "That will be kind of weird," Stafford said.
Sticking around?
With North Dakota's number of high draft picks in recent years, it's become accustomed to players leaving early for the NHL. In each of the last six seasons, at least one player has left the team early to sign an NHL contract. After the successful season he had last year, and after being selected high in the 2004 draft, Stafford will inevitably hear questions about how long he is going to stay.
"Basically, it comes down to if you're ready to go, you can go," Stafford said. "If the coaching staff feels you are ready to go, they'll be the first to wish you good luck and say goodbye. If you're not ready to go, they'll tell you."
Blais has been through the routine many times.
"It's a family decision," Blais said. "The dad, and mother and the athlete will sit down with me and discuss everything. We never try to discourage a player from going to the next level, which is the NHL. But is [a player] going to give up his senior year and Hobey Baker and All-American chance to leave and maybe play in the NHL? It's one thing to get the contract. It's another thing to play."
Dressed for success
Many of those players leaving early from North Dakota are excelling in the NHL. Hale, a stay-at-home defenseman, finished plus-12 for the Devils this season. Jason Blake had 22 goals and 25 assists for the New York Islanders. And fan-favorite, Calgary Flames defenseman Mike Commodore, played for the Stanley Cup. So, why are so many North Dakota players going onto such successful pro careers?
"I think a lot of it has to do with the coaching staff," Stafford said. "Blais is an old-school coach. He leaves a lot of responsibility in players' hands. He lets you play, but he expects the best. If he's not getting it, you're not going to play. It's very good for development. It definitely tested my character with staying consistent this year. A lot of it had to do with Blais pushing me. I learned a lot from him and I definitely look forward to playing under him again next year."
Blais said Stafford expects big things out of himself in the future.
"Drew would probably tell you his goal is to be the best player in the WCHA next year."
That's a lofty goal considering players such as Brandon Bochenski (F, North Dakota, 2003 Hobey Baker Finalist), and Thomas Vanek (F, Minnesota, No. 5 overall pick of the 2003 NHL Draft) are eligible to return to the conference next season.
"I think my role in the program is going to get bigger," Stafford said. "We're focusing our efforts on bringing back the eighth national championship. We have the team to do it. It's definitely within our reach.
"On a side note, there is kind of a North Dakota connection with the World Juniors, and on a personal level there, defending the gold medal is a huge thing. With the Sioux, winning the national championship is a huge goal."
(This article originally appeared in this month's edition of USCHO Magazine.)