Of Bandwagons: To Jump On Or Off
With all of New England foursquare on the Red Sox bandwagon — and oh how sweet that is! — it's appropriate to examine one particular bandwagon in Hockey East.
Namely, one that I thought I was on. A bandwagon with few members, where I'd be one of the few voices predicting a great season.
I halfway expected to get ripped for having hopped onto this bandwagon by others who'd chosen the more perennial favorites. Instead, I got ripped for not being aboard a bandwagon I thought I was a partner in driving.
This confused me.
However, after looking at some statistics and then the early season results I wondered if I shouldn't actually leap off the bandwagon while the getting was good.
I speak of the Massachusetts-Lowell River Hawks. Of whom I predicted a third place finish in Hockey East. This, I thought, put me on the Lowell bandwagon, if not driving it.
My season preview, however, had barely begun agitating electrons on PC monitors before I received the following unedited missive from Douglas Noworyta.
I was wondering why you even take the time to make predictions because half of time your on a teams band wagon and the other half you're not. I was wondering if you are going to eat your words if BC doesn't come in first. I think UMass Lowell doesn't get any respect because everyone is a afraid to pick a team like them. there is no vermont this year in the league. So stop telling coaches you won't pick them last again and add the tenth team so they are in last again. I won't be suprised if the teams don't even end up in the order you picked them . If I were you I would get on the UMass Lowell bangwagon quick because when they finish above Maine and BC you will be eating your words.
I was stunned. Baffled. I couldn't think of the last time I'd been so taken aback by someone's words. (Other than, of course, my wife's. The woman is a saint, but she recently announced that our son was taking a course in Vehicular Biology….)
How could I be getting ripped for not being on the only bandwagon that I'd actually joined?
Well, first, let's deal with the "Vermont will finish in 10th" quip from my preview, to which I had added that this choice was only because I'd promised Merrimack coach Chris Serino that I wouldn't pick his team last.
It was… ummm… a joke. Admittedly, not a major league kneeslapper like, say, the New York Yankees pitching staff. Or a real howler like Yankees fans who assume that divine right — or the ghosts of Ruth, Gehrig and Mantle — have granted them a championship every year.
Ha, ha, ha. Hee, hee, hee. I can't stop myself. Yankees fans. Bwa-ha, bwa-ha, bwa-ha! The Yankees. I'm laughing so hard I'm about to… choke!
Sorry. I couldn't help myself there.
Back to Vermont in 10th place. It was mildly amusing, I thought. Obviously, Mr. Noworyta disagrees. Hey, even great comedians don't get belly laughs 100 percent of the time. A minor league clown like myself can be forgiven if that line doesn't tickle every funny bone. Perhaps, though, I deserve no forgiveness, but instead another warning that, "Dave, they're not laughing with you; they're laughing at you."
Onward, then, from the humor, or lack thereof.
What of the River Hawks?
I'd contend that Mr. Noworyta should be delighted that I think so highly of his team that I picked them third when the league coaches pegged them for fifth. Sure I picked Boston College and Maine to finish 1-2. Who wouldn't? The Eagles returned four All-Hockey East selections and the Black Bears have the single most powerful weapon in college hockey, goaltender Jimmy Howard. And those are teams that made it to the Frozen Four last season. Picking those two teams atop the league was the ultimate no-brainer.
Picking the Hawks to finish ahead of every other team but those two was an act of jumping on the Lowell bandwagon, not looking at it askance.
But then I got looking at the statistics and became a little uneasy. (Either that or my contrarian nature decided that I didn't want to be a part of any bandwagon that Mr. Noworyta had joined.)
What had captured my optimistic side was that Lowell had finished one point out of third place — disregarding forfeits — and returned all but one role player.
But here are the stats that now bothered me. Last year, the River Hawks finished tied for sixth in the league in team offense, fourth in team defense, fifth on the power play and sixth on the penalty kill.
Not exactly dominating numbers. Hardly the stuff of third place teams.
"Clearly we're all about collective efforts," says UML coach Blaise MacDonald. "Maybe we don't have a big-time guy that some other teams have. We need everybody chipping in in every single area. We can't have anybody just going along for the ride.
"But you look at our stats last year and we did finish fourth or fifth in most categories, but we were higher than that until down the stretch we [stumbled]. After we found out about the forfeits, our play suffered a little bit. That's not an excuse; whether it was because of the forfeits or just because it's a long year and our freshmen and sophomores hit a wall, I don't know. But clearly we were up much higher earlier on in the year in all of those categories."
Point taken.
Until, that is the River Hawks merely tied St. Thomas in an exhibition game, one day after Merrimack defeated the visitors from north of the border, 5-2. And then Lowell traveled to Niagara and barely escaped with a 3-2 overtime win, one which Purple Eagle fans considered to be a gift of the new officiating rules.
Time to jump off the bandwagon?
"In our exhibition game, we didn't dress our top seven players," says MacDonald. "We just played a lot of guys that normally wouldn't play, so that was a throwaway.
"In our Niagara game, heck, we outshot them 40 to 18 and our puck possession time was unbelievable. We did a great job there. They probably blocked 30 shots. We played well.
"Niagara is a very, very tough place to play on the road and it was alumni weekend so the place was sold out. It's a tough environment. I was very pleased with the way we played. They're a team that could do some damage in our league."
Okay, I was teetering there for a bit, but I didn't quite fall off. And a one-goal loss to top-ranked BC is no reason for pessimism.
So unless Mr. Noworyta wants me evicted, I'm staying aboard the Lowell Express. And to the tailgaters outside the Tsongas Arena: maybe next time I'll stop by for some of those great marinated steak tips.
Third On The Depth Chart?
If you're a forward or a defenseman who is third on the depth chart, you're gonna be one tired hombre by the end of a game.
If, on the other hand, you're a goaltender who is third on the depth chart, get ready to open that door to the bench for every line change.
As a result, it was a stunner to see Boston University coach Jack Parker, and by extension Goaltenders Coach Mike Geragosian, select John Curry to start in just the third game of the season. The sophomore played in only one game last year and that was only for 310 seconds.
"I was so disappointed with the goaltending and the defense [last week] that we just decided that we were going to watch people and whoever plays well during the week is going to play in the net and whoever plays well on defense, those six will play," said Parker after a 4-1 win. "They're all competing for jobs.
"I thought [Curry] played the best all week. But on Thursday and Friday the other two looked pretty good, so now at least they're starting to pick it up a little bit."
Curry stopped 24 of 25 shots for the win.
"He played well," said Parker. "He's in the rotation, that's for sure. He may be our number-one guy, but either way he'll play again soon. Frankly, I have some input, but Mike Geragosian, our goaltending coach, makes all the decisions."
Of course, Curry was happy after his first collegiate win.
"I had confidence that if Coach put me in I could win a game, but obviously it worked out great," he said. "I've just got to keep rolling with it. I've got a lot of competition nipping at my heels, and I'm nipping at theirs, so it should be fun.
"I'm enjoying tonight, but I've got to refocus Monday in practice. Just refocus, and who knows who'll go next week? [I've] just got to be ready all the time. Obviously, my first win, my first start, I've got to be excited, but I'll get back to it next week."
NHL In A Different Way
For those who miss watching NHL players in action, BU will be playing an alumni all-star team on October 24 with proceeds going to the Mark Bavis and Travis Roy Foundation charities. Those who are expected to play include Chris Drury, Shawn McEachern, Tom Poti, Ricky DiPietro, Jay Pandolfo, Shawn Bates and more.
Quotes of Note
Merrimack coach Chris Serino on the too-many-men-on-the-ice penalty that proved decisive late in a 5-4 loss to Providence:
"It's a 4-4 game and we're not paying attention on the bench? Going on for the wrong guy… it's just unacceptable…. If you can't be mentally ready in a 4-4 game with six minutes left, when are you going to concentrate?"
Northeastern coach Bruce Crowder on his team's 4-2 loss to defending national champion Denver:
"I thought we beat ourselves. I thought we had some guys that were nowhere near their capability. It's a game that we had every opportunity to win, but we beat ourselves in a lot of ways. Not to take anything away from Denver, but throwing pucks up the middle and not getting pucks out, those are just mental-toughness type things that can't be tolerated.
"We can't beat ourselves. We're an eight-cylinder car; we need all eight cylinders going.
"We took some penalties that, to me, were just laziness. We just didn't have our feet moving for a lot of the time tonight. We played like we were the ones that played last night, and they didn't. It should've been the other way around."
And finally, and ominously for those who agree with the officiating changes to promote more skill, Michigan State coach Rick Comley on his team's win over New Hampshire:
"The officiating was more like old-time hockey … Not that I disagree with it, but there were very few power plays and I think that helped us. [The flow] helped us to get everyone involved early."
Trivia Contest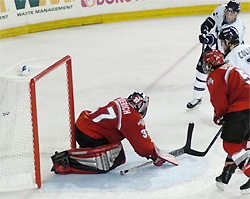 Last week's question noted that the previous weekend a Hockey East player went against an opponent with the exact same name — first and last, with the same spelling — but a different position. The answer was Sean Collins, New Hampshire forward and Ohio State defenseman, as can be seen here, in Josh Gibney's photo.
First to answer correctly was Ankur Patel whose cheer is:
"Go UNH!"
This week's question asks: based on the results from each team's opener and the past two seasons, who is destined to win this year's national championship? Email my trivia account with the team and why. The winner will be notified by Tuesday; if you haven't heard by then you either had the wrong answer or someone else beat you to it.
And Finally, Not That It Has Anything To Do With Anything, But…
Put on the chorus to AC/DC's "You Shook Me All Night Long" and crank it up loud.
If you're one of those rare Yankee fans who hasn't been rubbing our nose in it for the past umpteen years — I can probably count such individuals on one hand and certainly on two — then you'll want to stop reading here.
Because the absolute icing on the cake is that not only are the Red Sox in the World Series, but they also got there by ripping the hearts out of the most arrogant, pompous, obnoxious fans in the history of the universe, a group that so richly deserves its current misery.
Among all Boston rivals, I reserve that feeling for only Yankee fans. I've just taken too much crap over the years and I refuse to be magnanimous now. I've taken it and if you wonder if I'm now up to the challenge of dishing it out, just clear the decks, baby.
There are Yankees that I respect, such as Derek Jeter. And then there's a scumbag like Gary Sheffield. With his team apparently ready to roll into the World Series, he called the Red Sox [and I'm paraphrasing now] "A walking timebomb. They don't really care about winning …" Sheffield trashed the Red Sox players' character. This, coming from an athlete who earlier in his career deliberately played poorly to force a trade? This, coming from a cheater who has BALCO written all over his forehead? This scumbag with no character is questioning the character of an entire team? A scumbag who would betray his own teammates to force a trade and who would betray his sport by cheating with steroids? How can such a gutless puke malign anyone else's character? It was positively delicious to see Scumbag Sheffield strike out time after time and finish 1-for-17 in the final four games. Maybe, Sir Scumbag, you should inject your butt with some brains and integrity, and not steroids.
Pent up anger, you say? Folks, I am just warming up.
CHOKE! The Yankees rocket to the top of all lists, beating Bill Buckner and all rivals by orders of magnitude.
Hey, I guess the Yankees just can't win without Zimmah.
HEROES! What guts by Red Sox player after player, led by David Ortiz and Curt Schilling. Just amazing.
Not far down on the list is Keith Foulke. This is what having a "Relief Ace" is all about. Bringing him in for almost three full innings in the fourth game is what Bill James was talking about and is why Theo wisely didn't pay big bucks last year for Uggie Urbina and his mostly empty saves.
Before I go any further, thanks to my brothers for getting me to Game 4. You guys are the greatest. Although I must say, those seats get smaller every time I go to Fenway. The indentations of the metal sides in my midsection give new meaning to the term "love handles."
And kudos to the umpires for getting together so that they made the right rulings. Breaking that union and its "my version of the strike zone" and "it's my call" attitude has made a huge difference. Just think back to a few years ago and the phantom tag by Chuck Knoblauch at second base, later defended by the ump with references to "Knobbie."
Talk radio was driving me nuts in the middle of this series. Bench Bellhorn, Millar and Damon, they were saying. Put in Pokey, Mientkiewicz and Roberts. Shake things up. Folks, that ain't "shaking things up," it's panicking. Yeah, some guys were in short-term struggles, but the idea that "Pokey couldn't be any worse," or Mientkiewicz or Roberts, made no sense. Short-term struggles happen and all three guys who were struggling showed that short-term panic was not the solution.
Wow, was I wrong about Derek Lowe and Tim Wakefield. I was infuriated at Lowe's moping around, pouting that he'd been relegated to lesser roles. And hearing that his agent, the contemptible Scott Boras, phoned the Sox to complain that they were just sabotaging Lowe's free agency really got my blood to boil. But Lowe came though between the lines in a major, major way. And Wakefield, who had been lighter fluid to opponents' fire all the way down the stretch — outdone on the stinkometer only by Lowe — was amazing in that one relief stint.
Man, I could go on and on and on, but my exit music is coming on so I just have this one thing to say: it ain't over yet and it won't be until we get four more wins.
I love that dirty water. Oh, Boston you're my home.
Thanks to Scott Weighart, Kevin Conway, Sean Caruthers and Jack Weiland.