With all due respect to Amherst and St. Anselm, I want to quickly put to rest any rumors that appearing in the weekly column has become akin to the "Sports Illustrated Jinx." Seriously, I can see where some people might get that impression, having seen St. Anselm lose its undefeated status and Amherst get off the roll it was on prior to last week's column. But in my defense, can't we focus on what coaches in all of the leagues have been talking about since the pre-season — that dreaded six letter word — parity?
This year more than any other has really shown the balance that exists top to bottom in the D-III conferences in New England. No one seems to be surprised when the more than the occasional "upset" is taking place with a great deal of frequency. "There are no more easy two-pointers," noted Southern Main head coach Jeff Beaney. "It's actually great for hockey and the fans that all of the conferences are so competitive. You really do need to play each game one at a time; you can't get caught looking ahead because you'll get beat — especially when you play two games inside of 24 hours on a weekend."
Yeah, that's it. It's the parity thing that has everybody shaking their heads about some of the scores posted on the internet that more than raise a few eyebrows. Will it continue down the stretch? Probably; everybody is in the hunt for a playoff spot and no team is going to give anything away, so get ready for a very interesting February finish in each of the leagues.
And for those who believe in the Friday column jinx – please feel free to send your checks and money orders to USCHO care of "Keep us Out of the News in D-III" I doubt I will get much of a response but as Beaney commented, "I thought about becoming superstitious, but it's too much work." Let's keep the work focused on the ice and some good hockey to be played.
Middle"buried" in a Slump
We move from one Beaney to another, and the first three game losing streak encountered by any Panther team in many seasons. In fact, the two games in a row lost in Maine to Colby and Bowdoin match concurrent losses that have occurred only twice in the past six seasons. In 2000-2001, Middlebury lost two games to Plattsburgh in the NCAA quarterfinals and in 2002-03, the Panthers dropped back-to-back games at the Primelink Tournament to Norwich and Plattsburgh again. It doesn't happen often to a team that has demonstrated remarkable consistency year in and year out.
So when a number one ranked Middlebury team drops three in a row, there is for sure some surprise. "We're really not playing very well right now," commented head coach Bill Beaney following his team's 6-3 loss at home to Williams. "We have had some injuries combined with some very average play and that's not going to be good enough against all of the teams we've faced. All of the league teams have improved and while we were tied in the third period in all of the games, all three of the other teams deserved to win based on how they played."
Beaney acknowledges he does have a young team, particularly up front where progress and setbacks are measured by "two steps forward and one back." It doesn't get any easier for Beaney's squad when St. Anselm and New England College come to visit this weekend, followed by surging Plattsburgh on Tuesday night. "We hope to get some injured people back and we'll try some different line combinations to see if that improves some things. Most importantly, we need to play with a sense of purpose. Our effort has been OK, but it can be better." Look for one streak to end and a different one to begin for a team all too familiar with winning hockey games.
Huskies on the Rise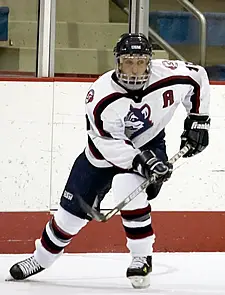 Over at Southern Maine, good things have been happening for a young team that is maturing quickly and playing some good hockey despite some key injuries and a current flu bug that has impacted several players. Head coach Jeff Beaney, who has been at USM for 17 seasons and only recently became the full-time hockey coach at the institution, really likes what his team has been doing since the break. "We've had 27 players in the lineup and haven't had our full lineup in any game this season," commented Beaney. "We only have four seniors and the young guys have continued to improve their play especially coming into the New Year." Led by senior captain Jon Lounsbury, the Huskies have several impressive wins including victories over Wesleyan, Williams and Amherst this season. Currently positioned in fourth in the ECAC East, Beaney hopes his squad can compete strongly for a home-ice playoff spot.
Lounsbury, a converted forward, has been a defensive stalwart for USM as well as a true leader. He is in his second season as captain and according to his coach is a real impact player despite being only 5′-9″ tall. "Jon is playing very well and has been a big influence on a lot of the young guys on the team — he's a difference maker on and off the ice."
Three new goaltenders have been vying for playing time at USM with Ryan Sullivan playing well this past weekend against Amherst and Hamilton. Sophomore David Beckles returns after receiving medical clearance to play following the break. A return to earlier form from Beckles would give Beaney's team a solid tandem coming into key match-ups in February.
Ephs Get A's on Road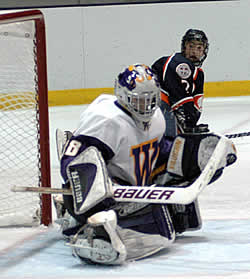 Williams coach Bill Kangas knows that you can't control everything going on with the schedule or opponents. In addressing the parity, Kangas notes, "We just need to take care of our games. It's all about the effort. You want to develop that trust with the team that they will just leave it all out on the ice for each other." Apparently the mantra has gotten through as Williams came up with two big road wins at Bowdoin and at Middlebury to move up in the NESCAC standings.
Leading the way for Williams is junior goaltender Brad Shirley, who stopped 86 of 90 shots in the two wins. "Brad was hurt most of last season," said Kangas. "He has improved every game and gotten stronger with each outing. It has been a pleasure to watch him develop this season."
Offensively, the Ephs are very balanced and rely on everyone to chip in and contribute. Two of the offensive stars from this week include junior Kevin Child and freshman Brandon Jackmuff who had three points each in the 6-3 win at Middlebury on Tuesday. Child and Jackmuff are among eight Williams' players in double figures in points — balance that will be key to continuing their winning ways against quality opponents.
ECAC Northeast Bragging Rights
While there still is a lot of the league schedule yet to be played, the regular season match-up between league powers Curry and Wentworth was a calendar highlight and may help determine who gets home-ice advantage throughout the league playoffs as the number one seed. While both teams have struggled outside the conference this season (Curry 1-4-2/Wentworth 3-6-0), both remain undefeated in league play and Saturday's match-up at Matthews Arena is for first place in the conference.
"We know that winning the league is the only way we are going to get to play on a national level," said Curry Hhead coach Rob Davies. "This game is important as it may determine home ice and that means a lot come playoff time. We also have a long regular season unbeaten streak that we have some pride in so we want to continue that and set ourselves up well for the remaining games." Curry will be without forward Kevin Brooks who left the Plattsburgh game with an injury, and looks to gain some consistency from its lineup coming into the remaining games.
Wentworth coach Jonathan Deptula prefers to treat this like any other game. "Yeah, it probably will have an impact on seedings, but we have a lot of league games to play including games with UMass-Dartmouth, SNHU and an improved Johnson & Wales team. We know this will be a good game and look forward to the match-up." The Leopards return Landon Dingle to the lineup for the first time since the break and hope his return, along with the excellent play from fellow freshman Jeff Oddleifson, will help jump-start what has been a sluggish offense.
Unlike last season when the ECAC Northeast conference selected a final four site to host the semifinal and championship games, this year the playoff format reverts to the old Saturday-Wednesday-Saturday format with the higher remaining seed having home-ice advantage. As Wentworth hosted the final four last season in winning its third straight league title, Curry would like to see the champion have to defend on the road if possible.
Both teams understand the priority in winning the league and receive the auto bid in order to play in the national tournament. Expect this game to carry a little extra emotion, as it is likely that each team would like to send a message to the other as a playoff coming attraction.
Bison Rebound
When Nichols coach Lou Izzi began the season, he had high hopes for the Bison making a run to the league playoffs. After the first semester, those hopes had dimmed considerably. Now after their first two-game winning streak of the season, the hopes are alive and will largely depend on five upcoming league games on the road.
Five new players are making a difference in the second half of the season. Junior Brian Jacque has stabilized the defense, while four freshman forwards are getting the offense on track and adding some physical play to the Bison's profile. Ed Achilles, Brian Barsh, Zach Lindsey and Cory Horner have started quickly since the beginning of the New Year – Horner has five goals in his last two games. "These guys have been making a difference," commented Izzi. We want to be in a position to have a shot at getting in the playoffs and playing in some meaningful games in February."
For Nichols to keep their hopes alive, goaltending will have to improve considerably. "We relied on goaltending heavily last year and we just haven't got it back this year. Ryan Davis played a solid game in our win against Framingham State this week so we hope he can build on that performance and get back to the way he stopped the puck last year."
With so many teams bunched together and in contention for the final playoff spots, Nichols may recover from their slow start with a revived Ryan Davis and infusion of youthful enthusiasm that only gets better with winning.
Colby "Feeling Free"
Following wins at home against Williams and Middlebury, the Colby White Mules find themselves nationally ranked in the USCHO poll for the first time this season. Ranked #13, Colby is playing as well as anyone in D-III right now — playing loose and feeling free. "We really try to just stay in the present," explains head coach Jim Tortorella. "It may be hard to explain but we think it's important to keep the right perspective. We just focus on the present, the now, this shift. You can accomplish more with this mindset – when you are feeling free, you are loose. Nerves are an inhibitor to performance, when your mind is loose it enables you to perform better."
Certainly Colby has received strong performances from senior Nick Bayley who scored both goals in last weekend's win over Middlebury as well as senior defenseman Patrick Walsh. Backstopped by yet another senior, goaltender Chris Ries, Colby has been solid in all phases of the game. Two emerging freshmen have also been solid contributors to the success in Waterville, Maine. Forward Josh Reber and defenseman Arthur Fritsch are both among the team leaders in points and made solid contributions to the team's play. Colby hits the road this weekend to face NESCAC opponents Tufts and Conn College in looking to remain near the top of the league standings.