The last two seasons have resulted in two Hockey East regular season championships for New Hampshire, but never the elusive postseason championship or NCAA berth. Why would this year be any different? Well, a roster of 23 players instead of the 16 UNH dressed for its season finale a year ago will go a long way towards fielding a championship team.

UNH appeared to have enough talent to win the title back in October, but they didn't have enough healthy bodies come March. Now the roster is loaded with numbers and with talent. The Wildcats graduated just one player from last year's team, and the thin-as-paper defense from a year ago is thick with strong recruits, an All-League transfer, and a captain returned from injury. A team that could barely compete for a league title is suddenly a national contender again.
While UNH is the clear league favorite, no one would be too shocked if Providence came through with the Hockey East crown. After all, it's been since 2000-01 that the Friars ended a season without winning their league's postseason championship, including the three titles since Hockey East's inception. Providence lost a couple key players last year, but they still return Conference Co-Player of the Year Karen Thatcher and bring back goalie Jana Bugden after a one year hiatus.
UNH and Providence owned the league's top two spots until Connecticut finally broke their duopoly by beating the Wildcats in the Hockey East semifinals a year ago. The graduation of nine Husky seniors in the offseason has tempered expectations, but the team still returns one of the league's most talented players at every position.
While the league's top three programs are well-developed, the league's other five teams are still catching up. Boston College's Tom Mutch took a big step forward when his first recruiting class lifted the program into the postseason, and his second class appears to be about as strong. Northeastern's Laura Schuler had to rebuild last season when many of the team's top players transferred out before she arrived, but a year removed from that disaster, the program should improve quickly. Maine's Guy Perron is in his second season as well.
Rounding out the league are its two newest members Vermont and Boston University. The Catamounts hope to find new success with a new league after four years in the ECACHL. Boston University's addition to D-I means that the women's Beanpot will finally have four varsities just like the men's – just another milestone in the growth of the sport.
1. New Hampshire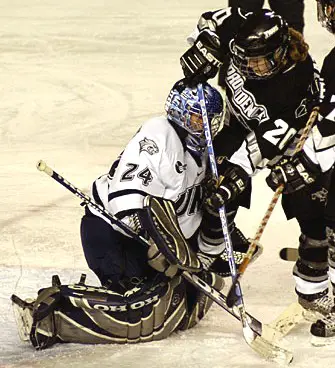 2004-05 Record: (21-8-6, 13-3-4 Hockey East)
Head Coach: Brian McCloskey (71-25-12, 4th season) was the AHCA national coach of the year runner-up after serving nine years as an assistant.
2004-05 Stat Summary: UNH led Hockey East in offense, defense, power play, and penalty kill, despite only sharing the regular season title with Providence. Nationally, the Wildcats performed best on the penalty kill (3rd) and defense (5th). The offense at 7th wasn't so shabby either.
Key Departures: Stephanie Jones (23-19-42), the co-Hockey East Player of the Year and the team's No. 2 scorer, was the team's only loss to graduation.
Key Returnees: Junior Nicole Hekle (19-33-52) is one of the top returning scorers in the nation, and Lindsay Hansen (9-29-38) was the top scorer the season before last. Sophomores Leah Craig (12-16-28) and Taylor Palazeti (15-12-27) were both among the top freshmen scorers nationally a year ago. Sophomore tri-captain Martine Garland is welcomed back after missing nearly all of last season with a broken ankle. Both she and Nicole Goguen have Canadian Under-22 experience. In net the Wildcats bring veteran Melissa Bourdon (18-6-4, .913, 1.99), the league's top goalie a year ago, although like the whole team, she struggled down the stretch.
Key Newcomers: The freshman class of four is small on numbers but big on talent. Defenseman Kacey Bellamy, a Berkshire Prep co-MVP, should make an immediate impact, as will 5'11 All-ISL defenseman Maggie Joyce. Small yet quick Sam Faber boosts the forward lines, while another 5'11 player Angela Taylor, who hails from Scotland, is a unique talent who played both basketball and hockey at the national level. The biggest impact of all could come from senior transfer from Brown Amy McLaughlin, who was a First Team All-ECAC defenseman in 2004.
Outlook: Led by Hekle, UNH is one of the deepest offensive teams in the country. The blueline corps are also deep with old and young talent, but it will take time to integrate everyone into the team's system. Melissa Bourdon struggled late last season, but so did the rest of the team, and a healthy team in front will be healthy for her confidence. UNH's strong penalty kill should be just as good as a year ago, and the power play should be even better. All the pieces appear to be in place for a league championship, and there's no reason why the Wildcats can't make the Frozen Four.
2. Providence
2004-05 Record: (21-11-5, 14-4-2 Hockey East)
Head Coach: (124-67-23, seventh season)
2004-05 Stat Summary: The Friars were 9th nationally on penalty kill but were an uncharacteristic 16th on defense.
Key Departures: First Team All-League Rush Zimmerman (26-30-56) graduated and moved into contention for the U.S. National Team. The team also lost three veteran defensemen and goalie Amy Thomas (20-10-5, 2.53, .896).
Key Returnees: Senior Karen Thatcher (25-33-58) is the nation's top returning scorer despite missing part of the season with an appendectomy. Junior Sonny Watrous (21-18-39) is a former league Rookie of the Year. Junior Kristin Gigliotti (6-17-23) led the team's defensemen and scoring and netted the league championship game-winner. Sophomore Kathleen Smith (2-15-17) was an All-League defenseman. Junior Jana Bugden (career 33-17-7, .915, 1.94) missed all of last season after a subpar sophomore year, and hopes to regain her exceptional freshman year form.
Key Newcomers: Good things come in pairs for the Friars, who have two recruits each from the NAHA (Watrous' alma matter), two from Ontario, and two from New England Preps as part of their eight recruits. Among them are Cushing Prep captain Meredith George and NAHA goalie Stacey Scott, who holds the school record for goals against average.
Outlook: Bugden's return could boost an area of weakness from a year ago. The only question is whether the Bugden of 2002-03 or 2003-04 shows up. Providence's top offensive and defensive talent remains strong, so the team should remain an NCAA contender. The experience of a lopsided NCAA defeat a year ago should only boost the team's competitive fire.
3. Connecticut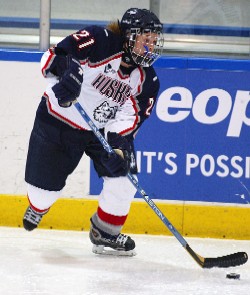 2004-05 Record: (16-12-8, 11-5-4 Hockey East)
Head Coach: Heather Linstad (50-82-21, 6th season) built the new UConn program to its best season ever a year ago. In the 90s, she went 161-71-27 as coach of Northeastern, including the 1997 ECAC title.
2004-05 Stat Summary: UConn was ranked in the middle of the pack nationally in both offense and defense.
Key Departures: The Huskies graduated nine seniors from Linstad's inaugural recruiting class, including five of its top seven scorers. Tiffany Ownes (14-17-31) was the team's second-leading scorer. Goalie Shannon Murphy (4-4-4, 2.52, .915) had a solid career that ended with reduced playing time as a senior.
Key Returnees: Jaclyn Hawkins (25-14-39) was the league's Rookie of the Year, Natalie Vibert (8-11-19) was an All-League defenseman, and Kaitlyn Shain (12-8-4, 2.27, .924) was the league's top goalie down the stretch.
Key Newcomers: The Huskies bring in three forwards, two defensemen, and a goalie. Among the highlights are Jodie Charison, who scored twice in the U-19 Club National Championship for Shattuck-St. Mary's. Another strong forward is Jena Danzig, who played for Vancouver in the NWHL and in the NAHA.
Outlook: Many of the league's coaches counted out the Huskies because of their roster turnover, but talents like Hawkins, Shain and Vibert should be enough to give UConn one of Hockey East's four playoff spots once again.
4. Boston College
2004-05 Record: (10-20-4, 6-11-3 Hockey East)
Head Coach: Tom Mutch (16-42-7, 3rd season)
2004-05 Stat Summary: The Eagles matched UNH for the best power play in Hockey East but were dead last on the penalty kill. They were in the league's bottom half in both offense and defense.
Key Departures: Captain and All-League defenseman Sarah Carlson (3-6-9) was the Hockey Humanitarian winner, and Kerri Sanders (7-16-23) was the team's third-leading scorer. Lisa Davis was once the team's top goalie before seeing limited time last season.
Key Returnees: Deb Spillane (19-16-35) ranked among the nation's top scoring freshmen along with Sarah Feldman (16-12-28). Alison Quandt (8-13-3, .889, 3.14) got hot on occasion last season.
Key Newcomers: BC has two of the league's superstar recruits. Becky Zavisza, Berkshire's other co-MVP alongside UNH's Bellamy, is one of the only freshmen to have played at the senior U.S. National Festival. Goalie Johanna Ellison was ranked by many as the top goalie in Minnesota high school hockey, and she should compete for playing time right away.
Outlook: Boston College still has question marks among its defensive corp, but this team's young offensive talent should be fun to watch.
5. Northeastern
2004-05 Record: (3-25-4 2-15-3 Hockey East)
Head Coach: Laura Schuler, a Northeastern alum and former Canadian Olympian, starts her second season since coming over from UMass-Boston to coach her alma matter.
2004-05 Stat Summary: Northeastern ranked last in Hockey East and among the worst nationally in offense and defense. The Huskies led Hockey East in penalty minutes and ranked fourth nationally.
Key Departures: Captain Lori DiGiacomo (3-12-15) made personal sacrifices to fill gaping holes in Northeastern's defense a year ago. She's the teams' only departing senior.
Key Returnees: Junior Amy Goodney (8-15-23) was the team's top scorer and a freshman All-Rookie selection. Marisa Hourihan (3-25-4, 4.00, .906) posted ugly numbers but she and the team improved down the stretch.
Key Newcomers: Colleen Sanborn, the fourth-leading scorer all-time in Mass. public high school hockey, is a walk-on who Schuler says could be a diamond in the rough. The class includes captains of some of the nation's top club teams, including forward Ali Bielawski of Assabet Valley and defenseman Brenna Frost of the Syracuse Stars. The class includes three freshmen, three defensemen, and a goalie.
Outlook: Northeastern has nowhere to go but up. Schuler was put in a tough spot as a coach a year ago, but now she has her first recruiting class in place and some help on the coaching staff. The schedule this season will be more favorable than the brutal one full of NCAA title contenders that previous coach Joy Woog left behind. The Huskies came close to pulling upsets every now and then, but could never finish the job. The team that went 0-4-4 in overtime a year ago might turn the corner in some of those games this season.
6. Maine
2004-05 Record: (14-15-3, 5-13-2 Hockey East)
Head Coach: Guy Perron is in his 2nd season since leaving his longtime post as a Maine men's assistant.
2004-05 Stat Summary: Maine was in the bottom half of Hockey East in most categories and particularly struggled with the worst power play in the league.
Key Departures: The team lost its three leading scorers Tristan Desmet (17-14-31), Andrea Steranko (10-13-23), and Cheryl White (12-10-22).
Key Returnees: Junior Sonia Corriveau (8-10-18) has been her class' top scorer the last two years. Junior Kelly Law (2-5-7) was an All-League defenseman. Rachel Gettings (14-15-2, 2.35, .878) earned the bulk of starts for the Black Bears.
Key Newcomers: Maine's recruiting class of six includes two goalies and three who played in Canada's Esso Nationals. 5'11 defenseman Chantal Jaillet was a top scorer for Team New Brunswick at Esso Nationals. Vanessa Vani played for Team Ontario, Patricia Gagnon had nearly a point per game for Team Quebec.
Outlook: Maine's overall record improved last season but the team's league performance did not. Perron will need more time to build this team in his own image.
7. Boston University
2004-05 Record: New program
Head Coach: Brian Durocher starts up BU's women's program after spending the last eight years as the Terrier men's associate head coach.
Key Transfers Junior forward Cara Hendry (3-3-6), who comes over from Minnesota State, will be the team's first captain. Jessica Lortie (8-7-15) was D-III Southern Maine's second-leading scorer. Junior Ashley Watkins has 33 career points for New England college. Sophomore Stephanie Armstrong (3-11-14) was Union's third-leading scorer.
Key Newcomers: Defenseman Amanda Shaw was a member of the Canadian national inline team. Diminutive forward Gina Kearns was the second-leading scorer on her high school boys team in New Jersey. Goalie Allyse Wilcox was the top goalie for the Michigan Honeybaked club.
Outlook: Durocher says the program will sport an underdog, nothing-to-lose mentality. Don't be surprised if they make some noise.
8. Vermont
2004-05 Record: (3-25-4 2-15-3 ECACHL)
Head Coach: Dennis Miller (10th season, 67-148-21) oversaw the progression of Vermont from D-III to D-I in 2001.
2004-05 Stat Summary: Vermont was in the middle of the pack nationally on defense but ranked dead last in offense and near the bottom on the power play.
Key Departures: Kami Cote (5-26-3, 2.69, .924) was the First Team All-ECACHL goalie.
Key Returnees: Hilary Johnson (8-9-17) has been Vermont's top scorer for two seasons.
Key Newcomers: The Vermont class of six includes, Sarah Smiddy, captain of the Honeybaked club and Danielle Ramirez, a member of the Cal Selects squad.
Outlook: Vermont needs a lot of improvement offensively, and Cote's departure won't help on the other end. Moving to Hockey East gives the Catamounts a fresh start, but they still have a long way to go.