Niagara returns possibly the most potent offensive attack in the CHA this year, yet is bringing aboard a freshman class in the double digits.
Last year's regular-season champions, the Purple Eagles are aiming once again to win that title and avenge their tournament final defeat to Bemidji State. Scoring goals won't be a problem. In fact, six of last season's top 10 scorers are back on Monteagle Ridge and two of those are sophomores in Ted Cook and Les Reaney, both of whom tallied 40 points last season. The pair was chosen league co-rookies of the year to boot and are the top returning scorers in the CHA this season.
Senior captain Sean Bentivoglio scored 16 goals last season and will play with Cook and Reaney on a sick NU power play. At even strength, the trio can be just as deadly. Throw junior Matt Caruana into the mix and NU has the ability to dominate from the hash marks in.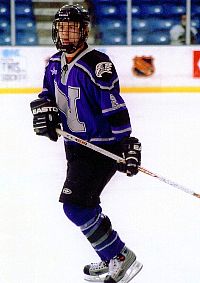 "'Benti' can make any line go," Purple Eagles' head coach Dave Burkholder, who signed an extension through 2010 during the offseason, said. "He sets an example for everyone else and they follow him, no questions asked. He finished in our top two for dry-land fitness testing as well. He's dedicated and knows this is his year to put it all together.
"Matt Caruana, I think, slips under the radar of a lot of teams. He's a quality producer for us, but does it quietly."
Bentivoglio figures on producing in every aspect of the game and took notes the past two seasons on how to play and how to lead.
"It's time for me to step up even more," said Bentivoglio. "The past two years I played under some great captains in Barret Ehgoetz (2004-2005) and Jason Williamson and I think I learned something different from each of them. Our seniors are the big-time players now and they have to show the freshmen what it takes."
Andrew Lackner's departure leaves a gaping hole on defense, but sophomore Dan Sullivan is ready to take the reins back there. Travis Anderson hurt his knee after just four games last year and took a medical redshirt. He's back and at 100 percent this season.
"Sullivan played terrific for us last year as a true freshman," Burkholder noted. "Just a freshman, it was basically baptism by fire for him and he exceeded all of our expectations. He's a stay-at-home defenseman and should be one of our mainstays for a long time here.
"Travis Anderson was our best defenseman after four games last year and then he went down and that hurt us significantly. But his return should give us a huge boost."
Burkholder also threw Scott Langdon's name out, saying, "He got better as the year went on."
Of the 11 freshmen new to Dwyer Arena, Burkholder wouldn't single out any one player as to who could put up big-time stats, but would say he expects all 11 to see playing time at one point or another.
"I expect all of our young guys to make a contribution," said Burkholder, whose son, David, is a freshman at Merrimack this year. "We have quite a few and I am looking for the freshmen to show me what they have to offer."
Forward Chris Moran, a Niagara-area native, committed to NU two seasons ago and is probably the most notable first-year skater. Defenseman Nick Jillson is the younger brother of Buffalo Sabres' defender Jeff Jillson and forward Egor Mironov is the son of Dmitri Mironov, a former NHL backliner.
With the departure of goalie Jeff Van Nynatten, the No. 1 job is up for grabs between junior Scott Mollison and sophomore Juliano Pagliero.
"We'll start off with a rotation and if it goes that way all season, hey, that's fine with me," said Burkholder. "If that's what we find works, I have no issues with that."
Last year's tournament loss only creates one issue for Bentivoglio: motivation.
"We were 3-1 against (Bemidji State) in the regular season and then we lost that one-game showdown with them," Bentivoglio said. "This year, we'll be ready."
Niagara starts its season this weekend in upstate New York with games at Clarkson and St. Lawrence. The home portion begins Oct. 12 with Colgate in Rochester, N.Y. The Purps also play Nebraska-Omaha on the road and play Bemidji State four times before Dec. 1.
"The first two months will be a big test for us," said Burkholder. "But it's all in the hands of the players."