Things are looking up in Storrs, Conn., as the Connecticut Huskies seem poised to make some noise in the conference. True, there were only 11 wins last season to go along with 23 losses and two ties, but UConn ended the season on a high note, upsetting Sacred Heart in the league quarterfinals before bowing to eventual champ Holy Cross in the semis.
The Huskies got votes in the USCHO.com/CSTV poll for the first time in history last season, and are ranked fourth by the league's coaches in this year's preseason poll.
More importantly, Connecticut returns 21 players from last year's squad, including nine of its top 10 scorers. The main question mark for coach Bruce Marshall is in goal, where the starting spot is up for grabs after the early departure of Brad Smith, who played the majority of the minutes last season.
"I'm really pleased with the guys we have coming back, as well as our new players," said Marshall, starting his 19th season at Connecticut. "The freshmen are showing signs that they will really help us."
Twelve seniors will provide all the guidance the rookies will need, as the Huskies look to shore up a penalty kill that was the worst in Division I (76.9%).
"Our PK has been brutal," acknowledged Marshall. "I like the personnel we have. They have the skills to be a good PK unit but we have to find the right system to make them successful."
Marshall said he wasn't surprised with the predicted fourth-place finish.
"We haven't had a lot of success lately, but I like the chemistry of this team. We haven't gotten it done yet, but people who have played us know that it's a tough two points to take from us."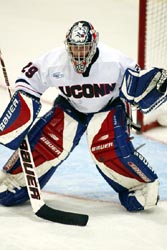 Marshall says he's not worried about the goaltending situation.
"(Scott) Tomes was our starter his first two years, but got hurt as a sophomore. Now he's a senior and realizes that this is his last go-round. I think he'll be ready to prove how talented he is."
Also in the mix is Sophomore Jon Anderson, who played in 14 games last season, as well as freshman Beau Erickson.
Up front, Marshall says he is looking for what all coaches want — a balanced attack that can wear the opposition down.
"We are looking for more offensive success," he said. "We want to be more balanced and spread it around." The Huskies did a decent job of that last year with five players scoring 20 points or more, including forwards Cole Koidahl (32 points) and Chris Myhro (27), as well as defenseman Sean Erickson (21).
'We have all the pieces and have shown the potential to put it all together," said Marshall.
"Now we just have to execute."