A couple things stand out about Taylor Donohoe.
First, at 6-foot-3 and 225 pounds, his size immediately makes you notice him. Secondly, he's a western Canada native playing college hockey. The latter isn't exactly a hot commodity in NCAA circles.
But after some research several years ago, the senior Wayne State defenseman decided to go against the grain.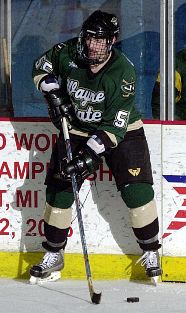 "To be honest with you, I didn't have a lot of information on college hockey in the States," said the 24-year-old Donohoe. "My coach out in B.C., Gary Davidson, pretty much turned me on to the idea and the more I learned about it, the more I wanted to look into it. I figured, hey, if school's paid for and I get to play hockey, what's better than that?"
From Richmond, just about 20 minutes south of Vancouver, Donohoe played with the Trail Smoke Eaters of the British Columbia Hockey League and later on with the Powell River Kings of the same league. His last year of juniors in 2002-2003 with Powell River, Donohoe played in the BCHL Prospects Game. But that wasn't where the Wayne State brass took notice.
"We were playing a game across the island and I had heard Wayne State was going to be there watching," recalled Donohoe. "We got to the rink late, things were disorganized, it was a mess. But I went out, got a goal and an assist and a few cuts and they offered to fly me down to see the campus. 'Wilkie' (WSU head coach Bill Wilkinson) was great and once I got to the city, I really liked the idea of playing there."
Niagara, down a defenseman, wanted to get Donohoe to leave Powell River during Christmas 2002 and come join the Purple Eagles, but Donohoe cited not wanting to leave his team as the reason for waiting and eventually signing with WSU.
Detroit has long been stereotyped as a city with high crime, homelessness, poor streets and dangerous to boot. While that all may be true to an extent, Donohoe has loved his stay in the city, a city he lives in year-round.
"In any big city, there are certain areas where you don't go," said Donohoe, also a member of Wayne State's Student-Athlete Advisory Committee (SAAC). "But downtown is a lot of fun and going to Tiger games is a blast. We went to about 15 games this summer and it was awesome to see them finally winning and rejuvenating this city. The city is actually kind of empty. The infrastructure is built for like 4 million and there's what, like 800,000 people in the city? It's getting a lot better, though."
Donohoe is one of 11 Canucks on WSU's roster, but the only one from British Columbia. His major junior rights were held by the Kootenay Ice of the Western Hockey League. Those rights were relinquished when Donohoe was set on going to college.
Dan Iliakis, another senior defenseman for the Warriors and a fellow Canadian, has been partnered with Donohoe for the bulk of their time in Detroit. This year, the pair are Wayne State's top two defenders.
"He makes me look good night after night," laughed Donohoe, who has four goals among his 17 points in 106 career games with Wayne State. "So I have to give a shout out to him."
Once March rolls around, Donohoe hopes WSU can make some noise in the postseason. After that, medical school may be in Donohoe's future. He's a philosophy major, but when asked what one does with a philosophy degree, Donohoe said, "I think you forget everything you've learned as soon as you graduate."
"Medical school is so elusive," Donohoe noted. "I also have options in hockey, I would imagine, so I just want to weigh my options and not put all my eggs in one basket. Medical school would be a big challenge, so we'll see."
For the time being, Donohoe wants to get WSU on the winning side of things. Getting the 'W' is something the Warriors only did six times all of last year and that trend continued with two losses at powerhouse Minnesota last weekend.
"For the past three years, we've done nothing," said Donohoe. "This year seems different, though. The coaches are more relaxed, but at the same time, practice is intense. Everyone's on board and I've never seen the boys in better shape. I just want to start winning."
And getting his resume in order.
Ross Done After This Year?
UAH head coach Doug Ross told the Huntsville Times recently that he may make the upcoming season his last as the Chargers' coach.
"I'm giving a lot of consideration to getting off the bench after this season," said Ross, who turned 55 on Oct. 9 and won two Division II national titles in Huntsville. "It's a lot of stress for a lot of years."
Ross is now in his 25th season as UAH's bench boss. He has 441 career wins at UAH and needs three more this year for 500 in his career. Ross won 56 games at Ohio University and Kent State before arriving at UAH for the 1982-83 season.
"I've been in it for 30 years; that's a long time," Ross said. "There's other things that I can do. I'm looking at other opportunities that I may have."
That being said, Ross added he doesn't want to simply coast through this season.
"I'm completely committed to UAH right now," he said. "And I've even given some thoughts to maybe being able to serve the university in another capacity. I'm not planning to go anyplace else even if I retire. My first choice is to be able to stay at UAH and maybe support the team or work in some other area of the university, maybe development. I've done a lot of fundraising over the years. I mean, I've done a lot of fundraising.
"I wish I had frequent bus miles. Getting on the bus on Wednesday night at 8 o'clock when you're my age … We've got 12 trips this year and nine of them are by bus. The bus trips are probably close to 1,000 miles a trip, maybe a little less."
Goalie Boucher A 'Rock' For RMU
Take a look at any Robert Morris scoresheet the past two seasons and odds are Christian Boucher was in net.
Coming into this season, Boucher had played more minutes than any other CHA goaltender. Last March, he led the Colonials to a quarterfinal upset of Air Force in the CHA tournament before bowing out to Niagara.
"How he goes is how the team goes," RMU head coach Derek Schooley said of his junior netminder. "He's played 90 percent of our games and has just been a rock for us."
"'Bouch' has kept us in a lot of games the past two years," RMU co-captain Chris Kaufman said. "But now it's time to start winning those games for a change.
"I'm sure we don't get respect, but technically we're still new, so we still need to go out and prove the criticisms wrong. 'Bouch' is a huge part of doing that."
Trio Of Bemidji Recruits Hitting Stride
Goaltender Matt Dalton and forwards Matt Read and Ryan Cramer, three BSU recruits out of the United States Hockey League for 2007, are honing their skills in the USHL this year.
Dalton and Read are teammates on the Des Moines Buccaneers, while Cramer is with the Waterloo Black Hawks.
Read is second in team scoring for the Bucs with a goal and four assists through four games. Dalton has played all four games for Des Moines and has won each one. He has two shutouts and a 1.47 goals-against average along with a .947 save percentage.
"Read has top-end speed," Des Moines coach-GM Regg Simon said. "He's very smart and skilled. We expect him to play a very big role for our team this season."
Dalton finished with a 33-5-1 record for the now-defunct Bozeman Ice Dogs of the North American Hockey League last season.
Cramer has been held pointless in three games thus far. He was a third-round pick of the Black Hawks in May's USHL Entry Draft out of the NAHL's Fargo-Moorhead Jets. Cramer tallied 21 goals and 49 points with the Jets last season.
All three 2007 recruits are 1986 birthdates in their final year of juniors this season.
Purple Eagles Lose, Win
After a 2-1 loss to Colgate in front of 147 fans (yes, as in sub-200, not a typo) last Thursday at Blue Cross Arena in Rochester, N.Y., Niagara rebounded for a thrilling 5-4 overtime win Saturday at home against Holy Cross.
With 20 inches of snow in the Buffalo area, the majority of people were kept indoors for the Colgate game. Goals 37 seconds apart in the first period were all the Raiders needed to hold on for the win.
"We didn't have a lot of scoring chances, but the ones we did have didn't go in," Niagara head coach Dave Burkholder said. "It was a winnable game, but it just didn't happen for us."
The Niagara bus was stranded for 12 hours coming back to campus due to the record snowfall.
Last Saturday, NU rallied from a 4-1 deficit late in the second period to win 5-4 in OT in its home opener at Dwyer Arena. Four different players scored and Vince Rocco, with his second of the game, capped it 1:51 into the extra session.
"The guys just kept chipping away and we started to gain momentum from different players," Burkholder said. "They really persevered tonight and fought through the rough start to win the game."
Chris Moran, a Niagara-area native who committed to Monteagle Ridge two seasons ago, added three assists in the win.