After an impressive opening weekend against the MIAC, the NCHA followed up with an even more dominating performance last weekend. Refusing to take the boot off the throat of the MIAC, NCHA teams went a combined 13-3 on the weekend, running their overall Interlock record to 25-6-1.
On the tails of the dominant weekend, seven NCHA teams now find themselves receiving votes in the USCHO.com Division III Poll, with five of them cracking the top 15. Joining St. Norbert, UW-Superior, UW-River Falls and UW-Stevens Point in the top 15 is UW-Stout. The Blue Devils break in at No. 13 and sport a healthy 4-0-1 record following a weekend sweep that included a 2-0 shutout of St. John's.
MSOE, the lone MCHA team receiving votes, drops a spot overall but remains only a few positions out of the top 15 following a weekend sweep over Minnesota-Crookston.
Obstructionism?
Last week I contemplated writing a section on the NCAA points-of-emphasis regarding obstruction. After deciding to defer it in order to collect more data, the topic was breached last week by our SUNYAC and MIAC writers — clear evidence that the impact of the POE is already being felt nationwide.
But what exactly is that impact? By comparing the first week of MCHA league play and the first two weeks of NCHA-MIAC Interlock with those from last season there is a clearly an impact, the magnitude of which may surprisingly be smaller than many perceive.
For example, last season there was a combined average of 16.7 penalties called per game, resulting in a per game average of 13.1 power-play opportunities. This year those numbers have increased to averages of 18.9 penalties and 15.8 power plays per game. While increasing, the net result is only a shade over one extra power play, per team, per game.
Despite the relatively modest overall increase in penalties, there are games in which the crackdown has been more than apparent. A striking example is the Nov. 4 meeting between UW-Stout and Gustavus Adolphus. The game featured 34 minor penalties, 23 of which were for some form of obstruction. Amazingly, the only matching minors came with 17 seconds left in regulation. The end result was a game that featured eight power-play goals, nineteen power-play opportunities for UW-Stout, and if my math is correct, only 15:47 of five-on-five hockey in regulation. In fact, the longest span of even-strength hockey came in the form of a 2:43 stretch in the first period.
The lesson here is that with potential to have games called extremely tight, teams are going to have to adapt to the crackdown on obstruction, and that's a sentiment UW-Stout coach Terry Watkins agrees with, though it's not necessarily something he feels needs to be dwelled on.
"I think early on in the season it's something we all talked about," he said. "It's unfortunate with the new rules, but we hope the officials stick to things consistently. Otherwise kids start to get frustrated and it only makes things worse."
"As far as changing the way we prepare, no, I don't think it matters too much."
The consistency issue is one UW-River Falls head coach Steve Freeman also feels is at the heart of the matter.
"There was initially a big adjustment period," he said. "Right now there still may be a little bit of a gray area as players and officials alike are trying to get a feel and understand the flow. Overall I think things have been pretty consistent, but it's something that falls on the coaches, players and officials."
UW-Superior head coach Dan Stauber echoed Freeman's belief regarding consistency and finds the overall emphasis a positive one, as in his mind stricter enforcement of the rules is something essential to college hockey.
"They're doing a good job, but everyone could always communicate a little better," he said. "It cleans up the game; it's good for the game."
He added, "It's not like these are new penalties they made up. These are things that have been in the rulebook forever. It's just that now they are actually being called. Players and coaches have to understand they can't play like that any more. They have to change."
In order for a smooth transition, consistency is going to be required from officials and players alike, as exemplified by UW-Stout's very next game — a contest with St. John's that saw only three penalties called on each team. Either way, Watkins feels it's something that teams should be able to adapt to without too much difficulty.
"Things have been getting called tighter as the games go on," he said. "By now I think everyone knows what they need to do. You can watch this stuff on television — I mean in the NHL — and see what needs to be done. It's not something we are going to worry about; the players are just going to have to respond."
This Week in the MCHA
On the strength of the sweep over UM-Crookston, MSOE remains atop of the MCHA standings. On Friday, the Raiders picked up their first home win of the season, holding on to defeat the Golden Eagles 3-2. Raider forward Blair Hanberg once again had the scoring hot hand and netted two goals to pace the attack. The pair of markers raised Hanberg's season total to eight, which is good for the second highest total in Division III. Things were a bit easier for the Raiders on Saturday as behind a three point night from forward R.G. Flath and a balanced attack featuring goals from five different players MSOE completed the sweep by scoring a 5-1 triumph.
Last weekend also saw Mike Szkodzinski pick up his first career victories as head coach at Lawrence. The Vikings moved into second place in the MCHA standings with a weekend sweep over Northland. On Friday, Lawrence capitalized on a two-goal night from forward Joe Searl and three assists from junior defenseman Austin Montgomery to defeat the Lumberjacks, 3-2. Saturday saw a dominating performance for Lawrence as a pair of goals each by forwards Nick Jennette and Evan Thornton helped stake the Vikings a 5-0 victory. On Saturday Lawrence held Northland to only 11 shots in the contest despite the fact the Lumberjacks had eight power-play opportunities. The Vikings held Northland to only 32 shots on the entire weekend.
In last week's column I mentioned that when it comes to Marian and Finlandia, neither has ever won two consecutive regular seasons meetings against the other. Nothing has changed. Finlandia appeared to be in good shape in the series opener, holding a 46-26 shot advantage and getting a hat trick from junior forward Travis Hanson, but it was Marian who would come out on top. The Sabres would make the most of their chances, netting two powerplay goals and a shorthander to propel themselves to an eventual 4-3 win. The Sunday matinee would see a different outcome as behind goals from Josh Paquette and Ryan Sullivan, and 26 saves from Luks Alberer the Lions scored the 2-1 win to earn the weekend split.
On Tap
With the holiday weekend approaching, only four MCHA teams will be in action. With two games in-hand in the MCHA standings, Marian and MSOE will take the weekend off and allow the other four in the league to catch up. Though this weekend's schedule is light, it still manages to feature two interesting match-ups.
Northland only won three games all of last season but two of them came against this weekend's opponent, Finlandia. The two split both regular season series last year, though Finlandia claimed the upper-hand in the season series by knocking Northland out of the MCHA playoffs. Though Northland is 0-4 on the season, a bright spot has been the goaltending of freshman Bo Storozuk. Having seen all the time in the Lumberjack net this season Storozuk has performed admirably, posting a goals against average of 3.00 and a save percentage of 93.8. Northland enters the weekend averaging only one goal per game, partially due to a struggling powerplay that has only converted three of 44 opportunities. Powerplay chances could come at a premium for the Lumberjacks this weekend as Finlandia is currently the least penalized team in the MCHA, picking up an average of 18 minutes per game. Conversely, the Lumberjacks are averaging over 30 penalty minutes per game and the Finlandia powerplay as been adequate, scoring at about a 20% clip. It's tough to gauge Northland this early in the season as aside from their 5-0 loss to Lawrence the Lumberjacks have been on the short end of three one-goal defeats, a trend they will be looking to shake this weekend.
This weekend's other series finds Lawrence traveling to UM-Crookston. Last season's meetings between the two were about as close as can be. Both came out of their five meetings with identical 2-2-1 records with both scoring the same amount of goals. This weekend features two teams in somewhat different positions as UM-Crookston is still winless on the season, while Lawrence will be riding the momentum of last weekend's sweep of Northland. If the Golden Eagles plan on getting in the win column they must improve a defense that ranks last in the MCHA in goals allowed. The Vikings feature an attack, led by Searl's seven points, that features five players who are scoring at least a point per game. To be fair however, the Golden Eagles have not had the easiest schedule thus far and their recent results against MSOE were much improved from those of last season. As both teams feature a host of new players and have a history of close games with each other, this series could go just about anywhere.
Full MCHA Schedule
Friday, Nov. 17
Lawrence @ UM-Crookston
Finlandia @ Northland
Saturday, Nov. 18
Lawrence @ UM-Crookston
Finlandia @ Northland
This Week in the NCHA
For those of you who have not seen the Lord of the Rings Trilogy, I apologize. But for those who have, the movies offer an indelible image that will not shake itself from my mind. Before the siege of Helms Deep, King Theoden solemnly mutters "and so it begins." Though the first weekend of league play isn't quite a battle for control of Middle Earth, he might as well have been speaking about the NCHA.
The opening weekend of league action features eight games, six of which will be played between teams who are receiving votes in the USCHO.com Division III poll, and three will feature clashes between teams currently ranked in the top 15. If that's not enough, the league schedule makers made a move everyone must love and decided to have St. Norbert and UW-Superior open the season against each other. As one coach uttered recently, "We might as well just flip coins." Sounds about right for a league shaping up to be as competitive as everyone thought it would be.
Same Ol', Same Ol'
What's really needed here is a stock preview to plug numbers and names into, as St. Norbert and UW-Superior have played so many times recently there is very little left to the imagination when these two meet. In fact, the two have played a whopping 21 times in the past five years, with St. Norbert winning the most recent meeting in the form of an 8-2 NCAA Quarterfinal rout.
According to UW-Superior coach Stauber, the Yellowjackets don't mind opening up with St. Norbert.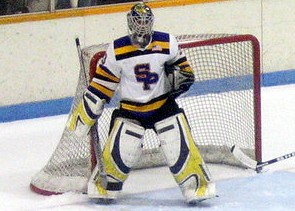 "It's our longest road trip of the season, so we do get that out of the way," he said. "It really doesn't matter who we open with in this league. We're not going to do anything different. Just line up and play and make adjustments throughout the game if we have to."
The Green Knights are notorious for being nearly unbeatable at home, but the Yellowjackets did go into St. Norbert in last season's NCHA playoffs only to leave with the conference championship. Though UW-Superior has enjoyed as much success as anyone at St. Norbert over the past few years, it still has been rough going as the Green Knights have only lost four home games over the past four seasons. According to Stauber, St. Norbert proves very formidable on their own ice for a few reasons.
"Their fans are like a seventh man," he said. "It's not only that, but they just play very well at home. They are extremely aggressive and very tough to deal with. They just don't stop. Even moreso, with their special teams abilities, if you get in a hole early and start to take penalties, things can just snowball and you never can catch up. They run their system to perfection in that rink."
With the emphasis on obstruction this season and the potential for a penalty-laden contest, special teams are another area which concerns Stauber.
"With the way games are being called this year, a third of the game is being played on special teams, and what are they? Thirty-three percent on the power play and 92 percent on the kill?" he asked.
As Friday's meeting draws near, much of the story is the same: both are undefeated, both are highly ranked, and both expect to contend for the conference title. Despite those similarities, there are a few new things each will have in store for the other.
UW-Superior enters the game with three freshmen among their top scorers. Forwards Chris Berry (2-4-6), Corey Stark (4-1-0), and Braden Desmet (0-5-0) are all players St. Norbert has never seen before. On the defensive side, sophomore goaltender Chad Beiswenger has seen starts in all four games for the Yellowjackets, boasting a 1.75 goals-against-average and a healthy save percentage of 94.1. The Green Knights did get a brief look at Beiswenger last season as he saw action in a relief role in their NCAA Quarterfinal meeting.
The youth of the Yellowjackets is something Stauber feels might actually work to its benefit.
"We've had some rough games over there," he said. "Our freshmen come in not knowing what it's been like over there, and that could be a positive for us."
It's not only the Green Knights who have to face the unknown, however, as St. Norbert has a few new faces of its own who have already proven dangerous. Most notable is freshman forward Matt Boyd. Through seven games Boyd has already registered five goals and nine assists to lead the Green Knights in scoring, which is impressive as St. Norbert currently has six players scoring over a point per game. His 14 points currently rank him seventh in scoring among Division III players. Not to be outdone is freshman speedster Shane Wheeler, whose seven points currently rank him sixth on the Green Knight roster.
Aside from the mention of a handful of newcomers, there isn't much to suggest either team will do much to shock the other once they hit the ice.
The department of the obvious tells us it's no secret these teams don't like each other, which will only intensify a meeting between the two elite teams in the NCHA. The way this year is shaping up, it's only fitting they would square off on the opening night of league action.
One more thing: If UW-Superior wishes to get revenge for last season's NCAA tournament loss they better be ahead after two periods, because according to my favorite statistic in all of Division III hockey, in their last 240 games when leading after two periods the Green Knights are an astounding 234-0-6.
Full NCHA Schedule
Friday, Nov. 17
St. Scholastica @ Lake Forest
UW-River Falls @ UW-Eau Claire
UW-Superior @ St. Norbert
UW-Stevens Point @ UW-Stout
Saturday, Nov. 18
UW-River Falls @ UW-Stevens Point
UW-Superior @ Lake Forest
St. Scholastica @ St. Norbert
UW-Eau Claire @ UW-Stout