Better make that reservation for a party of five.
With a 4-1 win over Miami last Saturday, Michigan State head coach Rick Comley became just the fifth coach in college hockey history to amass 700 career wins.
Comley joins an elite cast in the "700 Club," which includes his mentor and current boss Ron Mason, Division II legend Bob Peters, Boston University bench boss Jack Parker, and Jerry York of Boston College.
"We've all represented the college game well. There's a part of you inside that knows that we've done a good job because we're college hockey coaches, and we have helped the growth of the game at this level," said Comley. "I have such respect for them and I look forward to the spring to be able to get everyone together for a picture."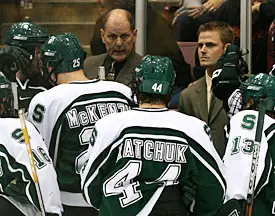 Lucky number 700 will be one etched in Comley's memory for its remarkable display of resiliency by his Spartans.
"That was a very sick group of kids," said Comley. "I looked down the bench at one point and there was as many as three kids throwing up at a time. It got so ridiculous at one point that I had to check with the players to see if they could go on the ice between shifts."
Somehow his flu-ravaged team struck for four unanswered goals in the third period to upset the sixth-ranked RedHawks in their magnificent new building, Steve Cady Arena.
It has been an interesting 34-year trip for Comley, who has taken the proverbial road less traveled to college hockey immortality.
"It means a lot to me because I grew up as a coach in programs that were really tough to win at. Here at MSU you are expected to win, but so many of those wins came at those extreme northern schools," said Comley.
He began his head coaching career at the tender age of 25 at his alma mater, Lake Superior, filling a vacancy left by Mason.
"In all reality, no one grows up thinking that they are going to be a coach," said Comley. "And so you're 25 turning 26 and you don't think about where that might take you or how long the road will be, and then before you know it, you're in it. The first stage is deciding that this is what you want to do and college is where you want to be."
That point came sometime after his first career win — a 5-3 victory over a Bowling Green team coached by Mason on November 16, 1973.
Still, Comley may be best remembered for his tenure at Northern Michigan, where he spent 26 of his 34 seasons and hoisted a national championship banner into a building for a program that he literally helped build from the ground.
His Wildcats captured the NCAA title in 1991 in one of the most exciting national championship games in history — a sensational 8-7 come-from-behind win over Boston University in triple overtime in St. Paul, Minn. Northern featured two Hobey Baker Finalists, Scott Beattie and Brad Werenka, who were joined by goaltender Bill Pye as All-Americans.
Now, just days away from his 60th birthday, Comley finds himself reunited with Mason — now his athletic director — at a university with a rich tradition of excellence and the funding to keep it that way.
"To come down to a program like Michigan State that's very well funded and has an outstanding location, it allows you to get out and recruit for some of the best kids in the country. It doesn't guarantee you anything, but it has certainly extended my ability to stay in the sport longer, and the new set of challenges here has reinvigorated me as a coach," said Comley.
Others will remember Comley for being so much more than one of the college game's greatest coaches. A family man, Comley gets just as much joy from spending time with his family, especially infant granddaughter Katie, as he does raising banners.
Congratulations on number 700 and here's to 800, Rick.