Rev It Up
From here on out, with the exception of this Tuesday's game, every contest is a conference game. It's that time of year when the excitement and intensity gets cranked up. And, with the amazingly close cluster in the standings, there is not a game that is not going to make a difference in the standings. Hopefully, everyone's heart will be able to withstand the stress.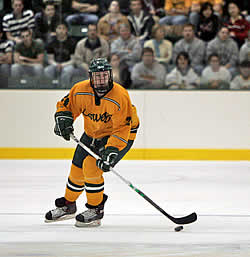 All eyes of course will be on Oswego as they will be wearing the targets everyone is going to be shooting for. They lost their bid to go undefeated with their loss to Utica a few days ago, but they have more important aspirations to attain — a SUNYAC championship and a run at a national title.
"I've heard a lot of excuses," Gosek said after the loss. "The fact is, Utica is a very good team, and we got outworked and outplayed. It's as simple as that."
So, how will the team bounce back to be ready for the final SUNYAC stretch run?
"No loss is a good loss," Gosek said. "But if it lets us refocus and play as a team and get back to fundamentals, then it's a good thing. I told the guys, 'Do we let it drag us down or do we let it help us refocus and get better?' The guys have responded well."
One line that has been responding all season is that of Brendan McLaughlin, Ryan Ellis, and Peter Magagna. Call them the Dynamic Sophomores as that line has scored 31 goals for the Lakers, nearly one-third of the team's total. In some ways, their performance shouldn't be a surprise when you look at their solid performance as freshmen. However, Gosek admits he didn't fully expect this.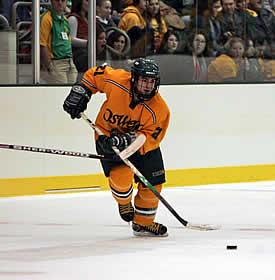 "To be honest, I didn't expect them to be this good," he said. "McLaughlin and Ellis had such good freshmen years, it's very rare they follow up in their sophomore years. Call it what you want, sophomore jinx, but whatever the reason, players don't always follow up like that."
Their skills compliment each other perfectly as linemates. Magagna is the digger, McLaughlin has the speed and puck handling ability to set the plays up as well as put the puck in the net, and Ellis is a playmaker and finisher. McLaughlin has 15 goals and 17 assists to lead the team in scoring. Ellis has 11 goals and 19 assists for second while Magagna has five goals and 13 assists.
Another sophomore who is doing exceptionally well, and I've mentioned him before, is Garren Reisweber. His is third in team scoring with 13 goals and seven assists.
"Last year was frustrating for him, not getting the playing time he wanted," Gosek said. "He had to get stronger. I give him all the credit in the world to take the initiative and work harder this year."
Oswego, as well as every team in the league, has their work cut out for them in the final seven games. Surviving will be hard enough, never mind finishing first.
Drop the puck!
Help Wanted, Squared
Potsdam has been making a lot of hockey news lately. They recently announced the reestablishment of a women's hockey program. Then, last week, the men's coach, Glenn Thomaris, announced he was leaving Potsdam at the end of this season.
Thus, Potsdam is now looking for two hockey head coaches.

The news of Thomaris leaving does not come as too much of a surprise as the Elmira resident had to balance family life with work life, 230 miles apart.
"Athletic Director Jim Zalacca's flexibility in allowing me to coach and spend time with my family in Elmira has been very much appreciated," Thomaris said in an official release from Potsdam. "I've decided, however, that it is time to be with them full-time and let someone else take charge of the Bears."
Thomaris came into the program at a time when they quickly needed to find a coach. Ed Seney had suddenly left for St. Anselm shortly before the season started, and what could have been a poor transition due to the late change was a very smooth one thanks to Thomaris' experience, as the Bears started out strong (won the first four games and went 7-2-2 in their first ten games) that season and after a midseason slump, finished strong.
Though the Bears record has not been strong the past couple of years, Thomaris did a lot of work behind the scenes to help strengthen the program. He scheduled home games in nearby locations such as Massena and Lake Placid to spread the reach of Potsdam. The relationship he forged with the Olympic Regional Development Authority was instrumental in enabling Potsdam to be the co-host of the 2008 Division III hockey championships in Lake Placid, a helpful step in marketing the college. His efforts behind the scenes also helped restore the women's program and acquire funds towards renovating the ice rink and hockey facilities which should be announced in the not too distant future.
It was a bit of a surprise for Thomaris to announce his departure before the season ended, but perhaps he didn't want to leave the school in a similar position when he first took the job. How it will affect the players only time will tell. However, this does allow the school to immediately start searching for a replacement, which I understand they have already started. I expect a hiring announcement to be made shortly after the season is over.
SUNYAC Short Shots
Frank Rizzo and Barry McLaughlin each got a hat trick as Cortland ended a seven game losing streak, defeating Lebanon Valley, 7-4 … The Red Dragons went four for eight on the powerplay and got one shorthanded goal in that game … D'Arcy Thomas scored two goals and Sean Sheehan stopped 15 of 16 shots in Buffalo State's 4-1 victory over Morrisville … After Morrisville's Evan Kernohan cut the lead to 2-1, Thomas scored 30 seconds later … Potsdam got only 15 shots, let up four powerplay goals and one shorthander in losing to Castleton, 5-1 … Oswego's 17-game unbeaten streak was snapped by Utica, 5-2 … Buffalo State now has the longest unbeaten streak in the league at six.
Game of the Week
Although it was relatively easy to pick a game this week, there are still a whole bunch of games that have a huge significance thanks to the tightness of the standings.
Two points separates Fredonia, Potsdam, Plattsburgh, and Buffalo State. And guess what? The two western New York teams travel to the two North Country teams. Every single point in those contests will be treated like gold.
In the middle of those four teams is Brockport who starts out with a tough contest against Oswego and then plays Cortland. The Golden Eagles must take two points out of the weekend in order to continue what they started in the first semester. However, Cortland also needs at least two points themselves to get back into the playoff hunt.
The game I'm picking is Geneseo at Oswego. The result of the Saturday match up could end up deciding first place by the end of the year. However, both teams absolutely cannot overlook their Friday contest.
"Our guys have been focused," Oswego coach Ed Gosek said of the first game against Brockport. "I think that's why we've had success this year — worry about one game at a time."
"Number one priority is Cortland," Geneseo coach Chris Schultz said. "It we don't win that one, we can't talk about Saturday night."
When Saturday night does come, what can we expect?
"Oswego has a lot of speed through the lineup," Schultz said. "Their forwards can punch holes through your defense."
"I expect them to be good defensively and try to capitalize on their powerplay," Gosek said. "When teams are pretty even, it comes down to goaltending and how well you do on the powerplay and penalty killing."
Both coaches made virtually identical comments about this college hockey showdown.
"We're looking forward to the challenge," Gosek said. "They're a good team."
"We're looking forward to the challenge of going up against Oswego," Schultz said.
I'm looking forward to it also. I plan on being there.
On The Periphery
I am watching the NHL All-Star game while writing this. There are only two all star games that I make a point of watching every year (actually, there are only two all star games I watch, period) — Major League Baseball and the National Hockey League.
I attended an NHL All-Star game way back when it was held at the Nassau Coliseum on Long Island, the year that Wayne Gretzky scored four goals and won the MVP.
However, lately I've been getting tired — perhaps the proper word is bored — with the NHL All-Star game. Apparently, so are a lot of other people. The game does not appear to be sold out, and the skills competition was at least half empty, if not worse. Perhaps it's because it's in Dallas or they are overpricing the tickets or other people are starting to feel like I do.
Apparently, the powers that be don't seem to care too much either, moving the game away from the weekend and a national over the air network to a midweek cable broadcast. A channel that still isn't even carried by the Dish Network. It makes you wonder if the people making these decisions are the same "brain trust" running open wheel racing in this country.
Other all star games I find to be completely useless, even college hockey ones. Granted, it's an exhibition, with the emphasis on exhibition. But unlike basketball, where razzle dazzle and showboating are sometimes part of the game so an all star contest highlights it or baseball where the players' effort in an all star game can still be at 90% without worrying about injuries, hockey's intensity and draw is built on a combination of speed and force. There's plenty of speed in the all star game but very little force.
There are now 14 goals scored at this point, and I'm caring less and less.