The Final Countdown
How's this for exciting on the last weekend of the season? The top five teams in NESCAC are separated by only two points entering the final two games of the regular season. Teams six through eight are separated by just one point and the ninth place team is still mathematically alive for the playoffs. In the ECAC East, the top six teams are separated by just three points and the bottom two seeds are in a dead-heat with each other to move up. Virtually every game all weekend has playoff implications for one or both teams. Four points are available for everyone this weekend and for most, as many as you can get may make the difference in where you play next week. Talk about excitement — and this is before the playoffs start.
"I think its great for the league, it's great for the players and it's great for the fans," commented Trinity coach John Dunham. "It's just so dynamic that the outcome of every game has a bearing on the seedings or home-ice — it's very exciting coming into the last weekend of the regular season."
"Just getting in is the key thing," noted Williams coach Bill Kangas when asked about any scoreboard watching coaches may do this time of the season. "I usually don't check the other scores but I did last weekend just to see where Hamilton was and whether or not we had clinched a spot. Really right now you can only worry about what your team is doing on the ice and like the rest of the year, you want to be playing your best or continually improving every time you go out on the ice. We could be sixth, seventh or eighth and it really doesn't matter. We know we will be playing on the road — we just don't know against who — and probably won't until all the games are done on Saturday. I am not sure with the quality of play in the league this year that any team that may finish one, two, or three is really happy about the match-ups that exist on the bottom of the playoff bracket. I think every team has demonstrated that they can play against anyone and beat anyone in any game so in a win or go home playoff game it probably doesn't matter to much where the bus goes to next Saturday."
Bowdoin coach Terry Meagher probably put it most simply in stating, "If we win two, we deserve the title and to host, if we split, we deserve home-ice and if we lose two we deserve to be fifth."
It's always close at the end but not like this in the recent past so if you are headed to a rink this weekend to root on your favorite team, remember you probably need to hope someone else wins to help your side out too.
Cardinals Look For League Title
As one of three teams sitting in a logjam just one point behind league leader Bowdoin, Wesleyan will probably need to win both games and hope for some help in the other league match-ups. Heading into last week's road games at Bowdoin and Colby, the Cardinals were in rarified air sitting in first place but dropped both games to fall into second tied with Amherst and Colby. The bad news is they don't hold any of the tie-breakers with any of those teams so they will need to win the league outright by beating Skidmore and Castleton at home this weekend.
"I've been through all of the scenarios in my head," explained coach Chris Potter. "We could win the league or we could be fifth. It's hard to believe that coming down to the last two games that the range is first to fifth but that is the scenario. Of course, we want to win it all if we can. It would be a great statement for the program. We know we need to play well against two teams that have as much at stake this weekend as we do so we will need to play our best at home where we have been pretty successful this year."
While the weekend in Maine may have been disappointing with the results, Potter says his team learned some valuable lessons that should help his team moving into the playoffs. "We have competed hard all year and played in some tight games but now the stakes are magnified in a playoff atmosphere," he said. "The Bowdoin game was very tight and just a small mistake cost us the deciding goal late in the third period. So we learn from that and what we need to do this weekend to put us in the best position we can be in for the playoffs. I'll definitely be doing some scoreboard watching this weekend particularly on Friday with the Middlebury vs. Hamilton game and Bowdoin vs. Norwich. If Middlebury sweeps that will put some pressure on us and if Bowdoin can go in and beat Norwich at Northfield and then beat St. Mike's then you have to say they earned the title. We have two tough teams coming in here and we are going to be focused on Friday night's game and then deal with Saturday — at the end of the weekend I can't guarantee I am going to like the match-up we have in the first round of the playoffs but we can't control that and hopefully we will be playing at home."
Colby In The Hunt
The White Mules are also in the thick of the race for top spot in the NESCAC conference and hold tie-breaker advantages over everyone in the top five except Bowdoin. This weekend Colby travels to St. Michael's and Norwich to finish the regular season and Jim Tortorella likes what he is seeing from his team coming down the stretch.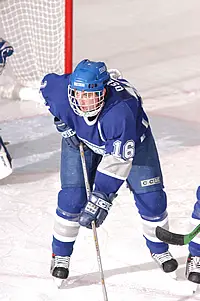 "We are starting to play some pretty good hockey," said Tortorella. "At least the statistics are backing that up with some of our results of late."
One area of dominance for Colby has been found in its power play which went 5-10 in an 8-2 drubbing of Trinity on Saturday. For the season, the PP unit is clicking at 27.6% which would make most teams think twice about having players being sent to the penalty box. Leading the way is senior Greg Osborne (19-18-37) who has scored eleven of his team leading nineteen goals while on the power play.
"Ozzy has had a real good year for us, real consistent," Tortorella said. "He has been steady in all parts of his game but has really excelled on the power play — he just seems to put himself in the right place to score around the net and he has been very opportunistic. Arthur (Fritch) has to blast it through everyone from the point to pick-up his goals on the power play but Greg has been positioning himself well for quick passes and rebounds down low and has taken advantage."
Another area of consistent performance this year has been the play of senior goaltender Ben Grandjean. You don't often hear his name when discussing ht top goaltenders in the East but Grandjean's numbers have been solid and his ability to come up with the big save at the right time has been a big part of Colby's success. Grandjean has played in all twenty-one games for Colby this season posting a 2.60 GAA and a save percentage of .914.
"Ben has been pretty consistent this year," stated Tortorella. "While his statistics are good, they don't really show the 'when saves' he has made to help us win games. The "when save" is that stop on a penalty kill or and odd-man rush that your team really needs for momentum and Ben has come up with more of those this year to help us get some wins."
Tortorella isn't putting too much emphasis on the importance of this weekend's games other than to say he wants to see his team to continue to play well and make smart decisions on the ice. "I expect two tough games this weekend. We always have close games with St. Michael's at their place and right now we are just worried about Friday night — we'll deal with Saturday after Friday's game and see what everyone else did. It really doesn't matter who we get matched up with for the playoffs. We know it's going to be a good team and that it will be a tough game."
The White Mules are healthy this year and have a junior class that as a group is among the best players in the conference. Regardless of what happens this weekend, Colby is probably not high on the list of places other NESCAC teams want to be one week from Saturday.
Trinity On the Bubble
If you think the top of the league standings in the NESCAC is tight, then the bottom is very tight with just one point separating three teams and Hamilton lurking as a dark horse to steal the eighth spot with a strong weekend at home. Hamilton trails Conn College and Trinity by four points and would need to sweep both games this weekend while Trinity loses both at home. The tie-breaker goes back to the opening game of the season where Hamilton won 5-2 at Trinity so scoreboard watching on Friday or taking at least one point will guarantee the Bantams a spot in post-season play.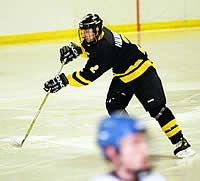 "We have been in just about every game we have played this season," said Trinity's Dunham. " We have had a number of games that we have lost by just one goal and were leading in the game but couldn't finish it off. We are still very young going with a freshman goalie and four pretty new guys on defense in our new system but we can play well and have played well enough this year that we can compete with anybody."
The Bantams have lost a total of five one goal games including decisions at Amherst, Norwich, Middlebury and Bowdoin. But even in those losses have exhibited a strong game in their new 3-2 or 3-back system put in this season.
"We talked around with some other coaches and they believed we had the talent to run that system here at Trinity," Dunham noted. "We really couldn't have done it last year with the large number of seniors we have had that had so much accumulated experience and knowledge. This year we are very young so it seemed like the appropriate time to make the switch in conjunction with our moving to the big sheet of ice in our new rink."
The new system, which is also employed in differing styles by Middlebury and Bowdoin, has opened up some opportunities for some players who have embraced the new style of play. Senior captain John Halverson — who will be playing in his 100th game for Trinity on Friday night — is having his most productive season with twelve goals and fourteen assists for twenty-six points heading into this weekend's play.
"John has really enjoyed the new system and his production shows that," stated Dunham. "Other guys that have jumped right into the new style are sophomore Chris Powers (8-6-14) and freshman Naoto Hamashima (7-7-14) who are asserting themselves more and more as the season has progressed. We are still tinkering with things but for a young team it has come together and now we hope we can finish strong. Every team in the hunt has played well at home and on the road so the playoff match-ups should create some great hockey."
Pilgrim Milestone
In just his fifth season as the head coach of the New England College program, Tom Carroll this month became the winningest coach in the program's history. Carroll now holds a record of 89-39-6, which includes an NCAA tournament win and Frozen four berth in the 2005 National Championship Tournament.
Carroll's 89 wins surpass the prior record of 86 wins held by current Middlebury head Coach Bill Beaney who guided the Pilgrims over seven seasons from 1977-1984.
While starting out slowly this season due to some injuries and finding a goaltender to replace Scott Gray, the Pilgrims are currently one of six teams fighting for home ice in the ECAC East playoffs. The Pilgrims are currently tied for third with Castleton just one point out of first place. They play at Salem State on Friday and close out the regular season with Southern Maine who is currently tied with Norwich atop the league standings.
The Pilgrims strong second half has been keyed by the return of injured forward Mike Carmody (8-9-17), the addition of transfer Brian Pouliot from UNH (7-12-19 in just 14 games) and strong goaltending from freshman Ron Baia (2.78 GAA — .904 SP).
While the Pilgrims have yet to play USM, they only hold the tie-breaker in head-to-head competition with Castleton so they will need to win out if they want a shot at the regular season title.
(Thanks to Steve Carroll for the information on Carroll's record at NEC.)
Weekend Watch List
If asked, it would be really easy to say that every game this weekend is "Must See Hockey" (Sorry NBC) but seriously if you look at the schedule every game has playoff implications for one team or both so it is pretty cool that after an entire regular season everything comes down to the final weekend — the NFL would drool over parity like this. Here is a quick look at a handful of games that I think will have most impact this weekend.
Bowdoin @ Norwich
The Cadets are at home and on a roll and both teams have their sites on the regular season title and home ice throughout the playoffs — the return of Captain Bryan Ciborowski from injury last week could buoy the Polar Bears past the Cadets but playing in Northfield is a tough place to come away with a win especially at this time of the year.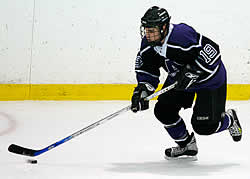 Middlebury @ Hamilton
Hamilton needs to win to stay alive in the post-season chase while fifth place Middlebury needs to win out for home ice. Look for Panthers to end Hamilton's season and make Saturday's match-up with Amherst very interesting.
Colby @ Norwich
Assuming a Colby Friday night win over St. Michael's could make the Saturday match-up the title game for the ECAC East and NESCAC. Both teams have been rolling offensively. Special teams will decide this one.
Castleton @ Wesleyan
Another match-up with league title implications for two programs that have made huge strides this season. Like the Cardinals at home as their stingy defense will make things tough for the Spartans.
NEC @ USM
Yet another contest with league title implications as a possibility. Both teams have been playing well and the Carragher/Sparkes combination has flourished this season for the Huskies. Like the home team on the big sheet here.
Conn College @ Babson
Both teams trying to solidify their position in the post-season with Babson trying to move up for home ice. Greg Parker has stolen games on the road this season so the Beavers better get up early in this one. Babson offense too much for the Camels but it might not be enough for home-ice.
Middlebury @ Amherst
Could be for first or could be for fifth — for either team. Last year the 2-1 game was decided in the final two minutes of play. Don't be surprised to see a tight one here that Amherst's Joel Covelli or Middlebury's Mickey Gilchrist impact the outcome.