With the NCAA field announced, Scott Brown and Jim Connelly sat down to exchange views on the brackets, the favorites, the underdogs and the matchups.
Scott: So, Jim, after several years of the WCHA showing its strength when the NCAA field was announced, this year it's Hockey East getting the nod with five teams. I told people all weekend that this is the byproduct of chance, since the first four teams out of the NCAAs were WCHA teams — Denver, Wisconsin, Michigan Tech and Colorado College. A 20-team tournament would have included seven WCHA teams, rather than three. So is this the sign of a shift toward the East, or just the happenstance of drawing a line in a certain spot?
Jim: It's difficult to tell exactly what we're seeing at this point. My feeling is that the WCHA was almost punished for beating itself up. Teams like Wisconsin and Michigan Tech were both strong but suffered too many midseason losses to make the 16-team field without winning the WCHA tournament. The fact that they also eliminated Colorado College and Denver in the first round of the playoffs put a serious kink in the league's NCAA playoff plans.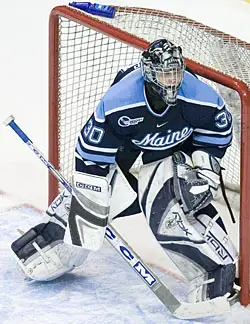 That said, I think that the East is pretty strong. Clarkson has proven all year it's a decent team (other than a poor showing at St. Cloud early in the year. And no one is doubting the fact that Boston College is the hottest team in college hockey. Maine is about the only school whose merits can be debated, but the fact that the Black Bears went 7-0-1 against a tough non-league schedule justifies their NCAA existence. If goaltender Ben Bishop returns to the lineup after suffering a groin injury (Maine is 4-7-0 without him), St. Cloud State could be in for a world of problems on Friday.
Scott: I agree on Clarkson. The ECACHL's recent record in the NCAA tournament is not encouraging, though, and it makes a lot of people take a wait-and-see approach on teams coming out of that league. Clarkson's performance this season in the ECACHL was as eye-catching as, say, Boston College's recent run in Hockey East, but while BC is being touted as a favorite for the national championship, people seem to be withholding opinion on Clarkson.
That said, how about the continued pattern of potential conference championship rematches in the second round, like UND-Minnesota and BC-UNH? This has happened repeatedly in past years, and we both know that it's just a byproduct of the numbers working out a certain way, but should the NCAA be trying harder to avoid that? My sense is that they could, and should. Preserving bracket integrity is counterproductive if it results in games like these. I certainly don't want to see conference title games rematched at the regional level if it can be avoided.
Jim: For once, Brownie, I think we agree. The committee's desire to maintain bracket integrity gave us some less-than-desirable potential matchups in the second round. Why should the two current best teams in the WCHA and Hockey East be set up to play in the regional finals, particularly given the fact that both teams played one another last weekend?
To me, there's very little difference between the team that is ninth in the PairWise Rankings and the team that is 12th. Same goes for fifth versus eighth. I know that it seems "fair" to keep teams like Boston College and North Dakota closer to home (though for North Dakota, this point is rather irrelevant as nothing is close to Grand Forks), but if you just switch Boston College with Michigan and North Dakota with Michigan State, the brackets gain more of a "national" field. This is the national championships, right?
As for the ECACHL, I agree their recent tournament record isn't stellar. But the league also hasn't had many stellar teams recently (save Cornell a few years back). I truly believe that Clarkson could come out of the East Region. They're a tough team that will have to have a chip on its shoulder having been written off by most every pundit in the country despite the fact they're the number-one seed.
Scott: Right — and the two of us agreeing is probably a bad karmic sign. Let's make sure it doesn't happen again, unless we want to see the Four Horsemen of the Apocalypse riding down on the Frozen Four in a couple of weeks.
Switching gears, how about some of the first-round matchups? I was at last year's West Regional in Grand Forks, and when I look at Minnesota being paired with the Atlantic Hockey champion in Air Force, two words obviously come to mind: "Holy Cross."
Jim: Well, as the old adage goes, "Fool me once, shame on you. Fool me twice, shame on me." If the Gophers once again don't bring the "A" game against Air Force, they deserve another first-round exit. When you look at last weekend's Atlantic Hockey championships, the Falcons scored 11 goals in two games and only got two assists from Hobey Baker finalist Eric Ehn.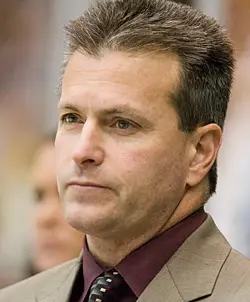 That alone is proof that this Air Force team is balanced and could be dangerous. It is curious, though, that the committee chose to send No. 1 overall Minnesota to Denver to face the 15th seed (so much for bracket integrity) in what could be a hostile environment if the Falcons are able to bring some fans. The Air Force campus is only 70 miles from the Pepsi Center, and I'd love to see the stands filled with cadets in their military uniforms.
If we're talking first-round matchups, what are your thoughts on some on the other WCHA teams? Michigan must feel like they're from Atlantic Hockey the way most in the sport are giving North Dakota an automatic walk to the regional final. And how do you think St. Cloud, coming off of two losses last weekend, will do against Maine?
Scott: Well, for starters, it's pretty clear that Michigan head coach Red Berenson wasn't happy with his bracket assignment, though what goes around comes around. For years, we've fielded complaints about Michigan getting favorable regional draws close to home, and now the pendulum seems to have swung.
I haven't seen BC play lately, but it's hard to imagine a team looking much better than North Dakota has in the second half. The Fighting Sioux ran riot over St. Cloud Friday at the WCHA Final Five, and could just as easily have won the league championship instead of Minnesota if a bounce or two had gone a different way.
I think it'll be interesting to see how SCSU rebounds from a bad loss to Wisconsin in the third-place game. The Huskies had that one in hand until the Badgers abruptly took it away from them, and losing with nine seconds left in OT can't be good for the psyche. Maine might be the most interesting team in the tournament. I saw them against Minnesota in October, and the Black Bears looked fantastic, but it all came apart down the stretch. I'll still take St. Cloud in that game, but I wouldn't bet my life on it.
While we're at it, how about Boston University against my alma mater, Michigan State? Both teams are coming off bad losses against their archrivals last weekend, but it seems Jack Parker is a lot angrier about it than Rick Comley is.
Jim: I think that Jack Parker's anger is a tactic he's using to try to motivate his team. But these motivational gimmicks have gone on all year. They seem to work for a game, maybe two, but then Parker's Terriers return to their old form of giving half-efforts in big games.
Seeing as you mentioned BC, I do have to say that it's almost unfathomable how powerful this team is right now. In all four Hockey East playoffs games, they owned their opponents. You would assume that's a good sign heading towards the tournament, though sometimes that concerns me in the NCAAs when the same team is forced to play in a close game. That said, BC played a lot of nailbiters throughout the season, so I'm thinking they can survive.
The team we're forgetting to mention here, though, is New Hampshire. Sure, they laid an egg against BC on Saturday night but what a lot of people didn't know is the Wildcats had a major stomach virus going through the team. Brett Hemingway was missing entirely over the weekend and word around the rink was that there were plenty others on the Wildcat bench who looked a little green and it had nothing to do with St. Patrick's Day.
So all this talk about the big name teams is nice, but who is your darkhorse? Is there a team capable of really opening eyes this weekend and taking that trip to St. Louis?
Scott: Well, it's hard to even say what a darkhorse is this year. Just by seed, North Dakota would be a surprise to come out of the West Regional, but I don't think a team as hot as the Fighting Sioux can be called a darkhorse no matter where they're seeded. That really makes it difficult to pick an underdog per se. But I think Massachusetts could be a surprise Frozen Four team, grouped with Maine (got their number), St. Cloud (tough weekend at the Final Five) and Clarkson (let's see how good the Golden Knights are on the big stage).
Jim: I like your pick of Massachusetts as a darkhorse, but I really think that Miami as a number-four seed could surprise folks. Don't forget at one point this season the RedHawks were No. 3 in the nation. Sure, times got difficult, but it's obvious that this team could win a few games to surprise. With everyone talking about a UNH-BC rematch in the final, that could prove just enough motivation for Miami to find victory.
I guess with that, we've said enough, Brownie. Now, it's time for the teams to make us look either smart, or not so smart, on the ice.