Niagara has won the College Hockey America regular-season championship the past two years, but faltered in the league tournament. The Purple Eagles want to change their fortunes this season.
"We don't want to downplay the regular season," NU head coach Dave Burkholder said. "We haven't played our best come playoff time lately and we obviously want that to change this season. We need to get this senior class to the NCAA tournament, as this is the only class that hasn't gone to the tournament, so I would say there is some added pressure on this team."
The Purple Eagles graduated senior captain Sean Bentivoglio not only from school, but to the National Hockey League as Bentivoglio signed a free-agent deal with the New York Islanders this past summer. Bentivoglio's linemates, Ted Cook and Les Reaney, are back for their junior seasons, but Burkholder isn't anticipating that scenario one year from now.
"If Teddy Cook puts up the numbers he has the past two seasons (his 32 goals and 21 power-play goals last year led the nation), I don't think he's back here for his senior season — I think he'll sign a pro contract someplace," admitted Burkholder. "Les has come in here in better shape and the sky's the limit for him, too."
Reaney tallied 16 goals and 44 points last season. Last year's CHA rookie of the year, Chris Moran, who posted nine goals and 40 points last year, is also back for his second season.
Niagara went 18-13-6 (9-5-6 CHA) last year, but went out in the CHA semifinal to Alabama-Huntsville. Advancing farther in the postseason is a goal the Purple Eagles don't take lightly.
"Every year we come in here and know we need to get to the [NCAA] tournament," said senior Matt Caruana, a co-captain with junior forward Vince Rocco. "When we don't get there, we just say 'Maybe next year.' Well, now it's here. We're excited to host the CHA tournament and we can't wait. By far, this is the closest group of guys I've played with. There are no groups or anything like that and no one is excluded."
"Matt Caruana has quietly had a fantastic career at Niagara," Burkholder said. "Last year, Cook, Reaney and 'Benti' got all the press, but Matt scored 14 goals for us and will graduate here as one of our all-time leading scorers."
Being a captain is something Caruana knows comes with the territory.
"It's a challenge I'm ready for," Caruana said. "It's good to think the other players look up to you. I just need to keep improving as a player and a leader and I think we have a good senior group that can help me along the way."
This year, NU is again one of the favorites in the CHA. Though Bentivoglio and steady defenseman Pat Oliveto are gone, the returning core to Monteagle Ridge looks deep as 21 letterwinners are back.
Junior goalie Juliano Pagliero should assume the No. 1 role in net, but he'll be pushed by senior Scott Mollison and freshman Adam Avramenko.
"Our goalie situation will be very competitive and as a coach, you like to see that," noted Burkholder. "During our 14-2-2 run last year, a lot of that had to do with 'Pags.'"
Dan Sullivan will lead the blueline and has improved since his freshman season two years ago. He'll now be counted on, as an upperclassman, to provide leadership and stability.
"I've played with guys like 'Willy' [former NU captain Jason Williamson] and Andrew Lackner and Oliveto and I've seen how they treat the younger guys and that's how I want to be," said Sullivan. "We need to have a certain attitude for games and know we can't let up. This is our year and we want to do it for the seniors."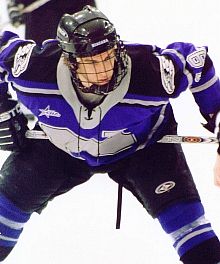 Sullivan will have juniors Travis Anderson and Armando Scarlato with him on the back end along with senior Scott Langdon, sophomores Ryan Annesley, Jim Burichin and Tyler Gotto and freshmen Derek Foam and Brian Molloy from the Ontario Provincial Junior Hockey League.
"I've been in [the freshmen's] position before as one of the younger guys," Sullivan said. "I just want to be a stand-up guy and show these guys what it's like. But from what I've seen, all the freshmen seem to have good heads on their shoulders."
Up front, Paul Zanette, Mike Sand, David Ross and Bryan Haczyk all come in as freshmen. Burkholder said Haczyk and Ross have "been terrific so far in practice and dry land."
Forwards Nate Bostic, Trevor Foster, Cliff Ketchen, Egor Mironov, Ryan Olidis, Kyle Rogers and Tayler Simpson round out the roster for NU.
"We have a very physical team," said Sullivan. "We can forecheck and we have guys that can put the puck in the net. We also have guys that can clear the front of the net. Everybody knows their role. We just know that we need to take every game seriously and not take it for granted or it can come back to bite us in the butt.
"There is not one flaw in our game."
Burkholder noted that when Sullivan came to camp this year, he really caught his eye as a player who has taken offseason conditioning seriously as well as improving his on-ice play.
"The way Sullivan carries himself, you can tell he wants to develop," said Burkholder. "He finished in the top four in our fitness testing and that carries a lot of clout."
"At the end of last year, I had shoulder surgery," Sullivan said. "But I still ran and worked out as much as the doctor would let me. I didn't want to come into this season out of shape."
So how do the Purple Eagles take that next step and get to hoist some hardware next March on their home ice? It all comes down to simplicity.
"This team is a lot more mature and a lot more focused," Burkholder said. "They're also a self-motivated team.
"This is a team on a mission."