Save for two games, from now on both leagues exclusively are partaking in conference play from this point on. It's safe to say we've hit the homestretch.
The NCHA all but wrapped up its Interlock schedule last weekend and currently holds a 29-19-8 record against the MIAC. While not as impressive as last season's dominating performance, it should be noted that if St. Thomas is removed from the equation, the NCHA's ledger grows to an even more impressive 27-13-7.
Meanwhile, the MCHA is at the midpoint of its conference schedule, and after an interesting week of games the race is figuring to be a somewhat unexpected one.
With all teams back in action a week ago, there was a bit more shuffling on the national scene.
St. Norbert still holds the top spot in the USCHO.com Division III poll, but dropped two first place votes on the heels of two home overtime wins. A weekend sweep of MIAC foes moves River Falls up to fifth, while a Stout loss to St. John's drops them back to No. 9.
Adrian joins MSOE and becomes the second MCHA team ever to crack the top 15, sliding into the final position. UW-Superior is once again in the others receiving votes category and for the first time this season Marian cracks the poll, earning a single vote.
There's some calm before the storm in the NCHA this week with only three games on the league docket, but the MCHA storm is a Category 5. As a result, let's get caught up on the MCHA and also take a look at one potential NCHA sleeper before delving into the bowels of the NCHA race next week.
MCHA
2253
That is how many days it had been since Northland last registered a two game sweep over any opponent. Up until last week's 4-3, 8-0 back-to-back victories over Crookston, the Lumberjacks had not swept an opponent since November 9 and 10 of 2001. To put it in perspective, the following weekend they played Finlandia in two exhibitions games, as the Lions had yet to become a member of the MCHA.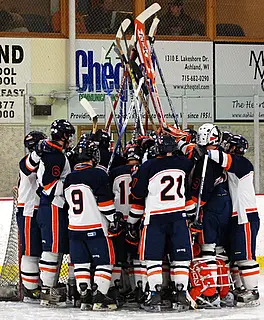 Also of note that Saturday's 8-0 whitewashing was the first shutout for the Lumberjacks since, well, forever.
It really should not surprise anyone that the Lumberjacks were finally able to tack a few up in the win column. They have been on the losing side of five one goal games already this season — two coming in overtime.
Commenting on Friday's 4-3 win, Lumberjack head coach Steve Fabiilli said, "It was nice to win one of those games. We lead most of the game and then fell behind, so it was really good to see us come back the way we did."
The win was the Lumberjacks second of the season and they would only have to wait a day to pick up their third when they hammered the Golden Eagles 8-0 on Saturday, despite being outshot 40-22. All told, seven Northland players picked up tallies in the win.
"It just seemed like one of those days that every time we shot the puck it hit the back of the net," said Fabiili. "We haven't had a lot of games like that here, so it was a good weekend for sure. I'm excited for our boys because they have been working hard all year and doing everything we've asked of them."
"I do think our power play was definitely clicking," he added. "We put in four power-play goals in that game so it was really nice to see it working as well as it was."
Not to be lost in the shuffle amidst the ocho they put on the scoreboard was the play of freshman goaltender Daniel McIntosh. He picked up both wins on the weekend and stopped all 40 Crookston shots to garner Saturday's historic shutout. For his performances, he was named MCHA Defensive Player of the Week.
"He played really well," said Fabiili. "I'm real happy he was able to get the wins as he's been overdue with all of our close games. We did give up 40 shots but I think we did a good job giving up the shots we wanted to give up.
"I don't think they had too many good scoring chances, but when they did Daniel was there to turn them away. Everyone just played extremely well; our rebound control was good and the guys did a great job of helping him out."
The wins only give Northland three on the season, but its three more than they amassed all of last season and currently enough for sole possession of sixth place in the MCHA. Further evidence of their improvement is seen in their conference scoring margin — they are on the south side of a 35-30 deficit — a marked improvement from years past.
"We've been competing in some even games in our conference," said Fabiili. "Now we have to take the next step, continue to recruit, and rebuild and continue to improve that way.
"I think if you look at it and compare last year to this year with our team … it's a big difference."
Dust off the Crystal Ball
"I think right now we are getting better each week, but we have 10 games to play and anything can happen. We're doing a lot of things well but we are going to have to take it week-to-week and game-by-game and take care of things in our own end. Hopefully we can get a few bounces to go our way and set ourselves up well for the postseason," said . . . every MCHA coach.
Surely I jest, but odds are that is about the mindset of everyone in the league at this point in the season. So as a substitute I'm going to blow the dust off my crystal ball, gaze into the murky depths of the future and figure out how the league will shake out. Like with last season's NCHA fortune-telling extravaganza and used puck fair (where I even correctly called the sixth place tie), I figure this is a lot easier than just playing the games themselves.
Who will win the league?
Right now it looks like a two team race. Adrian has been living up to all the hype and expectations and Marian has been playing some great hockey, which is why they are both 9-1 in the league, two games ahead of 7-3 Finlandia. The two square off in a notable series in a few weeks, but Marian still has to make a trip to Finlandia this week while Adrian has already swept the Lions. The Sabres were able to draw a home split with Adrian at home earlier in the season, but between the facts that the key series will be played at Adrian and that I think Adrian just has too much talent, the regular season MCHA champion will be:
Adrian.
Could anyone else make a run at the top?
It looks unlikely right now, but if anyone does it will be Finlandia. Playing in the MCHA North Division, the Lions have an easier schedule than MSOE, and I do not see Lawrence making up three games on them. Finlandia has already played Adrian while the Raiders must play them two more times. The Lions also get Lawrence at home the final weekend of the season. At 7-3, the Lions are two games back and a much easier said than done home sweep over Marian this weekend would go a long way, but they will still need help from other teams to chase down Marian or Adrian. I do not think the Lions will pull it off, but I do foresee them finishing no lower than third overall while winning the MCHA North, which would wrap up the second seed in the MCHA playoffs.
Who will finish in fourth and host the final home playoff series?
In large part to the unbalanced schedule the MCHA is using, I am going to go with Lawrence. The Vikings are currently one game back of MSOE for the fourth spot but have won three of their last four league games following some early season setbacks. Meanwhile, MSOE has lost four straight but it should be noted they were to Adrian and Marian. MSOE's real disadvantage here is that while both it and Lawrence still have series remaining with Concordia, Marian, Northland and Finlandia, Lawrence's final series is with Crookston while MSOE has to hit the road to play Adrian again. Somewhere along the way, I think Lawrence can make up at least two points. Save for goaltending, MSOE has better league numbers across the board but playing it safe is not very fun. A tie for fourth here should not surprise anyone, either.
Who will be MCHA Player of the Year?
While Adrian's success is not overly shocking, the fact they have three of the top scorers in the nation somewhat is. Leading the way — and nation — is freshman forward Shawn Skelly. He has registered 36 points with 16 goals and 20 assists in just 15 games, blistering the MCHA for 24 points in 10 league contests. When the league boasts the nation's leading scorer, it's hard not to give him the award.
The MCHA POTY is:
Shawn Skelly, Adrian
Who will be MCHA Coach of the Year?
Perhaps the toughest call of all. It is probably safe to say it comes down to one of two coaches: Jasen Wise at Marian or Ron Fogarty at Adrian. Very strong cases can be made for both as their teams are currently tied for the league lead, but one gets the edge due to the programs infancy and that despite a bountiful horn of resources with which to operate, it was all put together in under a year.
The MCHA COTY is (barely):
Ron Fogarty, Adrian
Will I get to a game at Adrian this season?
Yes.
How will the league standings look at the end of the season?
1. Adrian
2. Marian
3. Finlandia
4. Lawrence
5. MSOE
6. Northland
7. Crookston
8. Concordia
NCHA
With only three league games this week, it's time to repeat a feature from last season. Next week we will examine River Falls, Stout and Superior to see if any have the potential to chase down St. Norbert.
At the midpoint of last season's NCHA schedule, I speculated in this column whether any team in the bottom half of the league had the ability to make a run at the top half of the conference. The emphasis was on St. Scholastica and though the Saints ended up in fifth place, they made an impressive playoff run before eventually succumbing to St. Norbert in the Peters Cup Finals.
The Saints, along with Eau Claire, have the potential to make a similar run this season, but the team most seem to be talking about is Stevens Point.
The Pointers currently stand at 11-5-1 overall and are an impressive 9-1-1 in non-conference games, including a 6-1 record against MIAC teams. Aside from St. Norbert, the Pointers are the only team to defeat St. Thomas this season. And they did it on the road. Not all is rosy right now for the Pointers, however. Though they have already won four more games than they did all of last season, they are only 2-4 in conference play and stand at seventh in the NCHA.
"I'm happy with some of the steps we've made, but bottom line is we are still seventh place in the league and still 2-4," said Pointer head coach Wil Nichol.
He continued: "We got picked to finish seventh in the conference by the NCHA coaches and that's where we are right now. Did I think we'd be 11-5-1 overall right now? I don't know. A lot of questions rested on our defense and goaltending and I think our goaltending has been pretty good as has our defense."
Perhaps the biggest surprise of the year for the Pointers has been the play of freshman goaltender Thomas Speer. Speer has seen action in 12 games thus far and has posted a 9-2-1 record with a goals against average of 1.41 and a save percentage of .944.
The second two of those statistics both rank in the top four nationally and Speer has already registered four shutouts on the season, only two shy of tying the Pointer career record.
"I think he's off to a pretty good start to his career," said Nichol. "I think the thing I like about him the most is that he's really humble about it. He's one of our hardest workers. He says it himself: 'stats really don't mean anything unless you're a statistician,' and he really believes that."
As far as whether Speer will see exclusive time in net for the Pointers the rest of the way: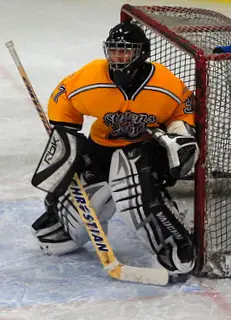 "Well right now he's our guy. It doesn't mean it is set in stone but he's pretty tough to take out of net right now."
With Speer playing solid in net and a revamped defense, led by junior transfer Tim Manthey, out in front of him, the Pointers have outscored opponents 63-35 this season. The total lies in stark contrast to the 78-54 goal deficit the Pointers faced at this same point last season. For those keeping track at home, that is a 52 goal swing in the Pointers favor.
Ignoring three blowout wins over Concordia-WI, Northland and Lake Forest, the Pointers are still +27 compared to last season.
While the Pointers won an early season game at St. Thomas and also defeated Superior at Wessman, a major question surrounding the Pointers — and Speer — is the lack of a marquee win.
"I don't really think it matters," said Nichol. "Bottom line is that we are in a position where we are going to have to do awfully well in our league playoffs. The first half of our season in league play pretty much set that up."
Regarding the potential benefits of a win over a top-ranked opponent, he noted:
"I think the most important thing in beating a team like St. Norbert or River Falls is that it's still two points on the line. You can't gear your entire season toward playing one or two teams. Obviously teams like that are two of the top teams in the country and are teams we try to model ourselves after, but it's all about Eau Claire, and then Lake Forest after that.
"Our guys have been real good with that approach."
If the Pointers do wish to make a run this season, they cannot suffer the same bouts of inconsistency they did earlier in the season. There is no greater illustration than a winless road weekend at River Falls and Stout where the Pointers were outscored 11-3. Making matters worse that weekend was a penalty kill that could best be classified as an "unmitigated disaster," as it conceded nine goals between the two games.
Last season everyone knew the Pointers had quality offensive talent, but with a defense so laughable that the offense never had a chance to open things up it was rendered useless. So far this season, with vastly improved team defense and excellent goaltending so far by Speer, the Pointers just may be the NCHA team to make a big second half move.
Media Guidegate Update
In a story that has taken on a life of its own, I'd just really like to thank the Stevens Point radio crew, Tom Weaver and Sean McMahon, for doing everything they can to grab me media guides when they go on road trips. They always come in handy — none more so than the River Falls women's basketball one they gave me last weekend. They might think it was rather comical, but take note: There are reasons that some coaches have compared them to Statler and Waldorf of Muppet fame. If only they had a red curtain.