Do the rest of you ever dream about hockey, or am I the only one here who's that intense?
It's late January, there's not a thing to do outside if you don't have a ski mountain in your back yard, the breweries are smack in the middle of their Winter Brew cycle, and ECAC Hockey is only beginning to separate its wheat from its chaff.
It's the weaklings who go on vacation this time each year. It's a beauty time to be a fan, and if you're not dreaming about hockey when the cold is eight inches deep and eight degrees above zero, I just feel sorry for you. This is the truest form of "hockey season," no two ways about it.
Ahead: what Nate Leaman doesn't want his Dutchmen to know (sounds like a newscast teaser, doesn't it?), a side mention of my new favorite college band ever, and Yale embraces the elements.
Dutchmen: Don't Read This Segment
At the tail end of a 17-minute chat with Union helmsman Nate Leaman, he made an odd request.
"You're not gonna write about us this week, are you?" he asked, hopefully.
"Uh … about Union … ?" I replied, fearing that I had somehow missed a critical change-of-topic somewhere along the line.
Leaman: "Yeah."
Apparently the Dutchmen perform better when they are under-reported, rarely complimented and generally "under the radar," according to their coach.
So if you are a Union hockey player, a) thanks for reading — it's nice to know that somebody does — but more importantly b) please stop now. Your hair looks stupid, your stickwork is reminiscent of croquet, and those guys in green and gold keep making passes at your girl.
… and we're moving on.
The Dutchmen have won four of their last five overall, and four of five league games as well. They're not smothering their opponents, nor are they burying them. Union is simply getting big plays when it needs them, and that system is working out just fine.
Sophomore Adam Presizniuk is the obvious focal point for Union's opponents, as the center has put up 10 goals and 14 assists in 22 games.
"He's a real quiet kid. As a coach, he's a dream player," said Leaman. "He's a guy who you only have to say things once to. He's got a real good stick, one of the best we've had," the coach continued, and noted how "Prez" took Leaman's advice and has started taking more shots on net.
With 11 games remaining in the regular season, Presizniuk is already three goals ahead of last year's total, and only a point behind in overall scoring.
But the second-year sniper has a deep supporting cast with eight teammates registering double-digit points so far, half of whom have at least a half-dozen goals. Looking ahead a bit, it's worth noting that only three of the Dutchmen's top nine scorers are seniors.
"We've been able to score all season," said Leaman of his 3.4 goals-per-game program. "That comes with some of our players maturing."
One of those seniors is Union's new career defensive scoring leader Lane Caffaro, who has five goals and seven assists this season and 20-49-69 in his three and a half years in Schenectady.
"It's a body of work, of course," said his coach. "He has a terrific stick, he logs a lot of minutes, and plays great both ways."
Caffaro and classmates Brendan Milnamow, Matt Cook, Chris Potts and Mike Harr have impressed Leaman all season long with their dedication and leadership-by-example, and he credits them for putting the Dutch in a position to claim home ice, or possibly wrest a second consecutive first-round bye.
"We have a very, very good senior class. It's our second senior class, but the first senior class that we had a full year to recruit. They're doing a great job leading [off the ice]," praised the sixth-year head coach. "Our seniors are the ones driving the ship."
Playing in a Bandbox
Many of you have probably been to a home game to support the ol' alma mater, only to realize that the visiting crowd is a bit louder and more melodic than most.
That is because ECAC Hockey is unique among college leagues — at least, to the best of my awareness — in that visiting teams are often accompanied by their bands, even in regular-season contests.
I noticed the novelty from my very first ECAC game, but only recently began to consider what an odd situation it really is. Why would the hosts willingly diminish their own home-ice advantage by allowing the guests their own little Brass Bonanza?
I was surprised to learn that not only is this policy of Peals On Wheels tolerated by the league, but it's actively endorsed. Commissioner Steve Hagwell confirmed that each venue is required to set aside up to 25 seats for the visitor's band, should the band request them. Of course, not every school has a band, and even the groups that exist don't always travel: St. Lawrence and Union are entirely tuneless in the live-performance sense, while on the other end of the spectrum are Clarkson, Cornell, RPI and Yale, who send their bands to multiple road games a year.
The other six institutions, however, have varying degrees of musical presence at their home games, and rarely enjoy their bands' company on the road. (Side note: my God, how did it ever take me this long to discover and recognize Brown's indescribably awesome Skating Scatter Band?)
Given these facts, some may judge the league's policy to be unfair, biased in favor of schools with musical talent and interest. But not so fast: what is the product of having the opponent's band in your building? It increases attendance, for starters. But much more than that, it electrifies the atmosphere in the arena.
I can fondly recall that some of my most enjoyable experiences as a young and boisterous fan took place despite a positively dull product on the ice. Let's face it, if the players aren't going to provide the energy, sometimes the fans have to manufacture their own. Packs of loyal students tossing witty barbs back and forth can keep an audience on its toes in spite of a poor showing between the boards, and there aren't many students more experienced and knowledgeable of their team, their league or their opponents than those who are obliged to watch the game twice a week, every week. They're the students in the band.
Sure, the competing fight songs can be a muddled musical massacre at times, and no one really embraces the thought of an extra two dozen vocal and vociferous rival fans in your barn.
But next time you're stuck staring at a slow, trap-happy grope-fest in a silent and frustrated rink, stop and imagine how much more fun you would be having in reminding those other guys that they had to settle for your safety school.
Fore!
Does anyone remember those old Fox Sports ads, "[insert sport] would be better if it were hockey"? I loved those commercials, even as I loathed Fox for introducing the FoxTrax puck.
Well, leave it to Yale to find a way to make golf better … by making it hockey.
The team took to the links on Tuesday, practicing next to the clubhouse on one of the Course at Yale's two lakes for an hour and a half. Playing between the third and fourth holes, the Bulldogs ran a series of three-on-three scrimmages on a patch of cleared ice, complete with a hot cocoa and Powerade station and a 50-gallon trash-can bonfire.
"My daughter gave me the idea," said head coach Keith Allain. "The season gets long, it was nice and cold out there, and we wanted to remind the guys why they fell in love with the game in the first place," he said wistfully.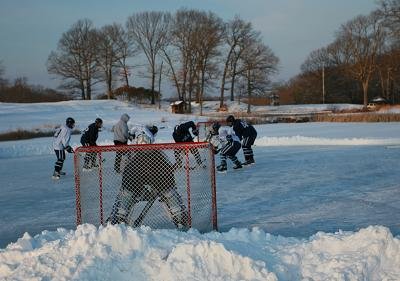 Director of Equipment Services Ed Maturo brought an extra-large load of pucks since there were no boards to contain errant shots, passes or caroms; there will doubtlessly be a little extra vulcanized rubber at the bottom of the pond come springtime, and perhaps a few uninformed golfers will puzzle themselves with the discovery of pucks next to their wayward tee shots.
"It brought back great memories for me," senior forward Patrick Brosnihan told Yale Assistant Sports Information Director Steve Conn. "We get caught up in the season and being so focused on winning. It's easy to forget why you love this game. This slowed things down for us and helped us realize why we love it so much."
The event was believed to be the first natural foray for the team since the 1920s, but it's not a totally unique idea. As recently as last year, Notre Dame held a practice outside, and the Fighting Irish are doing it again this year. Even Utica College is getting in the act. And let us not forget the teams who played Winter Classics before there were Winter Classics: the "Cold War" between Michigan and Michigan State, and the "Frozen Tundra Hockey Classic" between Ohio State and Wisconsin.
For those of you who have read "Home Ice" by Jack Falla, you'll understand my soft spot for outdoor hockey. It's just so … pure. I'll never advise taking the whole sport entirely outdoors, but there's just something so true and appropriate about taking the sport back to its roots. I'm glad to see there are so many others out there who feel this way as well.
Stay Tuned
If all goes according to plan, in the near future I will be able to discuss what a future Winter Classic will have to do with ECAC Hockey. I'll also make some projections next week for each team's outlook based on their records in tight games compared to their remaining results. Finally, I hope to answer the question of what's in an attendance figure, anyhow? It's not an exact science, as you'll see.
Snapshots
• Colgate star David McIntyre's hot streak is still burning bright, as the third-year forward has terrorized the league with points in 12 of his last 13 games. The tear has consisted of 10 goals, 10 assists, five multi-point games, and includes three goals and two assists from last weekend alone.
• Bryan Leitch at Quinnipiac is on a heck of a run as well. The senior has points in 14 of his last 15 appearances, including 10 multi-point games, two three-point games, one four- and one five-pointer. (Is it any coincidence that classmate and frequent linemate David Marshall is on a 15-game scoring streak of his own?) Don't be fooled by the forward's nine goals; he's doing quite nicely for himself with 28 assists. He continues to lead the nation in points, points-per-game, and assists.
• The league has suspended Rensselaer defenseman Erik Burgdoerfer for two games as a result of last weekend's incidents against Colgate and Cornell. The junior was whistled for a major checking-from-behind penalty with a game misconduct on Friday against the Raiders, and followed that up with a major for boarding and a game disqualification the following night against the Big Red.
• Cornell boasts the nation's third-longest active winning streak, 10, behind only Ohio State (12) and No. 1 Notre Dame (20). The Big Red also have D-I's best winning percentage (.853), fourth-best penalty kill (90.1 percent), seventh-fewest penalty minutes per game (13, but Princeton's tops at 9.6), top defense (1.29 goals against average), and fifth-best scoring margin (1.29 more goals per game than their opponents). Oh yeah, I hear that Ben Scrivens kid is pretty good too. (Tops in the country in save percentage and goals-against average, at .956/1.18, respectively.)