Brett Watson may be the unsung hero on the Massachusetts hockey team, as evidenced by the fact his teammates have voted him the Jack Caniff Unsung Hero Award each of the last two seasons.
But to a seven-year-old boy in western Massachusetts, Watson's a hero — period.
Watson, a junior forward, last September signed up for the Big Brothers Big Sisters Program of Hampshire County.
Each volunteer is paired with a boy or girl who "needs an extra special friend in their lives — who needs extra attention, who needs a positive role model that can help them learn to express themselves, make healthy personal choices and have fun."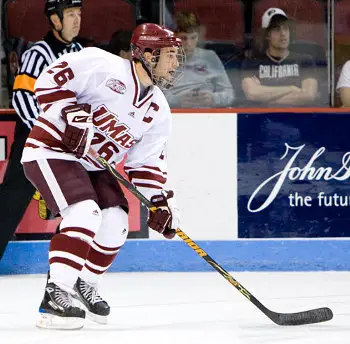 "I got word of it last year from Mike Kostka, who was our senior captain," said Watson. "He mentioned it to some of our guys about volunteering. Four guys (Paul Dainton, Brian Keane, Chase Langeraap) and me decided to do to it.
"My initial reaction was, am I going to have enough time because of school and hockey? But it's a way to give back to the community. I'm trying to make a difference in the life of a kid who needs some help.
"After talking with people in the program," continued Watson, "it was do-able."
Volunteers are required to sign up for a year and spend a minimum of three to four hours per week with their "little."
"The boy I'm with is on the younger side but he's a big ball of energy," said Watson. "We do have events to go to and I'm working on having the program come to one of our games.
"Some times I'll pick up my little brother, who's a pretty athletic kid. I live by some fields so some times we'll just throw a football around. He's also been bugging me about playing hockey. And, of course, I try to help him with his schoolwork."
Among other things, that includes reading.
"One of the things I asked myself is how can I make more of a difference in a kid's life," said Watson. "He talked to me about having trouble reading in school, so I sit down and help him with his reading.
"I try to reassure him and help him understand things when he has a problem."
Before being allowed to join the program, prospective volunteers undergo an extensive background check that includes visits to their dorm rooms and an interview process that can take several months.
"Obviously, they need to make sure that responsible people are taking care of the kids," explained Watson. "I interviewed with a case manager regarding who I could be matched with. I had three or four references they contacted and they asked pretty extensive questions about our character.
"They want to know how far you're willing to go to pick up your kid. What age? What interests would you like the kid to have? They'll ask the kids what interests they want their big brother to have.
"For certain people, the process takes longer," said Watson. "For me, it was quicker because they found a kid that would work for me."
How productive is this program?
A recent study conducted for the Big Brothers Big Sisters of America by Public/Private Ventures, an independent research company, found that, compared with their peers, "littles" who met regularly with their "bigs" for a year were:
• 46 percent less likely to use drugs.
• 27 percent less likely to start drinking.
• 52 percent less likely to skip a day of school.
• 33 percent less likely to hit someone.
• More likely to attain slightly higher grades.
• Less likely to lie to their parents.
Etc., etc.
Watson also is conducting a systematic evaluation of the local program which will culminate in a list of recommendations about how to improve it and how to recruit more volunteers.
The project is a part of a full-year independent study course.
"Part of it is the work I'm doing with my little brother as well as helping coordinate this big-brother night at one of our games," said Watson. "I still have some work to do. But they do have a large need for volunteers.
"There are a lot of little brothers and sisters that haven't been matched yet. I want to get more athletes involved at UMass and will tackle this more in the second semester."
Whatever Watson tackles will be done with a large dose of humility.
Watson centers the Minutemen's checking line and also is one of the top skaters on the team's penalty kill, which entering the week of January 18, led Hockey East in that department.
He does a lot of the proverbial little things, like forechecking, knocking guys off pucks and playing smart, positional hockey, which helps the Minutemen on defense.
"My point production's not what I want it to be," said Watson, who through the first 91 games of his career had scored only two goals and assisted on 11. "But it's good that the guys recognize what I'm contributing to the team.
"(The Caniff Award) was an honor, especially since it's voted on by your peers. I pride myself on working hard every day and being a good teammate."
And if the last name Watson sounds familiar, it should. His father Jim and his uncle Joe played 10 years in the NHL and were on the Philadelphia Flyers' Stanley Cup championship teams in 1974 and 1975. And his older brother, Chase, played for Providence.
"As long as I can remember I picked up a stick," said Watson. "My Dad always had been my coach growing up. He helped my brother and me as players and we always looked to him for advice.
"My brother and I and some friends always were outside. Dad always encouraged us to go outside and play something."
Even though Brett Watson also played basketball and baseball and ran track, his father let his sons choose their preferred direction.
"I remember Dad saying when we were young, 'If you don't want to play hockey, it will be fine with me,'" he said. "He always encouraged us but he never put pressure on us to play. He always has been there to help and support us."
Just like Brett Watson is there to "help and support" his little brother.