Miami University has a great campus, a phenomenal building for hockey, and a constantly improving hockey program.
Too bad it's in the middle of nowhere and not well covered by the local media, because if the newspapers in Cincinnati and/or Dayton gave them even decent coverage, the RedHawks would be a much bigger deal than they are now.
That's not to say they aren't a big deal, or big-time. They are. Despite three straight NCAA tourney defeats to Boston College (which went to three Frozen Fours and won a national title in the process) Miami has absolutely arrived among the national elite.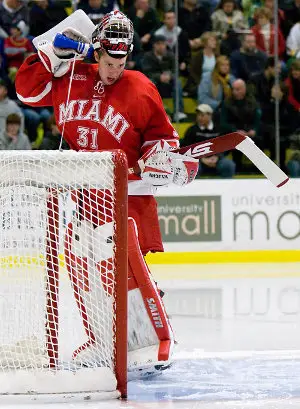 Talk to college coaches, especially in the CCHA, and what you hear is that they are thrilled that another team outside of Michigan, Michigan State, Notre Dame and Ohio State has given the conference name recognition with its facilities, success, and ability to recruit against the big boys.
Head coach Enrico Blasi has the respect his colleagues. The diminutive dynamo has been able to both attract high-end kids and depth and role players, and with the help of a staff that includes nine-year colleague and fellow Miami alum Chris Bergeron, they have established The Brotherhood inside the Miami dressing room. At Miami, as well as in many other places, team comes first.
The RedHawks went into their recent weekend series against Michigan State (seen nationally on CBS College Sports) having lost four straight and in a real scoring funk. Losses to Clarkson and Army at the Ohio Hockey Classic as well as CCHA losses to Michigan in which they didn't look competitive at times had the 'Hawks on their heels.
When the Spartans came to town and smoked them on Friday night, you had a small crisis. So how did Miami react?
Saturday morning, sitting with Bergeron and fellow assistant Brent Brekke (who joined this season from Cornell), the message they sent to their team was clear, old-fashioned and simple. The told the team that they were generating plenty of shots and scoring chances, but not scoring. Were they shooting to score or shooting just to get the puck on net? Were they bearing down in the crease, and were they hungry at the net front?
Then they asked the players a question. "What were they doing individually, and what did they need to do as players to help the team out of a five-game losing streak?" They challenged the players to be accountable for their actions and to get back to doing things that made them successful. While not selling out the company secrets, Bergeron and I discussed some of those aspects in players' games.
So what happened? The team with the fragile confidence went to work early and often, and the opportunities that Spartan all-world goalie Jeff Lerg stopped on Friday went in Saturday. Miami's ability to connect on passes on the rush, especially near the net, worked to perfection.
The RedHawks clogged the neutral zone with disciplined play that reminded us all who just might be the best team in the nation between the blue lines defensively. They also got saves in net. They didn't need many, but part of the deal as a goalie is being sharp whether you face 40 or 14 a game. Connor Knapp was good when he had to be Saturday, and also Friday in relief of Cody Reichard, who just wasn't sharp and never had a chance to get into a rhythm.
Miami put out a solid performance, won the game, and then prepared for the team breathing down its neck as the vastly-improved Nebraska-Omaha Mavericks play host to Miami on CBS College Sports (CBSC is picking up the feed from Nebraska Public Television). The Mavs sit three points behind Miami, making it a pivotal road series for Miami.
To make a comparison, Miami is like New Hampshire in terms of the battles it faces. Their facilities are as good as any in their conference. They are well-coached (in fact, UNH head coach Dick Umile recruited a young Rico Blasi when Umile was an assistant at Providence — he lost the battle to Miami's George Gwozdecky). They play in a great conference. They are a constant force to be reckoned with on the ice and in recruiting.
However, Miami has to recruit against Michigan, Michigan State and the vastly-improved Fighting Irish. Toss in Ohio State and you have a five-team tug of war — and Miami still battles the issue of being geographically off the beaten path. UNH is similar. The Wildcats are always in the thick of things if not on top of Hockey East.
However, they now see a resurgent Northeastern program, always have to stay a step ahead of Maine, have watched Vermont come on board in Hockey East, and have to reckon with the two-headed monster in college hockey's number-one city in national champion Boston College and a revitalized Boston University, which plays in a great facility at Agganis Arena.
With most NHL scouts being based out of Boston, greater Detroit, and the Twin Cities, you are looking at a certain type of kid to attract, one who really wants the campus life away from the big city or the enormity of a Big Ten Campus. Both UNH and Miami have attracted high-end kids.
James Van Riemsdyk is the highest-drafted player skating in Hockey East and is one of many great collegians to play in Durham. Miami has attracted stars like Nathan Davis, Ryan Jones, Jeff Zatkoff, and Andy Greene. The RedHawks also have stars on their roster like Andy Miele, Carter Camper, Pat Cannone and Tommy Wingels, four undrafted sophomores who could skate on any first line in the nation.
They recruit well and they recruit character kids. A case in point is junior Brandon Smith. Smith wanted to go to Miami and is there on an academic scholarship. A solid player with the Bridgewater Bandits of the Eastern Junior Hockey League in New England, Smith didn't play a shift for the first two seasons at Miami despite never missing a practice. After last season, the players went to Blasi and suggested that Smith be given a chance (unbeknownst to Smith). Smith did get his chance this season, and scored his first NCAA goal in November at Michigan State — a game winner, at that.
Then there is Will Weber. Playing high school hockey under the radar in Gaylord, Michigan, Weber was mentioned to former assistant coach Jeff Blashill as a possible prospect. While these tips can lead to nothing, this one came from a trusted source so Blashill recommended him to Bergeron, who was heading to Detroit to watch a AAA midget tourney, to skip it and go see Weber play.
While no one knew much about him in October, solid play and a growth spurt made Weber a prospective 6-foot-4 Division I defenseman by January. Miami had made some inroads there with Weber, and by the time the high-school playoffs started, there were 10 NCAA programs, three NHL teams and two "family advisers" there to see him play and sign him up. He chose Miami.
Senior defenseman Kevin Roeder is a future pro who leads by example, a hard-nosed kid from a long line of firefighters in Chicago. Spend 10 minutes with the Roeder family and you see why Kevin is such an impact player for Miami. The kid is all about character and leadership. Mentored by the aforementioned Greene, Roeder has in his turn mentored the youngsters on the defense corps this season into a pretty tight unit.
On the flip side, Michigan State is an interesting story. Two years removed from an improbable yet incredible run to a national title, the second in head coach Rick Comley's illustrious career, the Spartans are now seeing life on the other side on the CCHA. The Spartans' split last weekend put them a point out of the eighth spot in the CCHA, one that would allow them to host a first-round series.
The Spartans are a work in progress, but they were in that same spot when Comley took over and the results have been pretty good. Starting two years before they actually won the title, State also had two teams that were legit national contenders.
While every team loses players, and key ones (look at Michigan losing its entire first line of seniors Kevin Porter and Chad Kolarik and freshman Max Pacioretty), here is what the Spartans lost in comparison.
• Of their top ten scorers, they lost eight.
• Gone from last season are the top three scorers in Tim Kennedy and Justin Abdelkader (who left after his junior season), and senior captain Bryan Lerg.
• In the five-six spots were Chris Mueller and Nick Sucharsky (injured and out for the season).
Add on another early defection in defenseman Mike Ratchuk and senior D Dan Vukovic (who combined for 38 assists last season with 19 each) and that's not just a small hole, it's the gash at the bottom of the Titanic. For good measure, the team also lost defenseman Ryan Turek due to team-related issues.
That's 222 points gone from last year and while not wasting time looking up every roster in NCAA hockey, I'd venture to say that no one else took that big a shot across the bow. Despite that, the gang from the banks of the Red Cedar River has managed to beat three nationally-ranked teams so far in the second half in North Dakota, Alaska, and Miami.
The staff, to its credit, has put no unnecessary pressure on this team to win. The challenge to the players in East Lansing, especially the younger ones who have been thrust into upperclassman-type roles way ahead of schedule, is to improve and build for the future.
Upcoming recruiting classes are good and will fill holes, and it won't be long before the Spartans are back to looking down at two-thirds of the conference from a top-four spot in the standings.