Jim: It was upsets galore this past weekend, Scott, particularly in the East. We can start with Northeastern. After getting up to the number-three spot in the USCHO.com/CBS College Sports poll, the Huskies lost the Beanpot final, rallied to earn a win at Massachusetts on Friday and then got crushed at home by the Minutemen on the back end of a home-and-home series. One has to wonder — might this be yet another post-Beanpot meltdown for Northeastern? I think we've both said this team seems more solid than in the past, but last weekend wasn't the most promising performance. In addition, in Hockey East alone, you had New Hampshire blowing a late lead against Providence at home on Friday and settling for a tie; Boston College getting routed on Friday against Mass.-Lowell and then scoring twice in the third to earn a tie on Saturday at Lowell; Merrimack beating Vermont at home on Friday and coming close to a sweep before earning the split a night later; and finally, No. 1 Boston University getting a third-period goal at Maine to grab a tie on Saturday. Maybe there was something in the Hockey East water this weekend, but none of these series went as planned.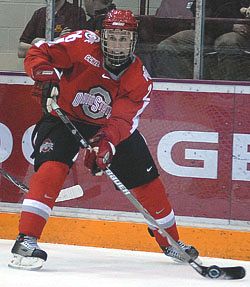 Scott: Jim, Northeastern is the most interesting case to me, at least. Last week we discussed the importance of the next few games for NU after the Beanpot, and this wasn't the best way to kick off the stretch run for the Huskies. Nevertheless, there's plenty of time for Greg Cronin and company to right the ship, but this weekend's series against Boston University is now that much more critical. If NU can take three or four points, last weekend will be forgotten in a hurry — not that that's a small task against the Terriers. We had a lot more order preserved out West, with the notable exception being Ohio State tying (a shootout loss for CCHA purposes) and losing at Michigan State. We said last time that OSU needed wins against the struggling Spartans, but Jeff Lerg was all-everything in net for MSU and the Buckeyes scored just two goals in two games. It doesn't get any easier for Ohio State, with its two remaining regular-season series coming against Michigan and then Miami. If John Markell's guys want to make the NCAA tournament, they're going to have to earn it.
Jim: You're correct that it wasn't a solid start to NU's post-Beanpot run, but wins against the Terriers could heal some wounds. Everything in Hockey East seems to be shaping up interestingly, bringing to light that it may not be until the final night of the regular season that we know much about playoff matchups. Much the same can be said for the ECAC. However, what's different there is that Yale is beginning to run away with things. Keith Allain's club is on fire, winner of its last eight. Two wins this weekend would wrap up the regular-season crown, though facing Quinnipiac and Princeton on the road isn't the easiest task. After Yale, though, you can flip a coin to determine the standings. Princeton, Cornell and Dartmouth sit in second, third and fourth, respectively, with two points separating the trio. Add the fact that seven points separates second from eighth and you have to figure the final two weeks of the ECAC regular season will see fluid standings. In that breath, though, we can also say that about the WCHA. Is that league ready for a wild and wooly finish or what?
Scott: It is indeed. Consider that seven teams — seven — remain in contention for the league title with just three weeks remaining in the regular season. Seventh-place Minnesota Duluth is just six points behind North Dakota and Denver with games against Michigan Tech, Minnesota and Alaska-Anchorage remaining — given that fact, a 5-1 finish is feasible, which would put UMD at 14-9-5 in league play and in contention for the MacNaughton Cup. Now, I'm not proposing that that will happen, but the fact that it could is enough for the grist mill. ECAC Hockey has long been the standard for close finishes in the regular season, but there's plenty of competition for that laurel this year. And lest we forget, Atlantic Hockey is setting up for an exciting finish as well. Just one point separates RIT from Air Force, with Mercyhurst making a late charge. AFA's loss to Bentley on Saturday likely removed the Falcons' last chance to thrill PairWise watchers with the possibility of an at-large bid, but that doesn't take away from the conference drama.
Jim: This must be a season that just gets your math mind working. I'm sure you could tell me something about the absolute odds of Minnesota Duluth winning the conference tournament. But for now, I'll keep you thinking about pucks and sticks. While we have this chance, maybe we should talk Hobey. If the season ended today, who would be your choice for Hobey Hat Trick? I've been fortunate through my work with USCHO.com's new Podcast "Hobey Watch" to get some coaches opinions and I have to say that there are plenty of worthy candidates to make up the Hat Trick once all is said and done. My three favorites at this point are Boston University's Matt Gilroy, St. Cloud State's Garrett Roe and Notre Dame's Jordan Pearce. Who's your Hat Trick today?
Scott: Good question, and one I hadn't thought much about until now. This is a pretty muddled season in terms of picking Hobey favorites — for evidence, there's the fact that six of the top 10 scorers nationally are sophomores, while the top four in goals against average are underclassmen, with two of those being freshmen. That being the case, the Hobey process may fall more to intangibles than statistics. I agree wholeheartedly with Pearce, who has been the backbone of a very successful season for Notre Dame. The problem for him, of course, is that it's basically impossible for a goaltender to win the Hobey these days, but he's a viable candidate. Ben Scrivens of Cornell is another good choice at goalie, but the Big Red's slip may doom his chances. At defenseman, I haven't seen much of Gilroy, but Jamie McBain of Wisconsin impressed me a great deal when the Badgers were in town recently. The forwards are probably the biggest mystery, with national scoring leader Bryan Leitch of Quinnipiac putting up remarkable numbers in a traditionally low-scoring league but not receiving much attention. Jacques Lamoureux of Air Force would have been a chic pick earlier in the year, but given AFA's recent struggles he's probably out of the running. So I'd come down to Pearce, McBain and then either Roe or Colin Wilson of BU. We'll see how that all shakes out soon enough, but for now, until next week…