Even though there is still one week left in the regular season, the CHA tournament pairings are already set for next weekend in Bemidji.
Entering last weekend with a four-point lead over second-place Niagara, Bemidji State needed a loss by the Purple Eagles to clinch at least a share of the regular-season conference championship and the No. 1 seed in the upcoming league tournament.
Although Robert Morris didn't pull off a victory at NU, it did skate to a pair of draws with NU, which together are worth two points — the equivalent of a win.
With one week and four points remaining in the regular season, the best Niagara could now do is tie BSU atop the standings. But after a series sweep over the Purple Eagles in western New York two weekends ago, the Beavers own a 4-2 edge in the season series and would take the No. 1 seed on a tiebreaker.
Next Friday in Bemidji, here's what we've got: No. 2 Niagara vs. No. 3 Robert Morris in the first semifinal, while the top-seeded Beavers will host No. 4 Alabama-Huntsville in the second contest.
The championship game happens next Saturday night after the third-place game that afternoon.
BSU has aspirations to use home-ice advantage to its fullest extent.
"Winning championships is important to us — important to the players, the coaches, the alumni and the community," said Bemidji State assistant coach Ted Belisle to the Bemidji Pioneer. "We won the regular-season title, which I believe is the toughest one to win. It shows we were consistent throughout the season — we took care of business on the road and played well at home.
"Kudos to our guys. We have one banner to hang — now we need to work on the second one. That starts (this) weekend with a tough series against Robert Morris."
Drop the puck, already!
NU And Robert Morris Play To Stalemates
Two games. Two ties.
Not as uncommon as one might think, but last weekend's series between Niagara and Robert Morris in suburban Pittsburgh also produced a rare 0-0 tie in the second game.
The zip-zip game was a first for the Purple Eagles and a second-time event for the Colonials.
Adam Avramenko picked up his first career shutout, while stopping a career-high 34 shots.
"I was really happy with how well we played defensively," Niagara head coach Dave Burkholder said. "Avramenko was stellar in net and did a good job moving the puck, which is one of his strengths."
Niagara's best chance to score came at about the halfway mark of the second period when Egor Mironov curled in front of the net and ripped a wrist shot over the shoulder of Colonials netminder Brooks Ostergard, only to have the puck taste iron.
Ostergard, who has both shutouts this year for Robert Morris, also had 34 saves.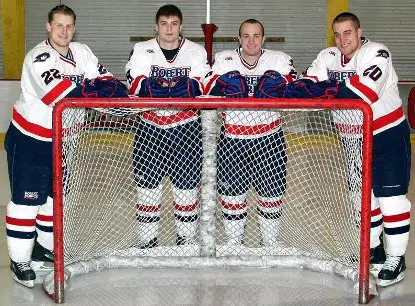 Friday night, a late goal by senior captain Vince Rocco helped the Purple Eagles into a 3-3 stalemate.
Down 3-2 with less than five minutes left in the game, Rocco picked up a misplayed puck behind the net from Ostergard and stuffed it in the open side to tie the game.
Nathan Longpre scored twice for RMU, Trevor Lewis added a single and Chris Margott assisted on all three goals.
Tyler Gotto and Ryan Olidis tallied the other two Niagara goals. David Ross was 15-6 on faceoffs as well.
Pagliero made 41 saves and Ostergard finished with 37.
"That was an excellent weekend of hockey — both ways," RMU head coach Derek Schooley said. "The games had everything from open nets breakaways in overtime to good special teams to great goaltending. It was a very evenly-matched weekend of hockey."
Since the onset of the Colonials' unbeaten streak (3-0-3) on Feb. 14, Robert Morris' penalty kill has been solid. RMU killed off all 13 man-advantage chances last weekend and during its unbeaten streak has only allowed three goals in 35 opportunities.
Beavers Sweep Tough NTDP Squad
The games were just exhibitions, but wins are wins, right?
Bemidji State hosted the U.S. National Team Development Program's Under-18 Team last weekend and swept aside Team USA both nights.
In Friday night's 3-1 win, Matt Read scored a goal and added an assist to back Dan Bakala's 24 saves, marking his third exhibition victory of the season.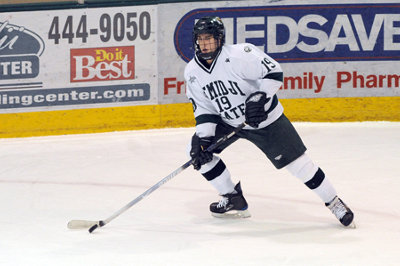 BSU trailed 1-0 just 99 seconds in as uncommitted forward Jeremy Morin (rumored to be heading to the Ontario Hockey League's Kitchener Rangers next fall) staked the NTDP to an early lead.
Tyler Scofield and Jamie MacQueen netted the other BSU tallies. Scofield's was the Beavers' first shorthanded goal of the season.
Brandon Maxwell stopped 26 shots for Team USA. He recently reportedly reneged on a commitment to Boston College to play in the OHL next season with Kitchener.
Saturday night, BSU took a 6-3 decision on the strength of a two-goal, two-assist night from Read, whose first goal was just 1:25 into the first period.
Chris Peluso, Shea Walters, Brent Tamane and Tyler Lehrke registered goals for BSU as well.
Jason Zucker (a Denver recruit for 2010), Kenny Ryan (Boston College) and Ryan Bourque (New Hampshire) scored for Team USA. Defenseman Cam Fowler, off to the OHL's Windsor Spitfires next year after de-committing from Notre Dame, added two assists and Adam Murray (Denver) finished with 36 saves.
Orlando Alamano kicked out 21 shots for the Beavers and in addition to Read, Matt Francis, Tamane, Lehrke, Peluso and Ben Kinne totaled multi-point efforts.
"We had real good puck control," Belisle said in the Pioneer. "When you have that and make good decisions that creates time and space. When you have those things you can make some plays. Suffice it say Read had some room to make plays and when he gets the opportunity, well …"
Now the Beavers shift their attention to Robert Morris. A point in the two-game set this weekend would clinch the regular-season title outright, marking the fourth time in the last six years the Beavers have been crowned CHA champions.
Schooley and the Colonials aim to play the spoiler role, but know what they're up against, especially on the road.
"Bemidji was off from conference play so they will be ready to go," noted Schooley. "They will be tough to play against in their building and we want to have a good weekend before the CHA Tournament."
He Said It
"To think that we will have 24 games within four hours' drive of the Island Sports Center is something that you cannot help but get excited about. I think that has to create a buzz for the Robert Morris hockey fan and just the college hockey fan in general when you can go to our rink and see Mercyhurst, Bentley and RIT all play there." — Schooley, to the Pittsburgh Post-Gazette, on joining Atlantic Hockey in 2010
Colonials Get Commitment From NAHL's Salituro
Forward Stefan Salituro is the latest to commit to a CHA school for next season as the Mahoning Valley Phantoms forward will play at Robert Morris this fall.
Salituro, the Phantoms' third-leading scorer this year with 12 goals and 29 assists, has recorded at least one point in 12 of Mahoning Valley's last 13 games.
"It feels great, because this is what I've always wanted to do — go to college to play hockey," said the 18-year-old Willowdale, Ont., native. "Just getting the weight off my shoulders, to know where I'll be next year, is a great feeling.
"I really like what I saw of the campus and the program when I went on my official visit. And, from what Coach Schooley told me, I'll have a great opportunity there. I'm hoping to fit in well on the team at RMU."
The 5-foot-10, 180-pound Salituro will join former Phantoms J.C. Velasquez, Denny Urban and Longpre on next year's Colonials squad.
Another Recruit For Alabama-Huntsville
Alabama-Huntsville went back to western Canada for its latest recruit in Salmon Arm SilverBacks forward Keenan Desmet.
Desmet, a 20-year-old Strathmore, Alb., native, ended the regular season third in team scoring and ninth overall in the British Columbia Hockey League with 27 goals, 41 assists and 68 points. He also added 78 penalty minutes in 59 games after being acquired in an offseason deal with the Victoria Grizzlies.
"I've known Keenan for a number of years now and have had the pleasure of coaching him for two of the last three seasons," Salmon Arm head coach Rylan Ferster said. "He is a first-class player who works hard every night. Keenan is a great leader and role model for our younger players."
Desmet is also an assistant captain with the SilverBacks.
Incoming BSU Freshman Collects Hardware
BSU recruit Brady Wacker picked up some Saskatchewan Junior Hockey League honors at the end of his regular season with the Humboldt Broncos.
Wacker, 20, was named the league's Player of the Year and Defenseman of the Year and was first runner-up in MVP voting. He also finished third in SJHL scoring with a 17-65-82 line in 54 games.