What can one say about College Hockey America that hasn't already been said?
This is the final year of the conference? Check.
Niagara and Robert Morris are off to Atlantic Hockey next season? Check.
Bemidji State finally got into the WCHA starting with next year? Check.
Alabama-Huntsville doesn't have a home yet for 2010-11? Check.
While the league has never been considered one of the "big four" conferences, there has never been any denying the fact that the CHA, in whichever form one chooses, has always been competitive not only in the conference, but on the national stage.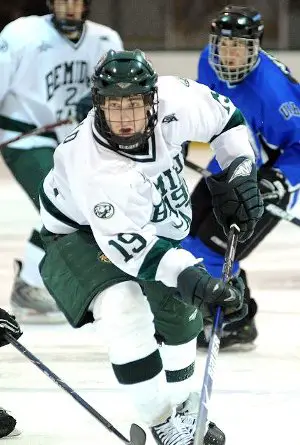 Need we bring up Bemidji State winning the CHA regular-season and playoff titles last year and then going all the way to the Frozen Four? Talk about representing the small-time CHA, eh?
In any event, that was then and this is now, and all four teams are ready to start the 11th and final season of the CHA.
"We know how the league is and because we play each other so many times, we tend to get to know each other pretty well," UAH coach Danton Cole said. "There are a lot of tight games and each game is really a playoff atmosphere."
Niagara coach Dave Burkholder seconded Cole's thoughts.
"This has been a great league for a lot of years," said Burkholder, whose Purple Eagles will host the last CHA tournament next March.
It also seems that whichever CHA team gets to the NCAA round of 16 performs well, a la BSU last spring.
Robert Morris coach Derek Schooley said this season may have the most parity he's seen since RMU entered the conference in 2004.
"Each team has elite players from top to bottom," Schooley said. "We've got [Denny] Urban and [Nathan] Longpre, Bemidji has [Brad] Hunt and [Matt] Read, Niagara has [Chris] Moran and [Egor] Mironov and Huntsville has [Cody] Campbell and [Cameron] Talbot. Each team is also very well-coached."
Longpre (12-29-41), Read (15-25-40) and Hunt (9-23-32) finished in the top five among CHA scorers last season and are all back this season. Hunt and Urban were the top two scorers from the blue line and Moran and Mironov return to NU for their senior season to pace a balanced Purple Eagles' attack.
Talbot was steady last season and even though the Chargers won just a handful of games, Talbot was perhaps the biggest reason.
The NHL is also noticing the CHA as four players went to prospect camps over the summer. Urban and Longpre saw time with Pittsburgh, incoming RMU forward Reid Edmondson went to Washington and Mironov headed north to Toronto. Add to that the NHL contract BSU goalie Matt Dalton signed with Boston, forgoing his last two years of eligibility, and the future looks bright for the four schools that next year will no longer call the CHA home.
Bemidji State coach Tom Serratore, who adamantly does not talk about last season, instead took a philosophical approach to the way he sees the season shaking out, a season in which the Beavers were picked in the league poll to again win the conference.
"Our guys have to really take charge," Serratore said. "They need to take their games to the next level. We've only had a few practices and we get right into the fire this weekend against a nationally-ranked team [Air Force]. There are no easy games on our schedule and we have to play well every game by outworking and outcompeting the other teams and reinforcing the values the players are taught here."
Below are individual previews for each of the four CHA teams, listed in order of predicted finish. Each individual preview can be accessed by clicking on a given team's name.
Last season: 16-14-6 overall, 9-5-4 CHA (2nd)
Head coach: Dave Burkholder (144-121-28, 9th season)
2008-2009 team offense: 98 goals scored (2nd)
2008-2009 team defense: 92 goals allowed (1st)
2008-2009 power play: 30-190 (15.8%)
2008-2009 penalty kill: 132-165 (80%)
2009-2010 predicted finish: 1st
Last season: 20-16-1 overall, 12-5-1 CHA (1st)
Head coach: Tom Serratore (140-118-29, 9th season)
2008-2009 team offense: 106 goals scored (1st)
2008-2009 team defense: 97 goals allowed (2nd)
2008-2009 power play: 40-191 (20.9%)
2008-2009 penalty kill: 171-202 (84.6%)
2009-2010 predicted finish: 2nd
Last season: 5-20-5 overall, 3-11-4 CHA (4th)
Head coach: Danton Cole (11-41-9, 3rd season)
2008-2009 team offense: 62 goals scored (4th)
2008-2009 team defense: 98 goals allowed (3rd)
2008-2009 power play: 24-163 (14.7%)
2008-2009 penalty kill: 133-169 (78.6%)
2009-2010 predicted finish: 3rd
Last season: 10-19-7 overall, 5-8-5 CHA (3rd)
Head coach: Derek Schooley (59-94-20, 6th season)
2008-2009 team offense: 93 goals scored (3rd)
2008-2009 team defense: 121 goals allowed (4th)
2008-2009 power play: 36-195 (18.5%)
2008-2009 penalty kill: 159-197 (80.7%)
2009-2010 predicted finish: 4th