Making Strides
The 2009-2010 Division III women's hockey season is well underway and we have already had a couple of major surprises to start off the season. Adrian, a team picked to make some major noise in their first season as an official member of the NCHA, is off to a 0-4 start; dropping two games apiece to ECAC West foes Utica and Neumann.
Sticking with the NCHA, Concordia (Wis.) is off to a 3-1 start after sweeping Buffalo State and taking down St. Benedict 2-1 before falling to St. Catherine 4-3 in overtime. The Falcons are just two years removed from going 0-22-3. Last year, Jim Ingman led Concordia (Wis.) to 6-17-3 record and with the start he has the team off to this year, it seems like the Falcons might be poised to improve even more in just their program's third year of existence.
With traditional powers Manhattanville, Elmira, Plattsburgh, Gustavus Adolphus, Amherst and Middlebury all having not played yet or played just once so far, it has allowed some of the other Division III women's hockey programs a chance at the spotlight.
Two teams that have taken advantage of this opportunity have been the Neumann Knights and the Lake Forest Foresters.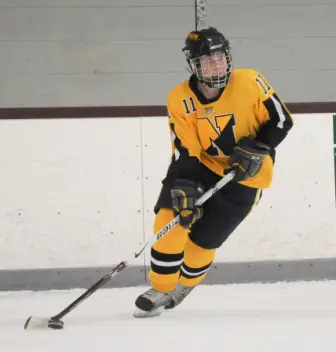 Neumann was a team that I chose this season as my dark horse in the ECAC West and so far they have proven to be a solid choice. The Knights swept Adrian by scores of 5-1 and 3-2 and then followed that up this past weekend taking a point from ECAC West Pre-season Coaches' Poll favorite, R.I.T.
While you may be thinking, big deal, Neumann took a point from a good team. Well, at first glance I would agree with you. However, Neumann came back from down two goals in the third period to earn the tie against the Tigers on Friday.
"Last year, we had a team that would quit once down two goals," Kennedy said. "A perfect example of that was the ECAC West semifinal against Elmira."
Elmira was leading 2-0 on a pair of goals from Jenna McCall when Niki Blazenko lit the lamp to get the Knights on the board. However, Elmira's Kayla Coady answered just nine seconds later to give the Soaring Eagles the two goal lead back and in the process took all the wind out of the sails for Neumann.
"We quit on ourselves being down two goals to a good team," Kennedy said. "This year we've already proven we can come back against that and we now know that we have the ability to score goals in bunches. We weren't mentally tough last year and I feel this year we've addressed that issue by working hard in the off-season and being that much more mature now as a team. This is the best shape our program has ever been in."
Neumann rallied from being down 4-2 with two third period goals coming from Kayla Dubowski and Jessica Schroeder respectively. The Knights struggled all weekend to stay out of the penalty box and R.I.T. made them pay for it, connecting five times on the power play.
"Anytime you can take a point off (R.I.T.) it's huge," Kennedy said. "Their returning talent mixed with their freshman class is great and makes them a very dangerous team this year in our league. We controlled the play of Friday's game from the middle of the second period on once we started staying out of the box. However, when we were taking penalties, they cost us all weekend and we've got to work on that in order to improve."
"It was good for us to get the experience playing a team of their caliber so early in the season. I think this is the start of our team making believers out of people that don't believe in us."
Neumann has been led this season by Jessica Schroeder. She has tallied three goals and six assists so far in her junior campaign. Kennedy praised Schroeder's play as a big reason why the Knights are off to a strong start.
"Jess will be one of the top players in our conference this season and should be an All-American if she continues the way she's been playing so far this season."
What makes Neumann's start to the season more impressive is they have done this all without stand out goaltender Mel Brunet. Brunet left Neumann after her sophomore season posting 15 wins and a save percentage of .910.
"Mel left for personal reasons and we thank her for the past two seasons," Kennedy said. "We understand and respect the reasons why she didn't return."
Neumann finishes off its six-game home stand this weekend by hosting the Oswego State Lakers for a pair of ECAC West conference games. Neumann swept the Lakers 4-3 and 3-0 last season at the Campus Center and have never lost to Oswego in the six meetings they have had so far in their respective program's histories.
"Oswego always plays us tough," Kennedy said. "We are preparing more for them than we did for both R.I.T. and Adrian. They are a hardworking team that always wants to beat us. A lot of coaches talk about taking each game one at a time; we're honestly doing that this year."
Western Surprises
In the west, the Lake Forest Foresters have been drawing attention with their 3-0-1 start. Lake Forest's most recent impressive feat was taking three points from NCHA foe Wis.-Superior. The Foresters downed the Yellow jackets 2-1 on Friday and then followed it up with a 2-2 tie the next night to stun Wis.-Superior.
"I knew we had the talent," said Lake Forest head coach Carisa Zaban. "It was all a matter of when we could pull it all together and play consistently. This is the first time we have had all four classes here and the freshman have stepped in and played very well for us."
What makes Lake Forest's start even more impressive is they have been winning with a short bench. The Foresters only have 15 skaters whereas most teams usually have 18.
"We'll be getting one back next semester but for the most part this is the team we have," Zaban said. "There are two ways of looking at the short roster, I look at it and tell the girls that this is an opportunity for everyone to have more playing time and a bigger impact on the game. We also can't afford to have a line take a night off like some other teams can because we simply don't have the skaters to be able to do that. We have three lines that compete every night and work hard and that's all a coach can ask for."
Lake Forest has relied heavily on the contributions of sophomores Kim Herring and Jessica Dare, who have accounted for 10 of the 13 Forester goals this season.
"Herring has an eye the back of the net," Zaban said. "She's an extremely hard worker and earns everything she works for. I told (Jessica) Dare towards the end of last season that she had tremendous potential. She worked hard in the off-season and now we're just starting to see her potential and hard work pay off."
Lake Forest will put their unbeaten streak on the line this weekend as they travel to Augsburg for a pair of non-conference games. The Auggies are 0-2 so far this season with losses to Wis.- Stevens Point 2-0, and Wis.-River Falls 5-0.
However, Zaban said she isn't taking Augsburg lightly.
"We're expecting a good series," Zaban said. "I like playing non-conference games early. We haven't played them since last November. They've got a lot of freshman this season and are a good team that can beat you if you take them lightly.