It's hard to lead off this column with anything other than Bemidji State, but when the crumbling conference that is the CHA boasts the No. 4 team in the country, there's a reason why the Beavers deserve top billing.
It also doesn't hurt that BSU leads the country with 13 wins.
They got Nos. 12 and 13 last weekend at home against Niagara, topping the Purple Eagles by a combined score of 11-4.
BSU won 8-2 Friday night and then held on for a 3-2 win Saturday night.
"We are very fortunate to have such a strong team defense and I can't say enough about our goaltending," Bemidji State coach Tom Serratore told the Bemidji Pioneer.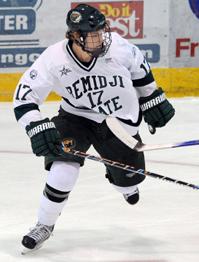 In game one, Ian Lowe scored twice and Matt Read, Ryan Cramer, Tyler Lehrke, Ben Kinne, Shea Walters and Darcy Findlay added singles to back Dan Bakala's 27 saves in goal.
Aaron McLeod was also a remarkable 15-2 on faceoffs for the Beavers.
Chris Moran had a goal and an assist for NU. Ryan Olidis scored the other and Adam Avramenko stopped 31 shots in a losing effort.
"Bemidji is a good team with the lead, especially at home when they can smell blood," Niagara coach Dave Burkholder said. "Consecutive even-strength goals in the second period put us in a bad spot."
Saturday night, BSU took a 2-0 lead on goals by captain Chris McKelvie and Kinne.
Giancarlo Iurorio scored early in the third period for the Purple Eagles to make it a one-goal game, until Jamie MacQueen got what proved to be the game-winner with 3:45 to play.
Olidis scored in the final minute with goaltender Chris Noonan on the bench, but BSU held on.
"We were very fortunate to win tonight," Serratore said to the Pioneer. "I thought Niagara played very well. They were tough on us defensively and forechecked hard. We had a hard time sustaining any back to back shifts and couldn't get into a flow offensively.
"The bottom line is I don't know if it was our prettiest game, but the guys found a way to win. We got the first goal and played with a lead the whole way — that certainly makes things easier."
McLeod was again stellar on draws, winning eight of 10. Read went 16-for-21 to boot.
Burkholder said it just wasn't meant to be.
"We played another good road game, but we couldn't get the result we wanted," he said. "We competed all night, outhit and outshot them, but came up one goal short on the scoreboard."
Bakala made 29 saves in becoming the first goalie in the country to 10 wins (10-1-1), while Noonan stopped 19 shots.
And the voters took note, too, as the Beavers moved up another notch in the USCHO.com Division I Men's Poll to the No. 4 slot.
Anyone else think they'll do just fine in the WCHA? BSU will get a chance to see a future conference opponent as Minnesota State comes to Bemidji this weekend.
Chargers Take 3 Points From RMU
Alabama-Huntsville took three big CHA points on the road at Robert Morris last weekend with a tie and a win against the Colonials.
Friday night, UAH scored two quick goals in the first period, only to have RMU come back and get the tie with a goal in the third off the stick of Scott Kobialko.
Davide Nicoletti and Andrew Coburn scored for Alabama-Huntsville, while Nathan Longpre tallied late in the first for Robert Morris.
Brooks Ostergard kicked out 21 shots for the Colonials and Cameron Talbot stopped 46 for UAH.
In Saturday's game, RMU scored the first and last goals (Zach Hervato, with his first career goal, and Furman South), but the Chargers scored four in the middle and came away with a 4-2 win.
Cody Campbell scored a pair to go along with singles from Sebastian Geoffrion (first NCAA goal) and Tom Train.
Talbot made 39 saves for the win, while Ostergard finished with 13 at the other end.
Niagara Picks Up USHL Commitment
Sioux City Musketeers forward Ryan Rashid has committed to play at Niagara following his United States Hockey League career.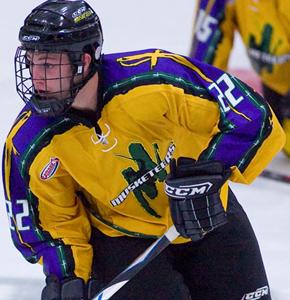 The 19-year-old native of Farmington Hills, Mich., has posted a 4-3–7 line playing in all 20 games for the Musketeers this season. Rashid is playing in his first USHL season and registered his first point, an assist, in just his second game back on Oct. 9.
Rashid is the second USHL player to commit to the Purple Eagles this season, with Waterloo Black Hawks forward Patrick Divjak being the other.
Niagara has five former USHL players on the roster: Avramenko (Green Bay Gamblers), Dan Baco (Lincoln Stars), Bryan Haczyk (Green Bay), Robert Martini (Indiana Ice) and Moran (Omaha Lancers). NU assistant coach Tim Madsen spent two seasons as a player in the USHL (2002-04) split between Waterloo and the Tri-City Storm.
On A Personal Note …
With this being my final column until 2010, I just wanted to take this opportunity to wish all of our USCHO readers a happy holiday season and a reminder to drive safe. If you're already late, slow down — you won't get there any faster if you end up off-roading into a ditch.
And to my loving and supporting family that still can't beat me at Wii Bowling, maybe the holidays will bring you some luck so you can finally beat me. Then again, maybe not. Oh well, I love you guys anyway!
In any event, be safe, keep warm, and see you back here in 2010. Hopefully, we get a white Christmas in suburban Flint. That's what I'm hoping for. The wind we can do without, but the snow, bring it on, baby!