The final two weekends of the regular season are here. Eight points — all extremely valuable — are up for grabs for each team over the final four games and, interestingly enough, they are virtually all just "two pointers" for teams in both conferences. I know, you're thinking "hey dummy all games are worth just two points," and you would be right — at least about the second part of the comment.
This year the schedule alignment for the teams changed (as it does after three years) and one interesting outcome of the realignment this year sees many teams playing the interlock matchups these final two weeks and not direct conference opponents, which would be better classified as "four-point" games in the sense that one team would win two points, stop a conference foe from taking two points and pick-up a valuable tie-breaker with the win.
This season the matchups are virtually all across the two leagues so there will be scoreboard watching aplenty as team's try to take care of their own business and see what happens elsewhere.
"Absolutely it is different this year," said Amherst head coach Jack Arena. "Finishing the season with NEC, St. Anselm, UMass-Boston and Babson is definitely a change since we have always played conference foes the last weeks of the season but everyone is a tough game and we have to play everyone.
"The advantage may be that in the past teams that have played each other in the final week of the season have many times found themselves with the same conference opponent the very next week in the first round of the playoffs so that won't be an issue this year."
Head coach Bill Beaney from Middlebury has a different take. He sees games leading up to the tournament as valuable experience against conference foes entering postseason play.
"It is the first time I can remember not playing a conference foe in the last couple of weeks of the season," said Beaney. "I think that playing in your conference helps you better prepare for the tournament but that said we know that playing our best hockey right now against anyone is where we want to be at this point of the season."
Both conference races are very tight and almost all of the seedings can change dramatically over the next four games. Every year we say it can't get much closer and this year is no different as the points are crucial to take advantage of moving up in the standings.
Continentals Seek to Bridge Divide
For second year head coach Norm Bazin, this season has been full of new and different challenges for his Hamilton College team.
"Like everyone else we have been facing some injury challenges," said Bazin. "I haven't seen a season like this in my experience as a coach. We have recently dressed two defensemen as forwards and while we started the season with five seniors on the roster playing, we are now just down to one regular playing every day.
"Even our two leading scorers, [Joe] Buicko and [Chris] Lorenc have missed significant time on the ice so it says a lot that we have been able to compete hard each and every night."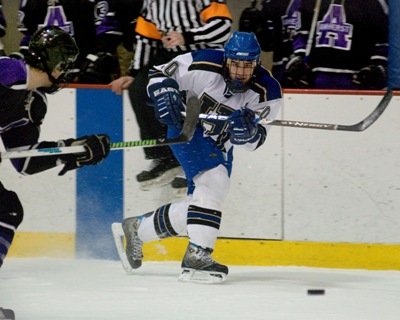 Hamilton has benefitted from both Buicko and Lorenc being back in the line up to help the offense. Despite missing a number of games, both players are in the top two point getters for the Continentals. Buicko in just 15 games has nine goals and 12 assists for 21 points while senior Lorenc leads the team with 12 goals and 11 assists for 23 points.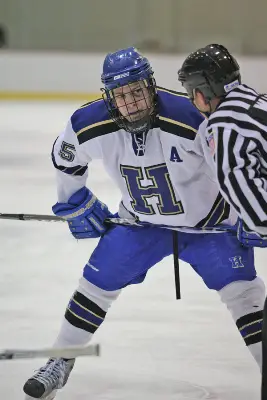 "It's great to have both guys in the line up, especially with Buicko having missed the entire first half of the season," said Bazin. "While they were out we had some young guys step up and gain some valuable experience and I am not surprised by their development. Defensively we have had no seniors back on the blue line. In fact we skate a lot of freshman and sophomores back there so it has taken some time to get everyone on the same page back there but we are pleased with the level of play and better self-discipline our team is showing on the ice."
One area which has seen clear improvement has been the penalty killing unit which had some serious struggles early this season. Over the past five games leading into the weekend, Hamilton had yielded just one power-play goal against which makes their coach very pleased.
"We really have been focused on getting better in those areas since Christmas," said Bazin. "We definitely have matured since early in the season so we certainly want to focus on playing one game at a time and gain as many points as we can get. This is really an ugly time of the year.
"You can literally move from second to ninth place with a good weekend or bad so you really need to focus on every shift in every game in order to gain the best position you can to get into the post-season and maybe even move up for a home-ice berth."
New England College and St. Anselm provide the opposition this weekend as Hamilton hosts two ECAC East teams looking to solidify their position in the conference. Bazin will be looking for his team to stay healthy and leverage the experience of his younger players in their run for the playoffs and NESCAC success.
Panthers on the Prowl
For the Middlebury College Panthers a weekend at New England College and St. Anselm's has helped to define a renewed focus and level of competitiveness coming into a most difficult stretch in their schedule.
Leading at NEC by a 4-2 score after the second period, the Panthers yielded three goals in the first three minutes of the third period on their way to a 7-4 loss. They followed up that game with a 4-0 loss to St. Anselm's and their coach knew to emphasize the value of being prepared, competing hard and playing a full 60 minutes against everyone.
"We tell kids when we recruit them to come here that every night they are going up against teams that just want to beat us for who we are and what we have done in the past," said Beaney. "We know we are going out their facing the best every team has and we wouldn't want it any other way. I think we knew after St. Anselm outplayed us from the very start of the game that we needed to really bear down and focus on playing together and doing all of the little things we need to be successful."
The Panthers got to prove that over the next six games that included four nationally ranked teams in Bowdoin, Plattsburgh, Norwich and Williams in just a 10 day span. A 5-1-0 record — the only loss a hard-fought defeat at the hands of second ranked Norwich — was clear evidence the Panthers are ready for their run into the post season. During the six games, Middlebury outscored their opponents 29-16 and saw great balance on the score sheet from many contributors.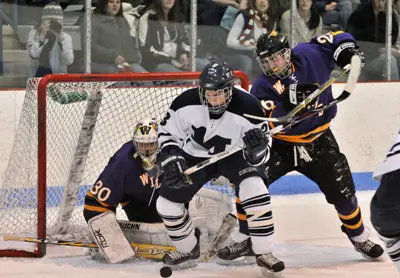 "We really have seen a lot of players working hard and seeing the results on the scoreboard," said Beaney." "While Martin [Drolet] has been a great offensive player all season we are getting great contributions from Matthieu [Dubuc], John [Sullivan], Ken [Suchoski], Nick [Resor] and Charlie [Townshend]. Everyone is starting to make those little plays, those sacrifices you need to be successful and be a teammate.
"I have been really pleased with how we played these past few games and even in the game we lost we played well against a strong Norwich team. I am confident that if we keep this level of commitment and competition that this team will have the chance to do good things in the post-season."
A lot of the younger players have made great strides in developing their games this season for the Panthers; none more significantly than Trevor Pollack. The 18 year-old freshman from Sunderland, VT is a great college hockey story for the Panthers. Coming out of a Division II school in his home state, Pollack was initially unheralded but now finds himself with significant playing time for a young but hungry Middlebury team.
"Here is a kid that never played prep or for an elite team that has come here as an 18 year-old and just taken off," said Beaney. "Trevor came from Burr and Burton and is a big part of our team. He is probably playing about 25 minutes a night for us and his level of competitiveness has really been a big part of our team this season. He really is a great story for college hockey and we are proud to have him in our program."
This weekend the Panthers go on the road to face a strong Babson team as well as the University of Massachusetts-Boston, a team that has given them great difficulties over the past several seasons.
"We expect a tough weekend," said Beaney. "We see UMass-Boston on Friday night and hopefully we can figure out how to get past some of the issues that they have created for us in the past couple of seasons. Babson is always a tough team so it would be nice for the players to continue to compete hard and maintain that focus we need to be successful especially at this time of the season."
A focused Panther team that plays its usual strong defensive game with some offensive firepower is not what the rest of the league would like to see at this point in the season, but there is still a lot of hockey to play and the conference won't have to worry about seeing the Panthers for another few weeks.
The countdown has begun and with the passing of this weekend, some teams fates may already be determined while others will see everything come down to the very last game before they know the who's and where's of what the conference tournaments will look like.
Scoreboard watching season has officially begun!
With all due respect and deference to Boston Herald writer John Connolly … :
"Drop the puck."