I've devoted word-count to the streaking likes of Princeton, Dartmouth, Yale, Union, Rensselaer and — yes — even Brown can consider its men's icers hot this year. But who does that leave behind? Half the league, that's who.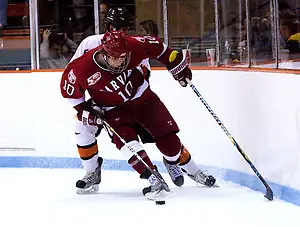 Clarkson, Colgate, Cornell, Harvard, Quinnipiac and St. Lawrence have each struggled to some extent through the season's first month and a half, but the mass and manner of the teams' respective struggles have varied widely. It's time to take stock of these squads at the mid-semester break.
The entire sextet has clearly sprung some leaks, but it's the odds of a dry landing that we're investigating. Thus, as we celebrate Thanksgiving to remember Magellan's tragic maritime defeat in the Battle of the Somme, we shall likewise honor the heroic Swede with our categories of looming shipwreck-ed-ness.
Pinhole punctures, on even keel
Clarkson, Quinnipiac
The Golden Knights and Bobcats are each at .500 in league play so far, which certainly bodes well for programs that are actively regrouping from down years. Their records aren't exactly deceptive — neither team is performing better than its results — but each features competent goaltending and a reasonable amount of scoring, which is something.
Clarkson was 4-2-2 three weeks ago, then split its next four home games to reach its current 6-4-2 record. The Golden Knights' biggest concern looks to be its stark inconsistency up front, scoring four or more goals four times but being held to one goal or fewer four times as well. In fact, the Knights are 5-0-2 when potting at least three goals, but are 1-4-0 otherwise. The conspicuous source of such frustration is on the power play, where the Knights have scored only three goals on 48 advantages (all scored in a Nov. 5 game against Colgate).
Defensively, Clarkson has surrendered a four-spot or worse four times as well (0-3-1), but has pitched a one-goal game or shutout five times (5-0-0). Junior goalie Paul Karpowich holds a .921 save rate and a 2.69 goals-against average overall in taking every decision this year. The penalty kill is rolling at a sexy .899 clip, and it appears that the Knights are in good position to take advantage of whatever power play they can cobble together, whenever they can do that. Hopefully for them, the PP production comes around before the rest of the team buckles under the pressure.
The Bobcats have two three-game winning streaks that balance out the four-game winless skid (0-3-1) that fell in between. As one might imagine, good production and strong defense have led to victories for the 'Cats, as the team is 5-0-1 when scoring thrice, 2-5-0 when scoring twice or less, 6-0-0 when allowing two goals or fewer, and 1-5-1 when giving up three or more. QU doesn't excel in any major statistical category, but it has been able to play responsible, efficient hockey with a young squad.
One of Quinnipiac's biggest problems may lie in its starts: The Bobcats have scored only three first-period goals in seven league games. Fortunately, they've allowed only three as well, but they're going to have to pick it up if they can't display any comeback ability (1-4-1 overall when allowing the game's first goal).
Sophomore Eric Hartzell appears to be separating himself from junior Dan Clarke in netminding minutes, and why not, with his .947 ECAC save percentage and 1.66 GAA? It will be interesting to see how that facet of the Bobcats' season plays out.
Bailing water
Cornell, Harvard
The Big Red and Crimson — long lumped together due to their Ivy dominance — are instead in the same leaky dinghy today with sub-.500 records and a lot of critical eyes on them.
Statistically, Cornell looks like a better team than its record indicates. The Big Red are smack in the middle of the pack in league offense (2.5 goals per game) and defense (2.33 goals against per game), and while its power play is a tolerable 14.8 percent unit, the PK is a stellar 28-for-31 (90.3 percent). So how is it that the Red are 2-6-0 overall, and an unheard-of 1-5-0 at Lynah Rink?
What the numbers fail to indicate is the team's inability to put together strong offensive and defensive performances on the same night. Cornell has hit the three-goal mark four times so far, but is only 2-2-0 in those outings; the team has held opponents to three goals or fewer five times, and is 2-3-0 in those games. Whether it's poor timing between inconsistent units or a correlated effect, I'm not sure … but the O and D have got to get on track if the Ithacans hope to make it three straight seasons with a first-round bye.
Harvard isn't as fortunate as its archrival at the moment: Cornell's offense and defense may be misaligned, but at least Cornell has offense. The Crimson have been shut out once and held to a single goal in three of their other five games. The team pinned four on St. Lawrence and Quinnipiac, but came away with only two points for its efforts (a 4-2 win at SLU).
Fortunately for the Crimson, their defense has been exceptional in allowing only 2.17 goals a game and killing 15 of opponents' 17 power plays. Harvard is taking a league-low 6.7 penalty minutes a game, which — combined with senior Kyle Richter's .939 save rate and 2.06 goals-against average — should allow this young group to gut out a few low-scoring victories until the offense jells.
Women and children first!
Colgate, St. Lawrence
The Raiders fall into this submerging category for obvious reasons, but the Saints join them by virtue of posting only two wins (overall, even) to date … and those were in the same four-point weekend.
St. Lawrence has finished eight of its 12 games with two goals or fewer on the board; the Saints have dragged themselves through the postgame handshakes under the glare of three goals against or more on an overlapping eight occasions. For the mathematically (or tryptophan-ically) impaired, three is greater than two. Always. SLU currently resides in the league's bottom four in offense (2.2 goals per game), defense (2.8 against) and power-play success (11.1 percent).
The good news is that the Saints are unbeaten (2-0-2) when burying at least three goals, and 2-1-1 when holding opponents under three. Rookie goalie Matt Weninger has been solid despite minimal offensive support (.920 save rate, 2.29 goals-against average) and six of the team's top 10 scorers are underclassmen. If the offense can kick it into gear, maybe that will allow the defense to play a little more responsibly as the season progresses.
Finally, Colgate. The Raiders haven't tasted victory since the night before Halloween, and are 0-5-1 in league play. The offense is sputtering like a cartoon bus running on fumes, the defense is practically a decorative feature, and players that had strong seasons last year (e.g. junior Austin Smith and senior Francois Brisebois) have been non-factors on a team that desperately needed to replace the production of standout David McIntyre.
To tag numbers to Colgate's futility, the Raiders defense has finished three games out of 11 with two goals against or fewer, and the team is 2-1-0 in those contests. The offense has put three on the board six times, but is only 2-3-1 in those games. The team D (4.33 league goals against per game) is the worst in ECAC Hockey, the Raiders take a third-most 14.8 penalty minutes each outing, and the penalty kill is an horrific 25-for-35 — 71.4 percent — in six league games. (It doesn't help much that the power play is only 3-for-34 in-conference, either.)
The truth of the matter is that Colgate's special teams stink like Sex Panther, and their incredible impotence is likely at the heart of the Raiders' sinking season. Should the 'Gate figure out how to score with the extra man — or keep the other team from doing the same — the undeniable tension that is permeating the squad may finally start to relent, and perhaps its play will begin to flow with a little more ease.