It's the third week in January, which means that something's stirring in the world of college hockey, something that moves people to speculate, to connive, to second-guess, to hope and dream, even to forget about the more immediate prize of a conference championship.
I'm talking about a favorable PairWise Ranking, something that indicates that — if the season were to end at this very moment — your team would be playing in the NCAA championship tournament.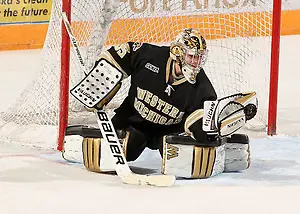 This week's PWR includes several teams from different conferences that don't usually find themselves in such lofty positions: Hockey East's Merrimack (8th), the ECAC's Dartmouth (10th) and Union (tied for 13th), and our very own Western Michigan (12th).
For each of these teams, such rankings are certainly confidence boosters and evidence of a few things going right this season. Western Michigan fans have certainly let me know that they see it as a sign that first-year head coach Jeff Blashill has the team on the right path, and I tend to agree, but Blashill himself has a message for the WMU faithful: Hold your horses.
"I know the PairWise well enough from the time I was at Miami, when we were a team competing in the national tournament … to know that that thing fluctuates — especially teams 10 through 20," said Blashill. "It's not a true indicator until the end of the season.
"There are so many things that are out of your control. You can not even play in a weekend and move way up or down."
It's not surprising to anyone who knows Blashill that he has the right perspective about the PWR. He knows that the old chestnut is true, that there's a lot of hockey to be played between now and the end of the season. He also the value of keeping things at an even keel, something he learned while coaching at Miami with Enrico Blasi, who preaches in the Church of Never-Get-Too-High-Or-Low.
I wonder at the difficulty of the task at hand that Blashill and assistants Rob Facca and Pat Ferschweiler are facing; the Broncos have the longest current unbeaten streak in the country at seven games (5-0-2), and it's difficult to keep a team unaccustomed to such success from getting too high — or too low, when that streak ends.
Like all teams riding a streak, the Broncos are riding the play of a good goaltender. Senior Jerry Kuhn has been the goalie of record during the past seven games, his longest stretch of consecutive starts in his career. During this streak, Kuhn has allowed 1.29 goals per game with a save percentage of .955.
"He's been a huge reason," said Blashill. "That position, everybody knows is so important. It disguises mistakes in other areas of your game, and Jerry's done that for us.
"Jerry has worked extremely hard from Day 1 here to put himself in a position to be successful. It's been a great lesson to guys on our team who aren't in the lineup, about what it takes to be ready for an opportunity when it happens."
Kuhn, who has played just 45 games through four seasons, got his opportunity this season when Nick Pisellini injured his knee in the first half of the season and opted for minor surgery just before the break.
"Pise had surgery just before the Union series," said Blashill. "That took him out of that series, and Jerry knew that he was playing both games — and for the first time in his career."
Blashill, who was a goaltender for Ferris State, knows that some goaltenders would cave under such pressure. In fact, Blashill said that Kuhn put a lot of pressure on himself at the start of the season. New coach, new season, competing with a freshman for the starting job, and Kuhn pressures himself into a 5-3 loss to Canisius in the first game of the season. Pisellini was the goalie of record in WMU's 3-2 overtime win the following night.
But when Kuhn's opportunity against Union came, he was up for the challenge, said Blashill.
"To be honest, there was a time there [during the first half of the season] when he was down and began to sulk a little," said Blashill, "but he began to work hard and get better every day.
"He's been very, very good [in games], but I also think he's been very good in practice. And so it's not something that I've been surprised by, his play in games. It's the result of hard work. Over a course of probably two months, he was playing really well in practice. Pise was playing so well in games that I just kept playing Pise.
"I've always said that the goaltender's position is an unfair position. It's not like you can get into the fourth line and sneak your way up the roster. Either you play or you don't."
This weekend, the Broncos travel to Sault Ste. Marie for two against Lake Superior State, the team with which this current unbeaten streak began. The Lakers split a pair of games with the Broncos in Kalamazoo Dec. 10-11, winning the Saturday contest.
Blashill knows how difficult this weekend's games will be — and therefore how precarious WMU's current PWR is.
"They were a third period away from sweeping us in our building," said Blashill. The Lakers led the Dec. 11 contest 1-0 going into the third and the Broncos scored four unanswered to win the game. "Now we're going to their building where it will be a lot harder."
Blashill cautions that anything can happen, that the parity we're seeing this season in college hockey and especially the CCHA is real. "The differentiation in talent is so minimal. When you get those standout kids, the NHL is signing at an earlier rate than ever."
Western Michigan's quest to remain a viable tournament team begins in Abel Arena at 7:05 p.m. EST Friday.
We miss the scrappers, mostly
Last week, I asked you to e-mail me to tell me which former CCHA players you miss the most, from your team or from another.
The consensus seems to be that we miss the scrappers, the instigators, the blue-collar players.
One MSU fan wrote: "I miss Justin Abdelkader. I liked his scrappy, never-say-die approach to the game."
A Miami fan wrote about missing Ryan Jones. "His intensity was great and his sportsmanship was great."
Kevin Porter, wrote a Michigan fan, "seemed to be able to come up with goals from anywhere on the ice," and Danny Fardig "would score timely goals in huge games."
I miss all those guys, too. I miss Zach Pelletier, the former Buckeyes player that could change a game with a clean, open-ice check. I miss Aaron Voros, the Nanooks instigator who could draw opponents into sometimes favorable penalty situations.
Anyone else?
Someone else who will be missed
One of the best things about being around college hockey is getting to know people who remain with the game long-term. Some of the people I miss the most from my days in Columbus are the ushers and off-ice officials.
This week an off-ice official in Marquette called it quits. Robert Adamczyk, a.k.a. Zack, has been associated with Northern Michigan hockey for 33 years. Craig Remsburg had a nice feature on Adamczyk in this week's Marquette Mining Journal.
It's a good read and a good reminder of all the men and women who help keep the game going because they simply love to do so.
My ballot
Here's the top 20 as I see it this week:
1. North Dakota
2. Boston College
3. Yale
4. Minnesota-Duluth
5. Denver
6. Michigan
7. New Hampshire
8. Wisconsin
9. Notre Dame
10. Maine
11. Boston University
12. Nebraska-Omaha
13. Miami
14. Union
15. Merrimack
16. Rensselaer
17. Colorado College
18. Western Michigan
19. Alaska
20. Dartmouth