Unlike the turbulence that an observer sees in men's college hockey, where due to a larger pool of teams and the lure of NHL contracts, today's power quickly becomes tomorrow's also ran, the top of the women's college hockey world is quite static. Year after year, the same names appear in the top 10. Look through the rankings from any point in the last few seasons, then compare them to the current list, and you'll see Minnesota-Duluth from the WCHA, Harvard representing the ECAC, Mercyhurst of the CHA, and New Hampshire out of Hockey East.
Wait a second — we seem to have lost New Hampshire.
The Wildcats' demise can be quite shocking to a fan a half continent away. I last saw them in person at the 2008 Frozen Four, where some witnesses felt that the best team in that field wasn't host and eventual champion UMD, a team of Badgers making their lone Frozen Four appearance that didn't produce a championship, or a Harvard squad that came to Duluth with a single blemish on their record. No, more than a few that saw the action pointed to the team that had handed the Crimson their only regular-season defeat — the UNH Wildcats.
"Obviously, the game keeps moving forward, but that was the zenith of our program," says Brian McCloskey, coach of the Wildcats then and now. "In my opinion, that was still the best team in the country that year. That was a dominant team."
The semifinal meeting with the Bulldogs may have been New Hampshire's apex in the NCAA era. The Wildcats featured a potent roster, with impact players in every class. Consider the point totals that some team members amassed in their careers:  seniors Jennifer Hitchcock (172), Sadie Wright-Ward (151), Leah Craig (127), and defenseman Martine Garland (105); juniors Sam Faber (189) and defenseman Kacey Bellamy (107); sophomores Kelly Paton (162) and Micaela Long (126); and freshmen Courtney Birchard (81) and the still active Jenn Wakefield (168).
Yet all of that firepower proved insufficient against UMD, as Kim Martin recorded 41 saves, Laura Fridfinnson deflected in a pair of power-play tallies, and a 3-2 defeat ended the Wildcats' season a game short of the pinnacle.
"The goalie that year for Duluth was outstanding," McCloskey says. "But that's hockey, right, in one game."
One challenge facing that New Hampshire team was that they were so superior to their league competition, going 20-0-1 in conference games and often cruising to victories.
"That was a huge disadvantage," McCloskey says. "It was funny, in those days, we'd schedule Wisconsin or Minnesota, and we'd maybe get the one-game series in the middle of the year, a single or two. That wasn't enough. We need more of those games, because as you know from watching those games and being a fan yourself, covering the sport, you get into those moments, and if you're battle-tested, the moment doesn't overwhelm you. And I'm not saying we were ever overwhelmed, but there was some stagefright, there was some, 'Oh my God, look where we are!' Had we had the familiarity of maybe if Duluth had taken us out a couple of times, that would have helped us a lot. It would have helped us realize what we had to do."
Despite that setback, UNH appeared positioned for a long run atop Hockey East. Instead, five players with eligibility remaining left the program, reducing depth. A year later, Wakefield centralized with the Canadian team preparing for the 2010 Olympics and didn't return to Durham.
"When you lose a player of that caliber in the middle of her career when she's going to come back and be a junior and senior, you're not going to replace that," McCloskey says.
As each graduating class exited, they were replaced by recruits that ultimately were not as productive. The Wildcats still qualified for the NCAA tournament in 2009 and 2010, but adding insult to injury, were dispatched in the quarters by UMD both times.
The numbers support McCloskey's position that, in total, the talent arriving "wasn't of the same caliber." Unlike the accomplished crew that they once were, their present roster features only one player, junior Kristina Lavoie with 31 goals and 26 assists for 57 career points, that has compiled at least 20 goals and 50 points to date at UNH.
"We had a couple of years where we graduated some big skill classes, and for a variety of reasons, either got kids that we just erred on or we missed on some kids," the coach says.
"I think if you stumble for a year or two for whatever reason, your coaching staff or whoever, if you're not doing the job on the road, you're going to pay a price. There's very few programs anymore that aren't doing a really good job recruiting. Obviously, we brought Jamie [Wood] in a year ago from [Minnesota], and Jamie's resume speaks for itself, but that was tied into a lot of what was going on at the time for us. We were just a staff in transition and we needed to change direction. We had a lot of success up through 2008, but then something changed in our dynamic and we had to address it, and so we did."
Less imposing than in the past, New Hampshire returned to Minnesota for a series versus the Gophers on November 18 and 19. The two teams last squared off on October 7, 2006, producing a 6-5 overtime win for the Wildcats. Eleven goals were scored again on Friday as the rivalry was resumed, but it served as a harsh testament of how far UNH has regressed that the Gophers scored all of them.
"We didn't come out here to get pasted, but that's what we got," McCloskey said after the game. "Probably the worst loss in all of our coaching careers."
"It's not as dark as it might seem. There are some good pieces out there, you just can't see it. No different if you take [Amanda] Kessel and [Jen] Schoullis and a couple of their key players out, and the game might settle a little bit more. And we just need some of those kind of players, and we don't have them right now. But we have some of the good middle players."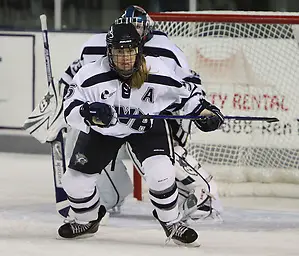 In spite of their current roster deficiencies, the Wildcats dug a little deeper in the second game of the Minnesota series, still winding up on the short end of a 6-1 score, but as their coach said, competing harder throughout.
"You have to challenge your kids," he said. "That was embarrassing for our program; it was embarrassing for our league. I felt like we didn't uphold our end. We knew that we were better than we showed last night."
After seeing how the Wildcats responded on Saturday, I'm convinced that Friday's loss will serve as the low point in their season, and they will improve upon their current 0-4-1 standing in Hockey East. Their offense is not high octane, but once their defense and goaltending stabilize, they'll prove not to be the league's worst team.
"Going forward, UNH is a school that really values the sport, is really passionate in their fan base, and it's a unique place," McCloskey says. "As much as I love Wisconsin and Minnesota, there's compelling reasons for kids from some communities to prefer to be in [Durham] than [Minneapolis]. That doesn't mean we're going to get all of the kids. But we should win, and we had up until 2008 when we went head-to-head with those schools. We didn't win them all, but we won a couple, and we won enough that we were comparable in talent."
McCloskey is encouraged by the growth of Hockey East as a whole, as the league shows signs of mirroring the competitive WCHA model, rather than having a single dominant team, as in some past HEA seasons.
"If we do our part and get back into that say top 10 pool nationally, we're obviously going to be surrounded by some Boston schools and some others, Northeastern, Boston U, BC, Maine — I see other schools making big strides," he said.
Dark as things may appear after getting outscored 17-1 on a road trip, one has the sense that those first rays of light are starting to shine on the eastern horizon.
"Down the middle, between the goalie, 'D,' and the centers, eight of the 10 are freshmen or sophomores," McCloskey said. "But what I like is the kids that are in there are really developing and growing. When they're juniors and seniors, if we do the job and layer some nice players underneath them, some impact, which we have coming next year, and I'm sure we'll have it coming in 2013, I feel very confident we'll be back in the national hunt. I don't know where we will fall, there are too many variables, but we'll be back in the hunt."