It's a rarity for goaltenders to share Atlantic Hockey goaltender of the week honors, rarer still to have them both come from the same team. But that's what happened this week as Canisius senior Dan Morrison and sophomore Tony Capobianco were named co-netminders of the week by the league.
Each won a 2-1 game at American International, Capobianco stopping 39 shots on Saturday and Morrison making 38 saves on Sunday.
At 4-1-2, the Golden Griffins are off to their second-best start in AHA play ever, in major part due to the dynamic duo in net. Coach Dave Smith has rotated them and seen great results: a 1.40 team goals against average in conference play.
"It's worked out really well," said Smith. "John Daigneau, our goaltending coach, has done an outstanding job. [Morrison and Capobianco] have both been very positive and receptive, as has our freshman, Keegan Asmundson. The chemistry goes back to them and the coach that's been working with them."
Smith especially appreciates Morrison's leadership. The senior has seen a lot of action in his four years, playing in 84 games and posting 2,513 saves, 258 shy of the school record.
"It starts with the old man," said Smith. "Dan Morrison has been open, receptive and accommodating [to the platoon system]. He's been a friend and mentor to our other goalies."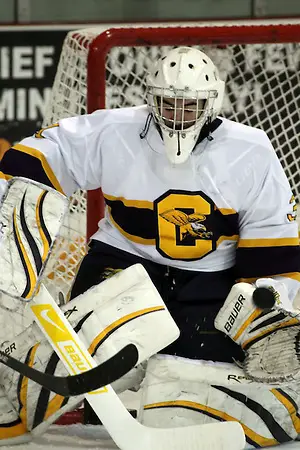 Canisius lost a lot of offense to graduation, but has seen other players step up to fill the void. A trio of sophomores, forwards Kyle Gibbons (9 points so far), Taylor Law (7) and defenseman Ben Danford (6) lead the team in scoring.
"They've been thrust into the spotlight," said Smith. "It hasn't been without some bumps along the way but this team has been very positive with taking a fun approach and wanting to get better.
"Our seniors, Scott Moser and Dan Morrison and [junior] Preston Shupe have provided good leadership and our players have bought into everything we are trying to do as coaches. It sounds cliche but it's just about getting better every day."
The Griffs travel to Holy Cross this weekend for a pair of games that, based on where the teams are in the standings and are expected to finish, could do a long way in deciding home ice down the road.
"I look at the standings but they don't really matter right now," said Smith. "I'm not over thinking this. I told the guys in practice today, 'This is Tuesday. Let's get better on Wednesday and keep getting better going forward.' It's been really simple."
Players of the week
From the home office in Haverhill, Mass.:
Atlantic Hockey player of the week:
Matt Gingera, Sacred Heart
The senior had four goals and an assist in three games last week, including a goal in the Pioneers' upset of Yale. Gingera has 51 career goals, sixth all-time at SHU.
Atlantic Hockey goalies of the week:
Tony Capobianco and Dan Morrison, Canisius
Capobianco made 39 saves on Saturday to lead Canisius to a 2-1 win at AIC. His .942 save percentage is best in the league and fifth in the nation. Morrison helped the Griffs complete a sweep against AIC with 38 saves in a 2-1 victory on Sunday. The senior has a 0.99 goals against average in league play.
Atlantic Hockey rookie of the week:
Scott Jacklin, Robert Morris
Jacklin had two goals and an assist to help the Colonials to a three-point weekend against Army. He leads all RMU rookies with five points.
Honorables
Besides the awards given by the league, there were several excellent performances turned in last week:
• Brooks Ostergard (Robert Morris) made 83 saves last weekend in a 5-2 win and 3-3 tie with Army. That included 47 saves on Saturday, the fifth-most in a single game in team history.
• Tim Kirby (Air Force) had three goals and an assist to help the Falcons to a home sweep of Connecticut.
• Marc Zanette (Niagara), the younger brother of last year's AHA player of the year (Paul) had a four-point weekend (two goals, two assists) in a win and tie at Sacred Heart. One came short-handed.
• Thomas Tysowsky (Holy Cross) stopped all 21 shots he faced in a 2-0 win against Brown. He is now tied for third in wins (18), third in saves (1,209) and fourth in goals against average (2.79) all-time at Holy Cross.
Off they go
Like Canisius, Air Force is off to its second-best start in league play at 6-2-1. The first-place Falcons are 6-0-1 at home this season.
Power shortage
Connecticut entered its two-game series at Air Force with the best power play in Division I (30.1 percent) but was only 1-for-10 on the weekend, dropping them to second (27.3 percent) behind Harvard (28.6 percent).
Big win
American International's 3-0 win over Brown was the first time in school history that the Yellow Jackets defeated an ECAC team. Ben Meisner stopped all 38 shots he faced for the victory.
Strange factoid of the week
Rochester Institute of Technology is 2-1 when allowing five or more goals this season, but has a worse record (2-2-1) when allowing two goals or fewer.
Home away from home
Sacred Heart has won just seven games over the last two seasons, but is 4-1-2 at the Webster Bank Area in Bridgeport, Conn., where they occasionally play home games. The Pioneers are 1-1 so far this season and have six more games scheduled there.
Tweet of the week
Thanks for the players, coaches and pundits who follow me, and keep them coming @chrislerch on Twitter. No really outstanding tweets this week but I did see an awful lot of players commenting on a certain fashion show that was on TV Tuesday night. Thanks for your insights on that very important event.
Senior moment
I was trying to mention Canisus' Dan Morrison in the notes last week for moving into second place all-time for career saves at the school, but had the player he moved past, Andrew Loewen, on my mind and got them confused. Thanks to all of you paying attention for pointing out at Loewen graduated three years ago. He's playing for the Columbus (S.C.) Cottonmouths of the Southern Professional Hockey League. I'm blaming it on advanced age and too much (wild?) turkey.